Animal Updates
A baby lizard hatched and three sea turtles were released, among other recent animal updates.
Fresh Hatch in Australia: Wild Extremes
The National Aquarium grew by one last month, with the hatching of a Mertens' water monitor in a behind-the-scenes area of Australia: Wild Extremes on October 14.
The lizard took its time arriving, which is not unusual for this species. Herpetologists Drew Roderuck and Matt Benedict discovered the egg more than a year ago, in September 2019.
"It's only about three weeks after fertilization that the eggs are laid, but Mertens' water monitors have an unusually long incubation time, so patience and monitoring were key," explains Assistant Curator Jessica Nelson.
Three Mertens' water monitors hatched at the Aquarium in 2014 and can be seen in Australia: Wild Extremes today. The newest hatchling will be cared for behind the scenes until it is an adult.
According to the International Union for Conservation of Nature's Red List of Threatened Species, Mertens' water monitors are endangered.
From brand new babies to old favorites, every animal at the National Aquarium receives the highest standard of care from our team. You can help!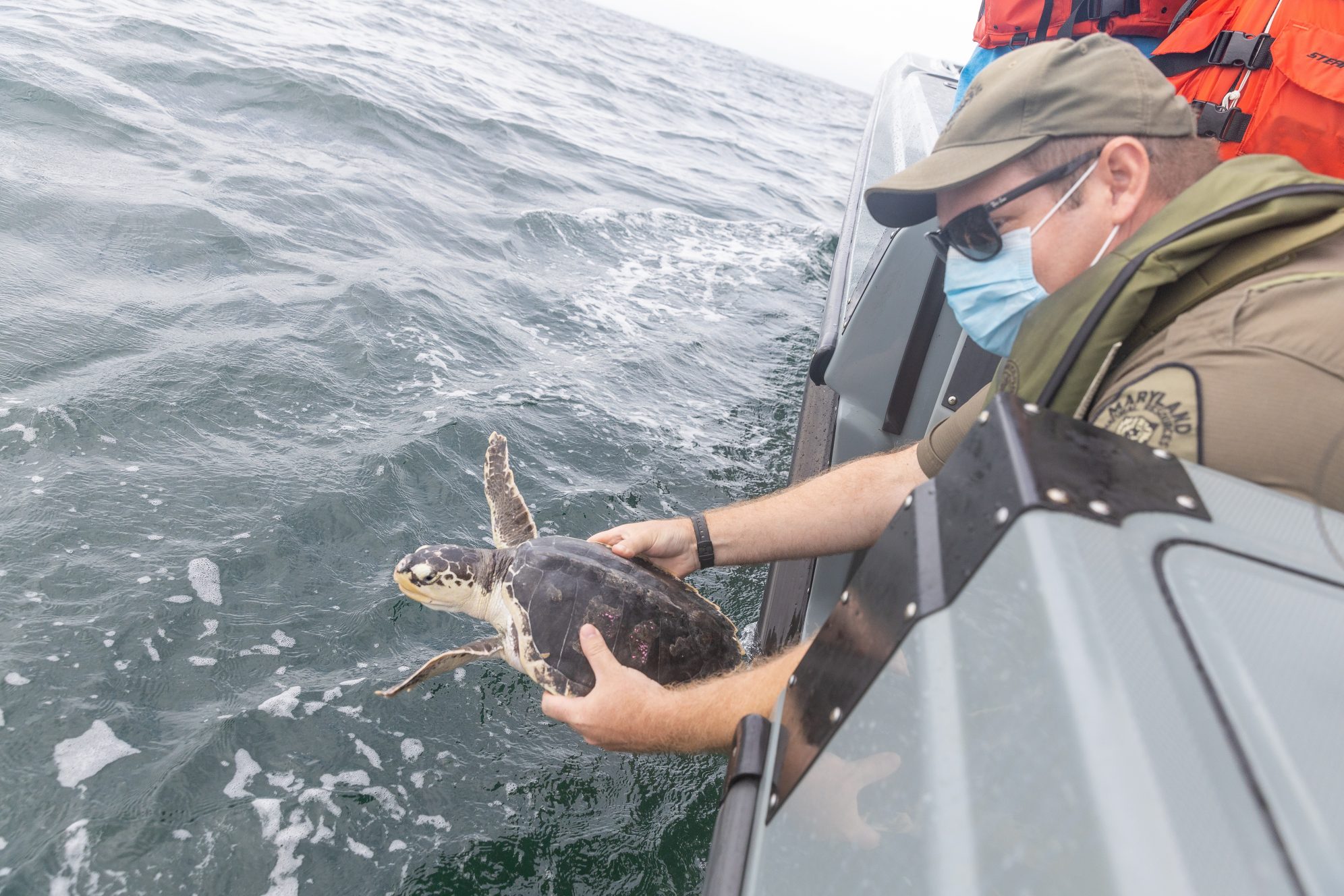 Rescue Recap
As one noteworthy sea turtle rescue season ended this fall, another began.
The last three sea turtles of the 2019 rescue season—two Kemp's ridleys and one green, called Mozzarella, Stilton and Halloumi in line with our 2019 cheese naming theme—returned to the ocean in early September. Because of the pandemic, National Aquarium Animal Rescue partnered with the Maryland Department of Natural Resources Police marine unit to release these turtles by boat rather than from the beach, where crowds of onlookers tend to gather.
Almost immediately after the release, two new Kemp's ridley patients rescued in Delaware arrived at the Aquarium for rehab in September. One turtle, nicknamed Pecorino, was suffering from injuries that appeared to be from a boat strike. The other, Tulum, was a critical case who unfortunately passed away in October following surgical complications.
In addition to caring for Pecorino, Animal Rescue is now gearing up for the annual influx of cold-stunned sea turtles who did not migrate far enough south before air and water temperatures dipped in New England and the mid-Atlantic.
Earlier this year, the team marked the release of the 300th animal rehabilitated by National Aquarium Animal Rescue since the program was founded in 1991.
Video Series
Rescue to Release
Learn about the phenomenon of cold stunning and how National Aquarium Animal Rescue cares for sea turtle patients by watching our five-part video series.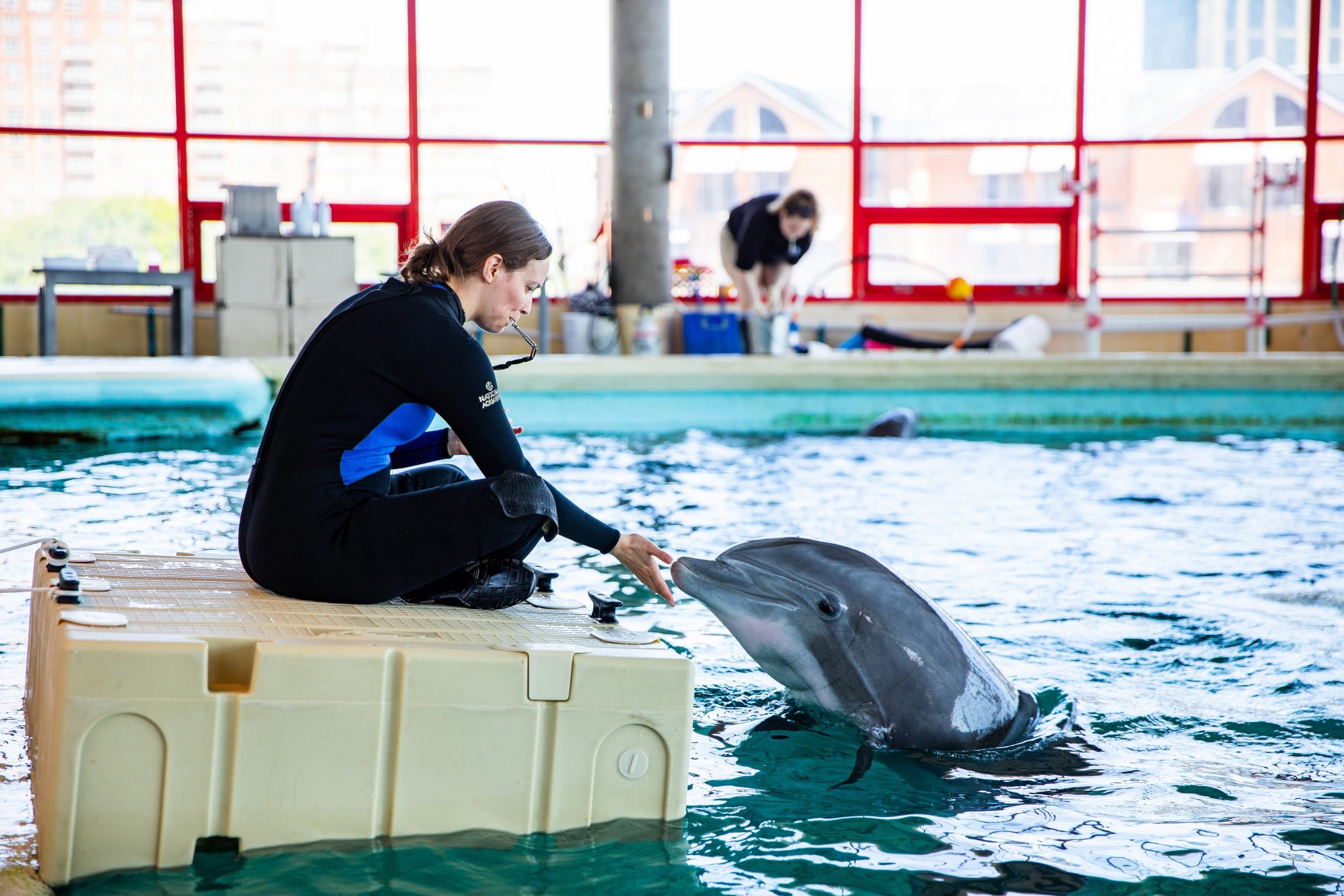 Sanctuary Update: Developing Dolphin Resiliency
To prepare the National Aquarium dolphins to move to a seaside sanctuary and thrive in a more natural environment, our marine mammal team is building the dolphins' resiliency.
Resiliency training includes cooperative enrichment experiences to build and reinforce the dolphins' natural inclination to work together to secure food and share the results of that work. Environmental changes to acclimate the colony to fluctuating water temperatures and new stimuli, like outdoor umbrellas and birds, are also part of the training.
Most recently, the dolphins have been introduced to a floating dock and are practicing swimming underneath it to move from pool to pool—and the Dolphin Discovery team is incorporating sea grapes and mangroves into the habitat so the dolphins can become familiar with vegetation they are likely to encounter in the sanctuary.
Tours are Back
We have two new dolphin tours to check out—a Private Dolphin Tour and Dolphin Training Session. Both are perfect for guests looking for a private experience and, as always, members get 20% off tour prices.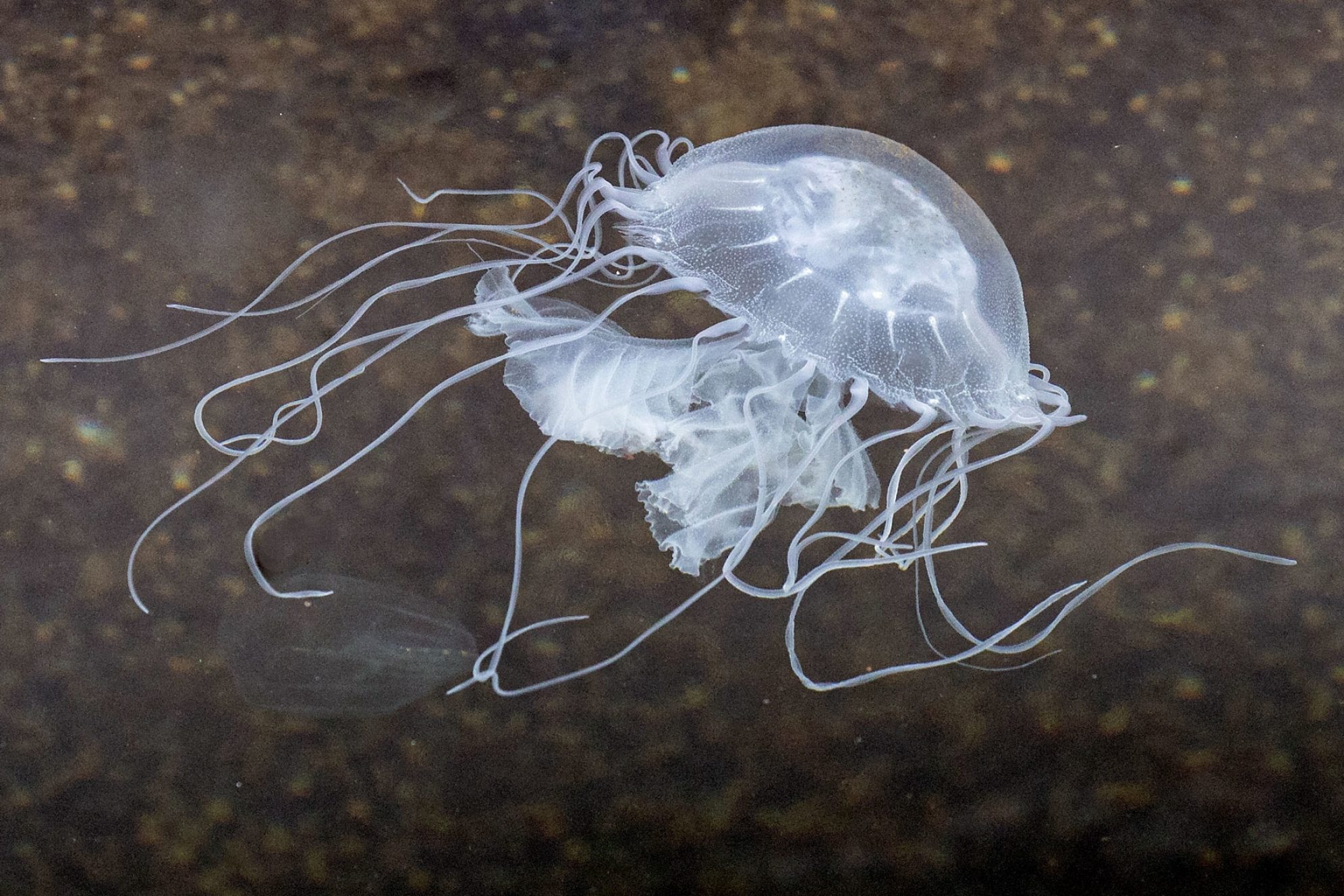 Jelly Double Take
You can see bay nettles inside the National Aquarium and a few weeks ago, you could see them right outside it, too. These large jellies made an appearance in the Inner Harbor in mid-September and were hard to ignore, with their milky coloring in the dark water and 3- to 4-foot-long tentacles, leading some passersby to ask if they had escaped from the Aquarium. They had not, of course, but were drawn by water that was warmer and saltier than usual, a result of decreased rainfall in September. As water temperatures dropped and salinity levels evened out, the nettles were gone from the harbor as quickly as they'd appeared.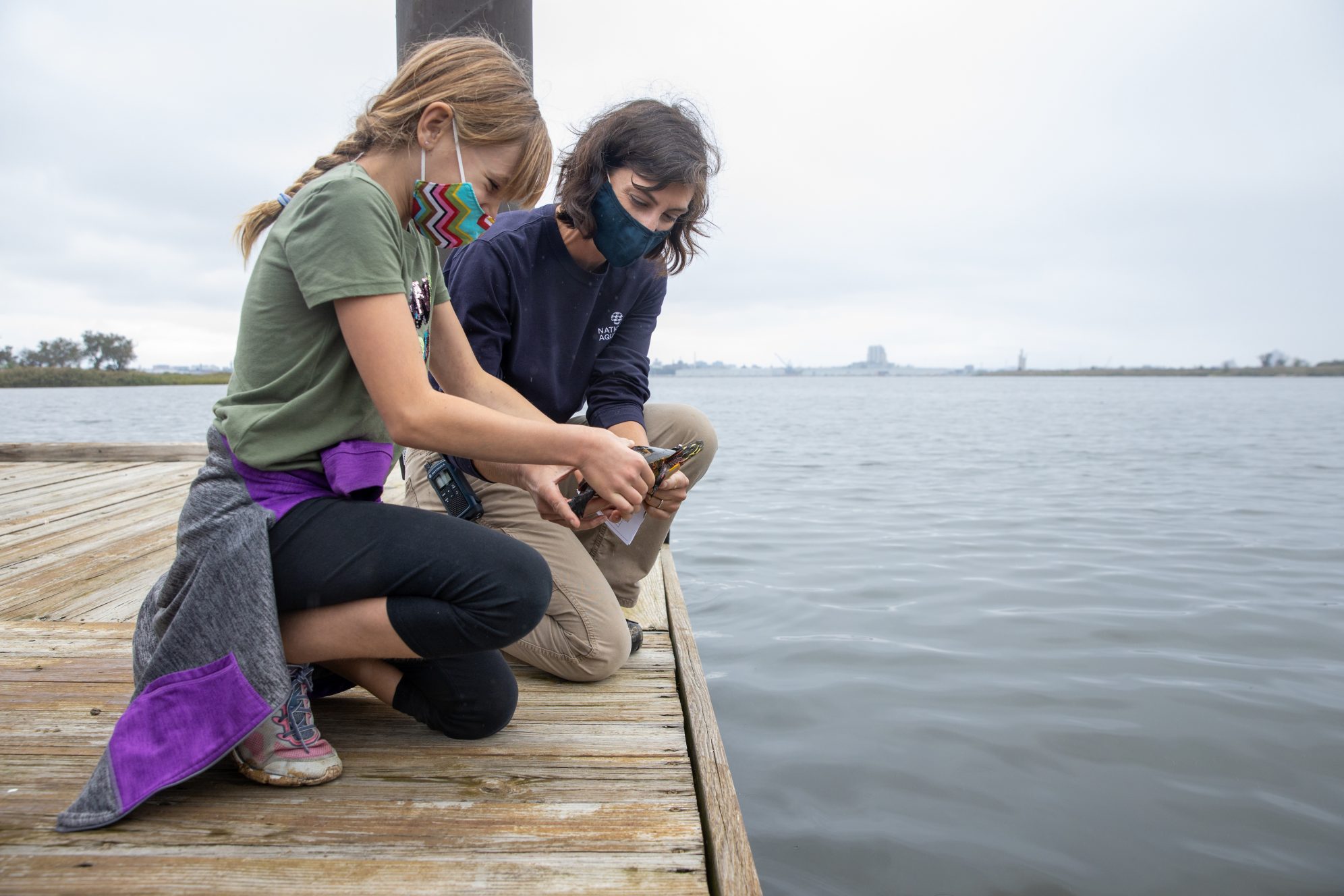 Volunteers Get Back to Work at Masonville Cove
Aquarium volunteers showed up in (safe, socially distanced) force this fall at Masonville Cove, the country's first designated Urban Wildlife Refuge Partnership.
As part of the annual International Coastal Cleanup, 28 volunteers removed 9,182 pieces of debris from Masonville Cove on October 10. And during a BioBlitz in celebration of Urban National Wildlife Refuge Day on September 26, volunteers observed a variety of plants and animals, documenting more than 230 observations of 134 different species. All observations can be viewed on our Masonville Cove BioBlitz 2020 iNaturalist project.
The Aquarium's Conservation team encourages you to visit Masonville Cove to explore its plants and wildlife. (Yes, even in winter!) No matter where you are and what season it is, consider making observations on iNaturalist to help record the diversity of flora and fauna in our region. Your observations give naturalists and scientists a better understanding of the biodiversity throughout Maryland and the world.
Support the National Aquarium
Your gift supports the highest level of animal care and advances research, education and conservation action.