Events at the National Aquarium
With breathtaking views of Baltimore's Inner Harbor and more than a dozen award-winning exhibits, the National Aquarium provides a magical and memorable backdrop for your special occasion.
A number of spacious locations are available for you and your guests, making the Aquarium the ideal place for weddings, corporate events, meetings, team-building sessions, fundraising galas, holiday parties and any other special occasion!
Interested in hosting a corporate event, wedding, special event or birthday party at the National Aquarium? Fill out our request form to check availability and reserve your space!
Our Approved Caterers
Our caterers handle food/beverage/bar, linens, and any specialty rentals needed for your event.
The National Aquarium holds a liquor license—all alcohol for private events must be supplied and served by one of our exclusive caterers.
Exceptions can be made for kosher or halal food items (additional fee applies).
Venue Options
Amaze your guests with a strolling cocktail hour through the award-winning exhibits in Blue Wonders, dine and dance in the company of dolphins and jellies in our Pier 4 event space, or enjoy sweeping views of Baltimore's Inner Harbor in our Harbor View Room.

Pier 3: Blue Wonders
Transport your guests to an underwater world for an unforgettable experience when you host your next event in Blue Wonders, home to thousands of unique aquatic animals. Enjoy a private strolling cocktail hour through four floors of award-winning exhibits before descending through the Atlantic Coral Reef and Shark Alley exhibits. Enjoy the immersive view of an Indo-Pacific reef in the Blacktip Reef underwater viewing area before gathering for dinner or a reception as you take in stunning views of Baltimore's iconic Inner Harbor.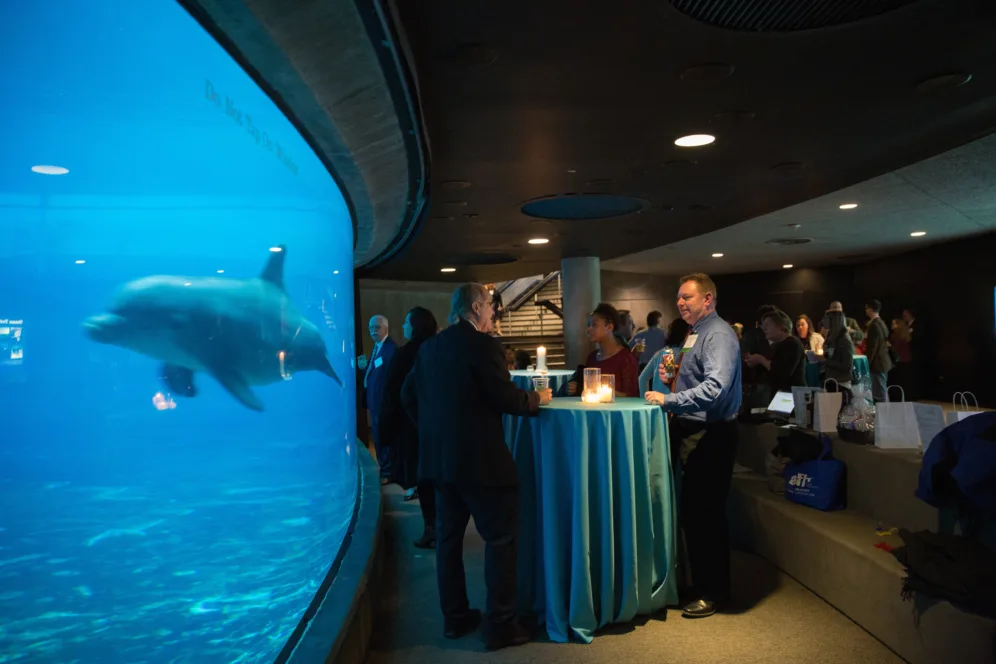 Pier 4: Marine Mammal Pavilion
Host your event in the company of Atlantic bottlenose dolphins and jellies at the Marine Mammal Pavilion, located in the Aquarium's Pier 4 building! Forty-five minutes prior to the start of your event, your guests are invited to a self-guided exploration of Blue Wonders, in the Aquarium's main Pier 3 building. After touring, you will walk across our interior sky bridge to your private event space in Pier 4, where you'll continue the evening with dinner, drinks, music, dancing and more. Consider the underwater viewing area in Dolphin Discovery for an opening cocktail hour or dessert and coffee service you'll never forget!
Harbor View Room
Offering sweeping views of Baltimore's Inner Harbor and historic Federal Hill, the Harbor View Room is sure to dazzle your guests. This intimate space is ideal for meetings and small gatherings, and is located on the fourth floor of Blue Wonders—adjacent to the Sea Cliffs exhibit, home to the Aquarium's Atlantic puffins.
Corporate Events
Treat your customers, employees or guests to an event like no other when you host your next meeting, sales event or holiday party at the National Aquarium! Explore world-class exhibits during a strolling cocktail hour—you'll see sharks, rays, puffins and more!—before dining and dancing in the company of bottlenose dolphins and jellies on Pier 4. What better way to show your support of the National Aquarium's mission to inspire the conservation of the world's aquatic treasures than hosting your next event with us?
Touring Night Events
Whether you're commemorating a shared success or offering your team a well-earned chance to relax and safely enjoy each other's company, schedule a private Touring Night event. Your team will revel in the award-winning habitats, the unique and fascinating animals and all of the wonder you'd expect from the National Aquarium—with none of the crowds! Contact the National Aquarium event team at party@aqua.org to make our main Pier 3 building yours for an evening as easy to plan as it is fun!
Weddings & Special Events
With breathtaking views of Baltimore's beautiful Inner Harbor serving as the backdrop to your ceremony or event and private touring of our awe-inspiring Blue Wonders exhibit space, you'll be able to offer your guests a destination-style experience right in the heart of Baltimore. Brides, let us be your something blue!
Tide the Knot Micro-Wedding & Elopement Packages
Ready to take the plunge? Whether it's just you and your beloved planning to elope or the perfect micro-wedding party for up to 25 guests, our Tide the Knot packages are designed to help you say "I do" without the stress amidst a deep blue ocean of tranquility. With as little as four weeks' notice or up to three months in advance, contact our team at party@aqua.org to start planning a wedding as unique and complete as your love for each other!
Sealuxe: Customized After-Hours Experience
After hours, the tranquil beauty of the National Aquarium is an otherworldly experience. Make it your own with our intimate and exclusive Sealuxe package! Beginning at $5,000, your three-hour private evening includes VIP front door parking, a customizable dining experience and a one-of-a-kind tour of the Aquarium's award-winning exhibits with optional add-ons such as photographers, musicians and flowers. Contact our team at party@aqua.org with as little as two week's notice, or up to two months prior to your desired date.
Birthday Parties
Thank you for your interest in hosting a birthday party at the National Aquarium. We are not currently offering birthday parties, however, if you would like to bring 15 or more people for a general aquarium visit, please contact reserve@aqua.org and we would be happy to set you up with our group admission rates.
Frequently Asked Questions
Once you select a date and confirm availability, we will guarantee a hold on your date and rates for a two-week period at no cost. A scheduled site visit is highly recommended, and a quote for space rental fees will be provided to you in writing. Once confirmed, a space rental contract will be issued with 50% of the base rental fee due.
Space rental fees include a private rental of up to four hours, access to exhibits, staff (on-site day-of manager, security and hosts, as needed), plus use of our existing tables and chairs, podium with mic, and small screen. For weddings, a rehearsal during normal business hours Monday through Friday is included.
We can provide a discounted parking rate for guests through our parking garage partners.
Members receive special rates on birthday parties. Contact birthdays@aqua.org for member pricing. Some corporate members receive event rental credits based on their membership level. Visit our corporate membership page to learn more.
Package prices includes up to 15 people. The rate does not change for fewer than 15 guests; additional guests will be charged the per-person price based on the package you choose. Aquarium admission is free for all children under the age of 3, so they do not count toward your 15-person package. (Please note that because of the escalators and moving walkways at the Aquarium, strollers are not permitted.) Two adult chaperones are required to escort your party group; all adults who enter the Aquarium with the group will count as party guests.
We suggest that the host and guests meet off-site to carpool to the Aquarium to limit parking costs and simplify the check-in process for your group. Once here, we ask that birthday parties gather at Member Services to receive their tickets and enter as a group. Only the host/organizer may receive the group tickets and is responsible for distributing tickets to the group. Unattended children will not be permitted to enter without an adult, and any adult entering the building must have a ticket.
If a guest is running late, the host/organizer will be given their ticket. The rest of the group may then enter the building but, when the late guest(s) arrives, someone from the party must meet them at the Aquarium entrance with their ticket.
Storage lockers are available near the Aquarium stroller check for a nominal fee but are intended for small personal items and are not large enough to store bulky items. No other secure space is available for storage on-site. For this reason, we suggest that you exchange gifts and/or distribute party favors elsewhere.
Subscribe To Our Newsletter
Sign up to receive updates on animals, news and events.