Community
Showing Baltimore our gratitude through reliable access and innovative community programming.
Our Work
The National Aquarium's connection to Baltimore, to Maryland and to the entire Chesapeake region is not simply a matter of location; these are our communities. Our mission to inspire conservation of the world's aquatic treasures is deeply rooted here in Baltimore, and we carry this mission beyond our walls by providing accessible education experiences, innovative conservation initiatives and ample opportunity for reliable Aquarium access through an array of socially valuable programs.
---
Locals Visit for Less
Baltimore, this is YOUR Aquarium! We're proud to offer an ever-expanding lineup of opportunities for local residents to visit for free or reduced admission.
We encourage you to take advantage of the range of programs and events available to our surrounding communities. Please consult our calendar of events for specific dates and restrictions.
It's time for our annual free party to celebrate the end of school and start of summer! On two nights—Tuesday, June 13 and Thursday, June 15, 2023—we're opening the Aquarium for free, just for local sea-star students and their families.
This event is for students and their families from Baltimore City, Baltimore County and Howard County. Capacity is limited and the maximum number of guests in each party is six. Registration for timed entry is required. We have reached capacity for this event and reservations are now closed.
Dates: Tuesday, June 13, 2023 & Thursday, June 15, 2023
Time: 6-9 pm
Price: Free for each student and one adult chaperone. Additional family members/guests may attend for $5 each; children under age 5 are free.
Please sign up to receive information about future School Shell-ebration events.
Presented by Pepsi
Every Friday, Aquarium admission is half-price after 5 pm.
Presented by M&T Bank
Show your state pride! Maryland residents can visit the Aquarium before noon Monday through Friday year-round for a reduced price. You must purchase tickets for Maryland Mornings on-site at the Aquarium; blackout dates apply. Visit our special offers page to learn more.
Free Fall Friday Night allows guests to explore the wonders of the aquatic world with free Aquarium admission as part of Baltimore Office of Promotion & The Arts' Free Fall Baltimore celebration. Tickets for this free event are only available online, must be reserved in advance and are limited to six per registration.
Because of the popularity of this event, no tickets will be available at the door on the evening of the event and the Aquarium will sell out.
Stay tuned for more community access events in 2024.
For two weeks in January, Maryland guests may explore the wonders of the aquatic world with free Aquarium admission as part of Downtown Partnership's Downtown Discovery Days initiative designed to provide affordable access to Baltimore's cultural and arts institutions. Each year, the Aquarium distributes a minimum of 10,000 pre-reserved tickets through our timed reservation system over the course of the two-week promotion.
Our 2023 event has concluded. Please check back in December for information about our 2024 Downtown Discovery Days celebration.
Upcoming Locals Events
We make an impact in Baltimore through innovative programming and real-world conservation action.
Read to Reef
Free Aquarium admission is available to young readers and their families each spring and fall through participation in our book club! New seasons begin in March and October when bookmarks become available at Enoch Pratt Free Library branches.
In partnership with Enoch Pratt Free Library
Read to Reef: Fall 2023 Season
Bookmarks for the fall 2023 season of Read to Reef are available to Baltimore-area children in fifth grade and younger from Enoch Pratt Free Pratt Library branches throughout October 2023, or while supplies last. Readers have until January 15, 2024, to complete their reading and visit the National Aquarium.
We are requiring all Read to Reef guests to reserve their timed entries to the Aquarium in advance. Reserve a timed entry using your Read to Reef bookmark code.
Please note that Read to Reef bookmarks and corresponding National Aquarium tickets are intended only for Baltimore City students in fifth grade or younger. If you're in possession of a Read to Reef bookmark and can't use it, please give it to a young reader in your life.
Baltimore-area children in fifth grade and younger with a valid Enoch Pratt Free Library card may receive a Read to Reef bookmark and record the five aquatic- or conservation-themed books they have read that are appropriate for their age levels. Children may receive one bookmark per program season.
Did you know your child can have their own library card? Visit the Enoch Pratt Free Library website to learn how to apply. Please note the child must be present with a parent, grandparent or legal guardian when registering.
Bookmarks for the fall 2023 season are available from Enoch Pratt Free Library branches throughout October 2023, or while supplies last.
You have until January 15, 2024, to complete your reading and visit the Aquarium.
Blackout dates for the fall season are November 23, 2023, and December 25, 2023.
Bookmark must be completed in full with the titles of five books the child has read before arrival at the Aquarium.
All Read to Reef guests must reserve their visit date and entry time in advance through our online ticket reservation portal. You will use the alphanumeric code printed on the bottom of your bookmark when reserving your tickets online. This code can only be used once for a maximum of four tickets. During the online reservation process, you will select the number of adult (12 years and older) and child (3 to 11 years old) tickets. Children 2 years and younger do not require tickets. If you do not use all four tickets in your transaction, they are forfeited and cannot be used on a separate day.
Tickets are available on a first-come, first-served basis through our online ticket reservation portal.
Guests will need to stop by the National Aquarium ticket center on the day of their visit to pick up their timed entry tickets.
The bookmark is for one-time use and cannot be used for multiple visits.
Bookmark is void if perforation is detached.
The bookmark cannot be reproduced, is non-transferable, will not be replaced if lost and has no value.
Tickets do not include 4D Immersion Films, special programs or events.
Additional guests beyond the four admitted with the bookmark pay full admission rates.
Bookmarks are subject to availability while supplies last and expire on January 15, 2024. Blackout dates for the fall season are November 23, 2023, and December 25, 2023.
Throughout the month of October 2023, Baltimore-area children in fifth grade and younger may visit any Enoch Pratt Free Library Branch and show their library card to receive a Read to Reef bookmark, while supplies last.
Check out the aquatic- and conservation-themed booklist that Pratt Librarians and National Aquarium educators made just for you; or ask your librarian for suggestions. Borrow, read or listen to someone read any five of these books and record them on your Read to Reef bookmark.
Reserve your tickets before your visit through our online ticket reservation portal using the code found on your Read to Reef bookmark. You have until January 15, 2024, to complete your reading and visit the Aquarium.
Voyages
At the intersection of art and science lies Voyages, the Aquarium's original immersive event series for adults that inspires connection to nature and celebrates all things Baltimore.
What happens when we invite artists into our walls to reimagine the Aquarium experience into a one-of-a-kind immersive event? The answer is Voyages. For each event—or "chapter"—in the Voyages event series, we identify a Baltimore-based artist to spend time with our exhibits and expert staff, performing research on a conservation theme as they connect with scientists in the field to learn about their work. From these sparks of inspiration, the artist then creates an original work that translates all they've learned into an experience for event guests that presents their conservation theme through a unique artistic lens. Each chapter features local food and beverage vendors and culminates in an after party with a performance from a Baltimore-based headliner, resulting in an experience that is truly a representation and a celebration of the city we're proud to call home.
Support for this event provided by the Marjorie Lynn Bank Endowment.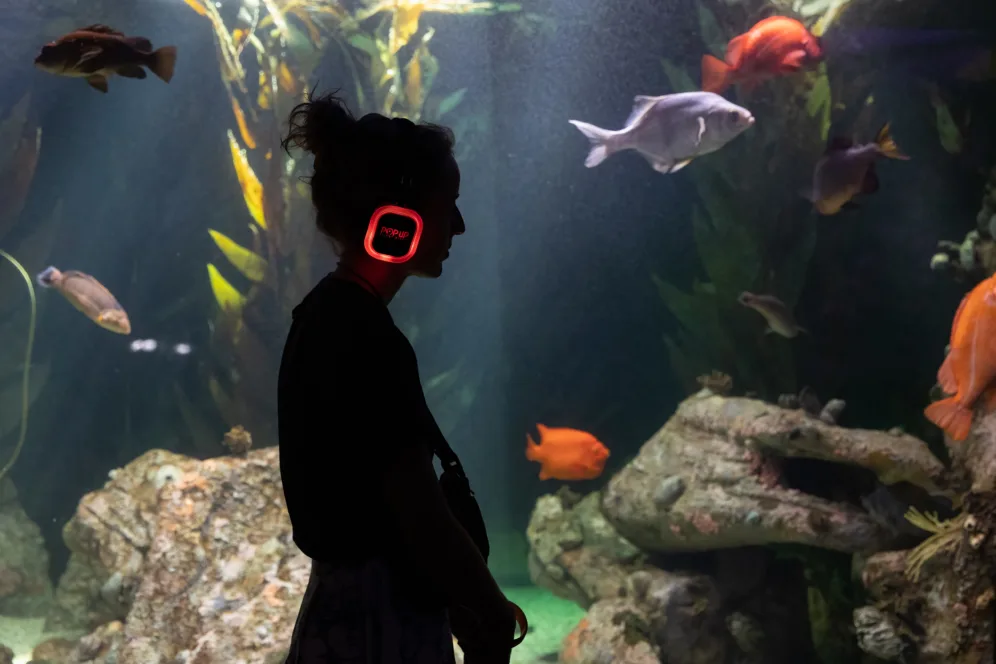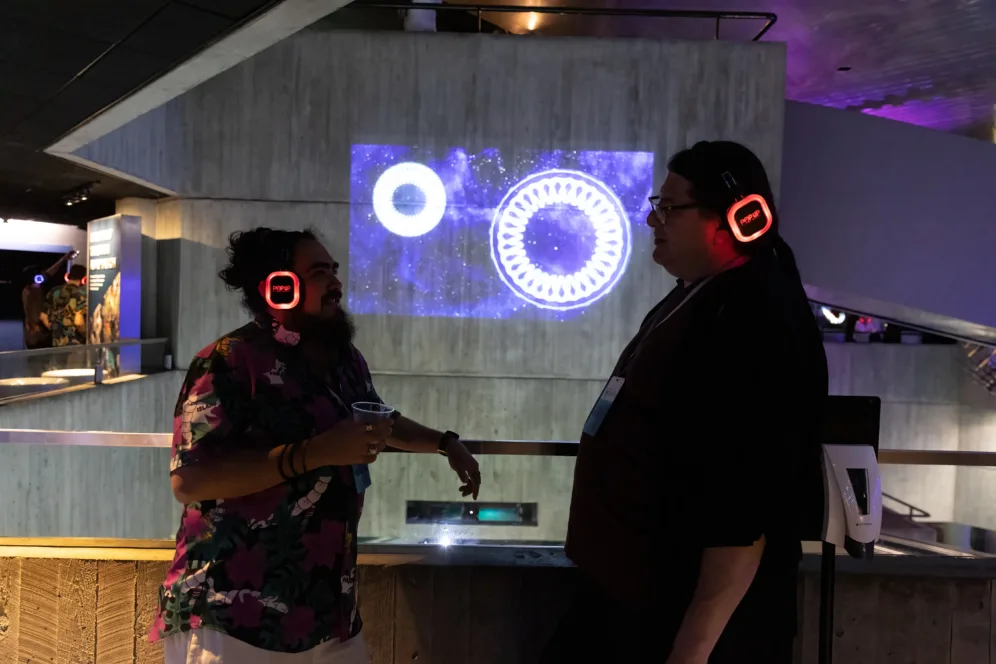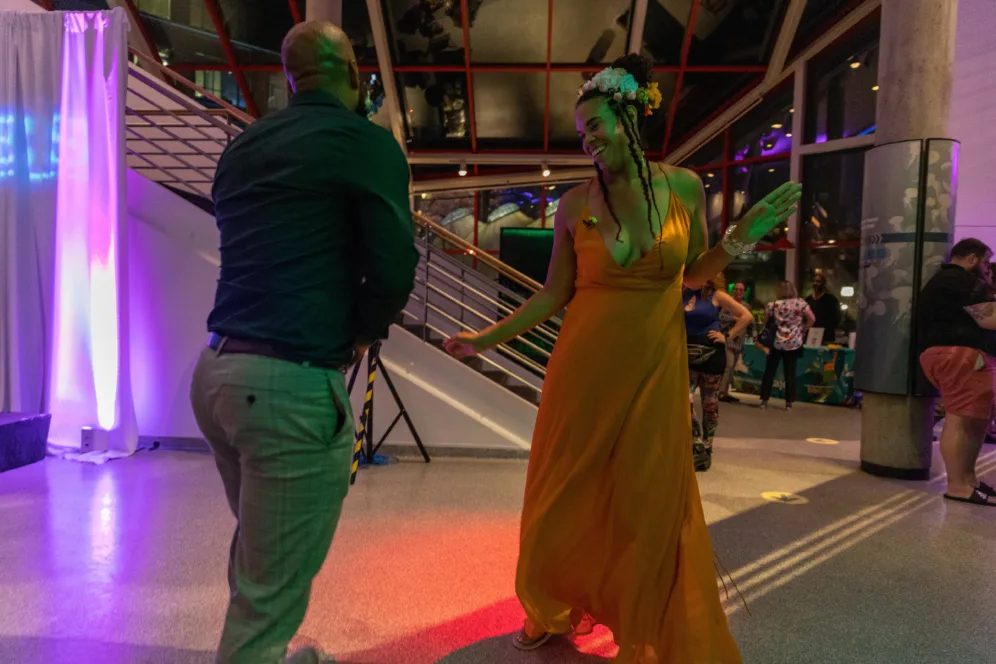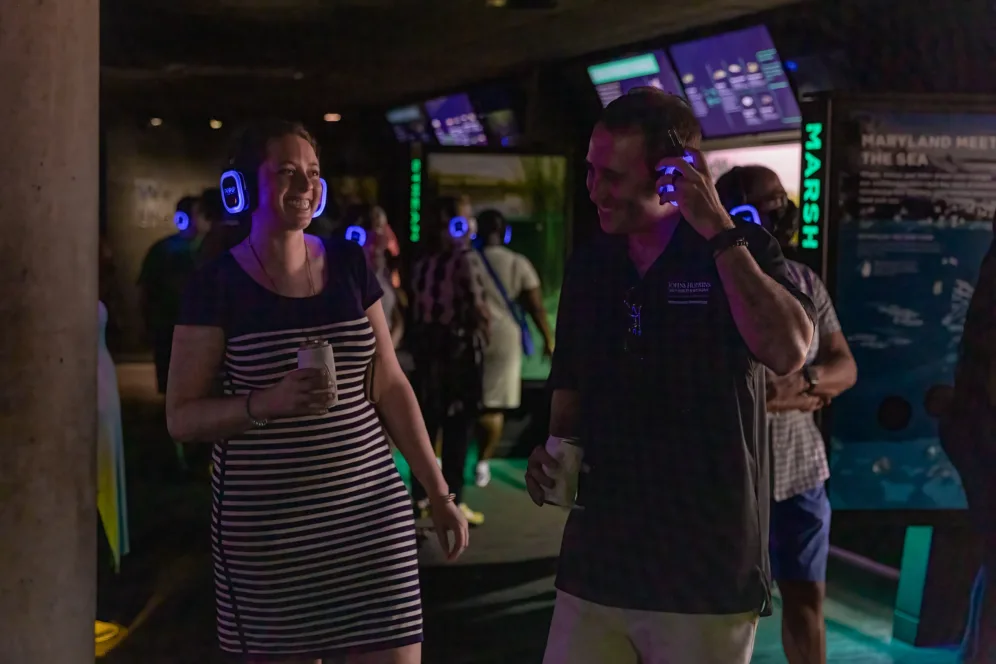 Check out our future, current and past Voyages chapters and sign up for our Voyages newsletter to get onboard the next trip.
Artist: Devon Vaow (drag artist)
Research Subject: Adaptation, with a focus on physical, behavioral and physiological adaptations, explored through the medium of drag. Inspired by featured environmentalist and community organizer Pattie Gonia.
Project: Drag Me to Survival, an interdisciplinary exhibition, featuring drag techniques, performance art and interactive elements, that portrays the beauty of adaptation.
Dive Deeper: "Voyages: Chapter 4 Sneak Peek with Featured Artist Devon Vaow"
Artist: Nicoletta Daríta de la Brown (performance artist, sculptor and filmmaker)
Research Subject: Neutral buoyancy, with a focus on the restorative powers of water. Inspired by featured scientific content experts Dr. Wallace J. Nichols, marine biologist and author of "Blue Mind," and Bonnie Tsui, journalist and author of "Why We Swim."
Project: Neutral Buoyancy, an interdisciplinary exhibition, featuring multiple experimental, non-narrative films, garments and performance art, that portrays the healing nature of water.
Dive Deeper: "Voyages: Chapter 3 Sneak Peek with Featured Artist Nicoletta de la Brown"
Artist: Jessica Keyes and Patrick McMinn (composers, brass and electronic musicians)
Research Subject: Biodiversity, with a focus on ecosystems, tides, filtering and schooling in the Chesapeake Bay. Inspired by featured scientist Imani Black, CEO and founder of Minorities in Aquaculture and shellfish aquaculture biologist.
Project: "Will the Great Water Remember," an audiovisual composition that portrays systems and processes that make up the Chesapeake Bay.
Dive Deeper: "Celebrating Art and Science at Voyages: Chapter 2"
Artist: Shodekeh (beatboxer, vocal percussionist, breath artist)
Research Subject: Biodiversity, with a focus on animal communication, bioacoustics and shared traits of musicality between animals and humans. Featuring Ashakur Rahaman of the Cornell Lab of Ornithology's K. Lisa Yang Center for Conservation Bioacoustics.
Project: "Vymatics," a musical composition of six movements and poetry inspired by animal vocal calls. Accompanied by cymatic projection videos by visual artist Erica Hansen.
Dive Deeper: "Embarking on an Epic Voyage"
Nonprofit Partnership
As a nonprofit organization whose mission is to inspire conservation of the world's aquatic treasures, the National Aquarium is eager to support other organizations in achieving their missions as well. We believe that, working together in our roles as vital community resources, nonprofit organizations strengthen our neighborhoods and ensure that all Marylanders can enjoy access to a vibrant array of accessible educational and recreational opportunities. When we work together, we help our communities to fully participate in and benefit from everything our city, state and region have to offer while building stronger, more resilient communities.
The Aquarium receives hundreds of ticket donation requests each year from other community nonprofits for charitable or fundraising purposes. Thanks to the generosity of friends, corporate partners and foundations, we are able to help our fellow nonprofits by granting as many requests as we possibly can each year.
Please note: All ticket donation requests must be made via our online form at least two months in advance of your event for consideration.
Donation Criteria and Guidelines
The Aquarium will consider ticket donation requests from other 501(c)(3) organization serving Maryland communities. Preference is given to those that have conservation-focused missions or activities, promote successful outcomes for youth or families and help build strong communities.
We cannot grant requests involving animal interactions, memberships or behind-the-scenes tours.
All donation requests must be received a minimum of two-months prior to the date of the event. If your organization misses this deadline, feel free to submit your request for the next year.
While you are free to submit multiple requests for different events, the Aquarium will only fulfill one request per organization per year.
As part of our ongoing efforts to support fellow nonprofits, we also partner with wish-granting organizations, such as Make-A-Wish foundation. We also offer many affordable opportunities to visit, but do not make donations directly to individuals or individual families.
Thanks to the generous support of our corporate community, the Aquarium is able to provide complimentary Community Connections tickets to qualifying nonprofits organizations, allowing their members to experience the Aquarium as guests of our corporate family.
Please note: While all applications are thoughtfully reviewed and considered, applications from civic organizations or social clubs are generally not accepted.
Donation Criteria and Guidelines
The Aquarium's Community Connections program will consider requests from Maryland-based nonprofits with 501(c)(3) status. We require inclusion of tax-exempt documentation upon submission of your application for verification purposes.
Qualifying nonprofits must agree to assign a day-to-day administrator of ticket distribution or group booking.
Qualifying nonprofits must agree to complete an annual evaluation to review ticket program effectiveness and use.
Requests are accepted on a rolling basis. Please allow four-to-six weeks for review and response.
Requests may be made for individual tickets to distribute to your organization's constituents as you deem appropriate, or for group visits.
Once accepted, your application does not need to be resubmitted, but additional future ticket requests will be reviewed against new applications.
Thanks in part to Maryland State Department of Education grant funding, the National Aquarium is able to serve more than 100,000 schoolchildren annually. We offer free visits for all Maryland school groups, in addition to a variety of other free or discounted school programs. Therefore, requests for donations to schools are generally declined. To book your free field trip, please learn more here.
Exclusive Benefits for Nonprofits
The National Aquarium is committed to ensuring access for our community and is grateful for the support we receive from other businesses and organizations that choose to support us in achieving our mission. Though nonprofits are welcome to join at any level, we have established a special nonprofit membership level to engage as many qualifying organizations as possible. Make an impact by giving your colleagues and clients access to exclusive Aquarium member benefits and unforgettable experiences.
Our Commitment to Diversity, Equity, Inclusion and Justice
The National Aquarium is dedicated to creating an environment that is inclusive, equitable and accessible to people from all backgrounds. We cannot successfully change the way humanity cares for our ocean planet without connecting with and appreciating the broad diversity of identities, backgrounds, experiences and perspectives that make our community unique.
Subscribe To Our Newsletter
Sign up to receive updates on animals, news and events.