Rescue to Release, Part 2
What happens to a turtle when it cold stuns?
Multimedia
•
Conservation
Every year, National Aquarium Animal Rescue intakes dozens of rescue turtles from partners in New England. It's our Animal Health team's duty to evaluate and diagnose each of these endangered turtles, then develop a plan to get them back on the mend.
Most of the turtles our team rehabilitates are suffering from ailments associated with cold-stunning.
This phenomenon occurs when ocean water becomes cold and a sea turtle's body temperature drops below the level that allows their organs to function normally. Sea turtles are ectothermic—meaning they can't maintain a body temperature above the temperature of their environment. When these turtles get too cold, they're not able to swim, causing them to wash ashore.
It's on the shore where opportunistic diseases—including pneumonia, bone lesions and respiratory infections—take hold. Each turtle that arrives in our care could be suffering from any of these diseases, so a patient's rehabilitation journey begins with routine diagnostic tests: blood sampling, radiographs to check lungs and ultrasounds to analyze organs. Our team then develops a treatment plan based on their findings.
Our experts are constantly tinkering with the individualized plans for every rescue patient—which can include oral antibiotics, eye drops to treat infections, IV fluids and more. Each turtle has a carefully crafted treatment plan unique to its diagnosis.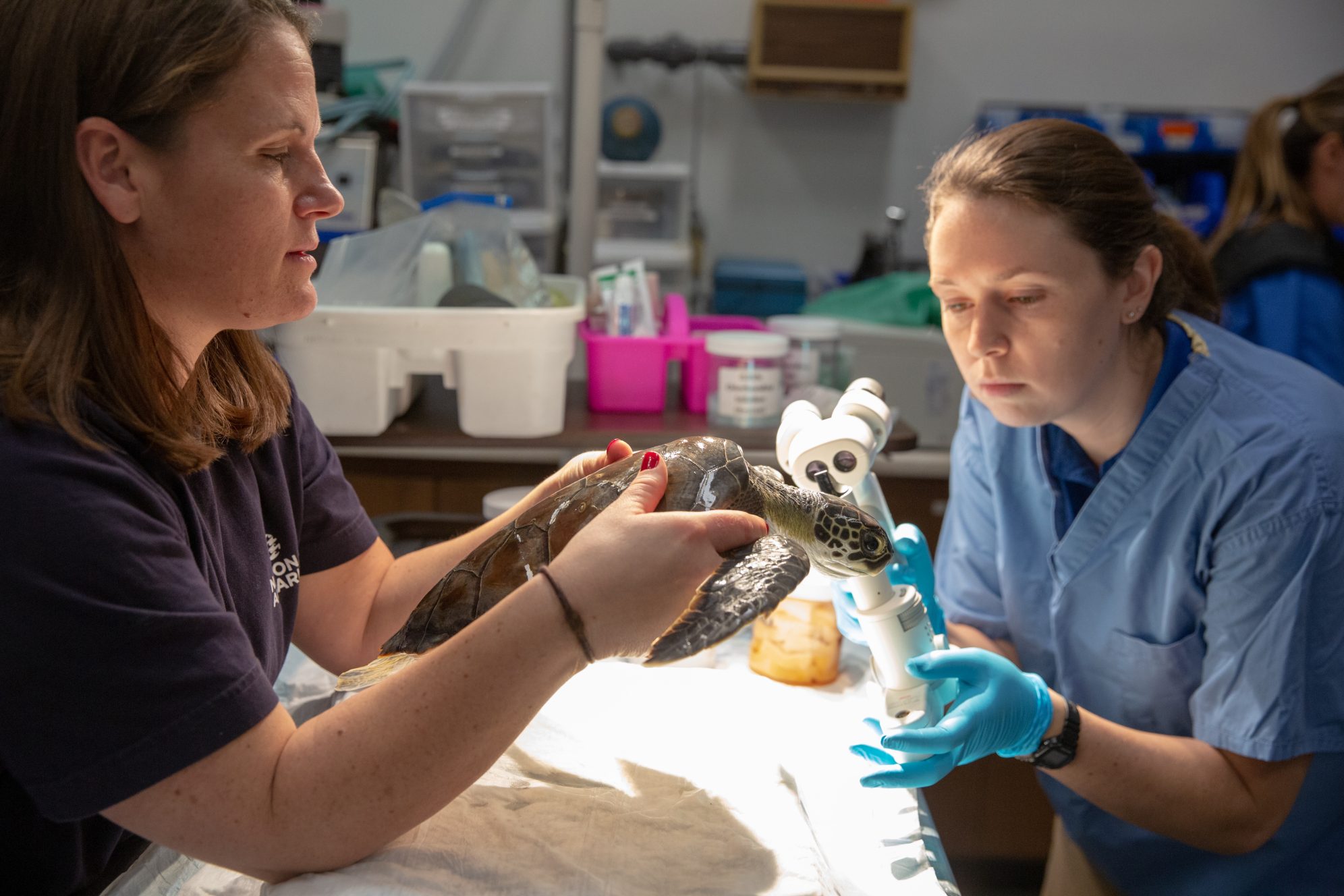 Even after the initial exams, new health concerns can surface. For example, there is such a thing as turtle frostbite! It could take weeks after rehabilitation begins for a patient to display frostbite in vulnerable areas like their flippers or skin.
The treatment of these turtles' medical conditions is just one step toward their recovery and eventual return to their ocean home.
Rescue to Release
More in This Series
Support the National Aquarium
Together, we can change the way humanity cares for our ocean planet.