Rescue to Release, Part 3
Caring for cold-stunned sea turtles is a team effort.
Multimedia
•
Conservation
Every year, the National Aquarium rehabilitates sea turtles after they're found cold stunned in Cape Cod Bay.
Rescue turtle rehabilitation at the Aquarium takes place behind the scenes in our quarantine area, where you'll find a large pool—and several smaller pools—full of endangered sea turtles.
Caring for these turtles as they recover from serious medical issues associated with cold-stunning is no simple feat. It takes a team of veterinarians, Animal Rescue volunteers and husbandry aides, all monitoring each turtle's food intake, behavior, weight and health symptoms over the course of weeks—and sometimes months.
Upon arrival at the Aquarium, each sea turtle receives an identification number and nickname; this season, our naming theme is elements of the periodic table. While the Animal Health team develops a treatment plan to heal eye lesions, respiratory infections and more, Animal Rescue volunteers and aides begin their hard work.
Making sure every turtle is eating enough is a key factor in their recovery, as they're often underweight when arriving in our care. Each patient is prescribed a certain amount of food every day, which is also how they receive their medicine and antibiotics.
During feeding time, volunteers and aides toss the food in front of and to the side of the turtle they're targeting, making sure each patient is getting what they need. Everything is tracked and marked down in our records.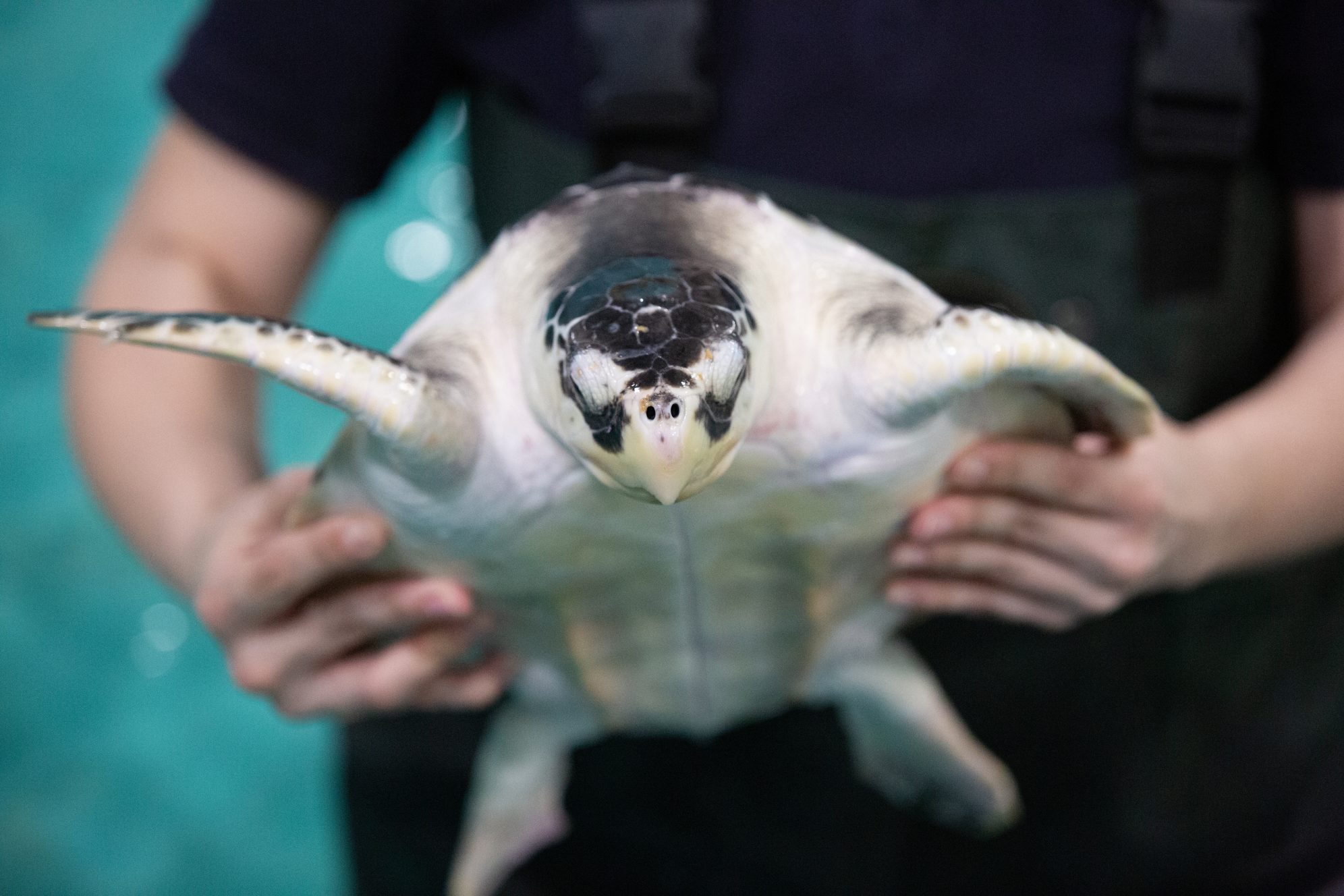 As if tracking the food intake of multiple turtles wasn't tough enough, diets vary across species! Loggerhead and Kemp's ridley sea turtles are carnivorous and eat a mix of squid, shrimp and fish, while green sea turtles are omnivorous as juveniles, eating fish as well as lettuce and veggies. As adults, green sea turtles are fed mostly veggies, sometimes receiving different fruits as a special treat every couple weeks.
Our team also strives to help make the turtles' environment exciting as they work toward recovery. Empty trash bins and PVC pipes are dropped in the pool and serve as "hides," mimicking areas where a sea turtle in its natural habitat might rest its head in reefs and crevices.
Turtles are weighed weekly, and our team is constantly monitoring behavior to see if every patient is gaining strength in preparation for eventual release to their ocean home.
Rescue to Release
More in This Series
Support the National Aquarium
Together, we can change the way humanity cares for our ocean planet.