Kai's Kids
When two local brothers found out that the rescued green sea turtle at the National Aquarium was in need of a new prosthetic shell, they stepped up to help.
Many elementary school kids spend their free time starting to discover their hobbies and pursue their passions. For some, that might mean participating in sports or learning how to play an instrument. For Baltimore brothers Stephen and Matthew Coleman, it meant running a 5K to raise over $2,000 to help a rescued sea turtle.
Stephen, age 10, and Matthew, age 7, who live in Towson's Anneslie neighborhood, were inspired to help Kai when they read about her arrival at the National Aquarium's Animal Care and Rescue Center earlier this year. Kai, a juvenile green sea turtle, came to us in October 2020 from South Carolina Aquarium. Due to injuries she suffered as a result of a boat strike, she has buoyancy issues that interfere with her ability to dive. Kai's inability to control her buoyancy means that she likely would not survive in her natural habitat, since sea turtles need to dive to forage for food.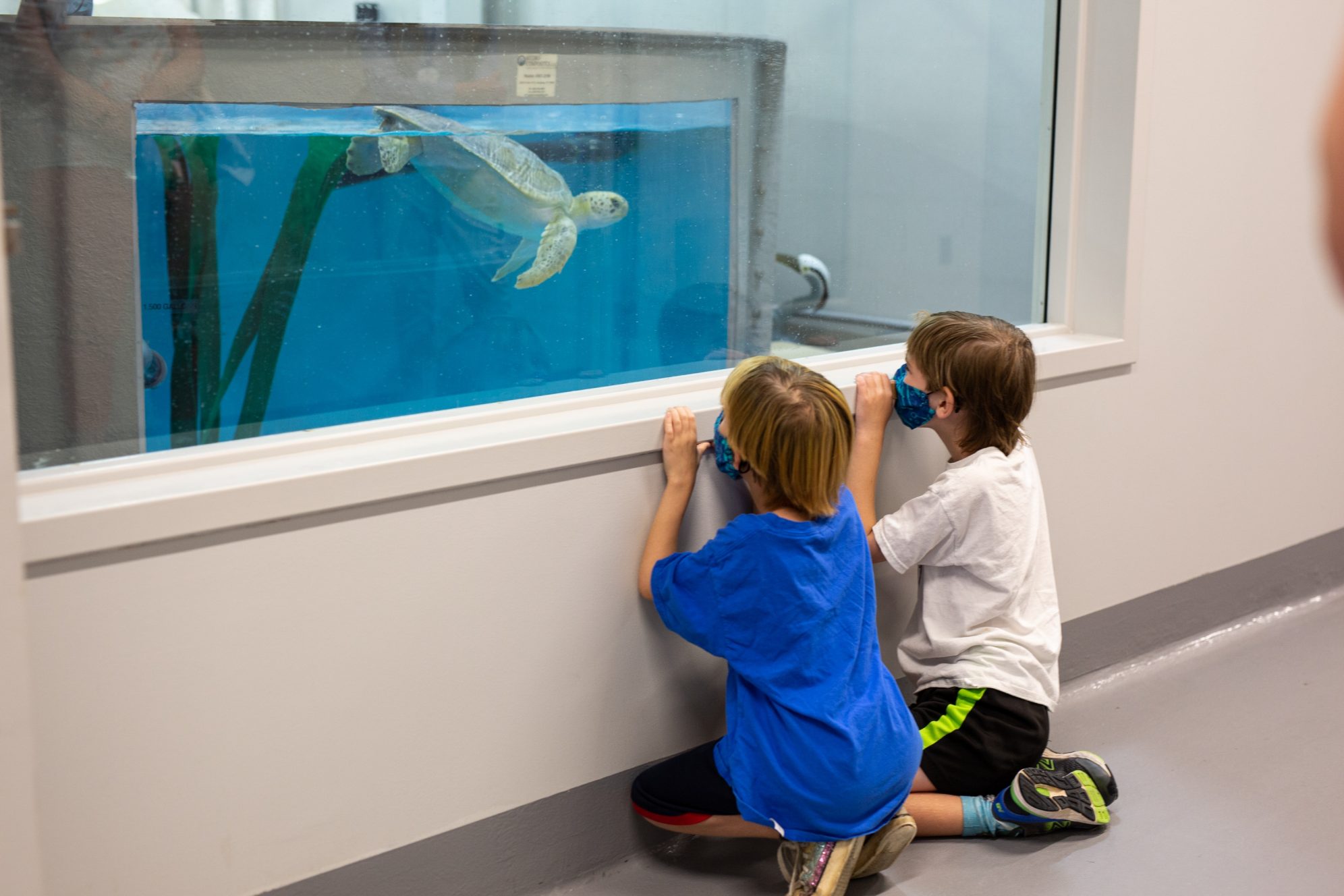 Our dedicated team of experts has been working since Kai's arrival to create a prosthetic shell—a naturalistic attachment that will allow her to dive naturally. Several iterations of this shell attachment have been developed so far, and our team continues to tweak the amount and placement of the weight in the attachment to create the perfect prosthetic that will allow Kai to dive and rest on the bottom of her habitat.
When Stephen and Matthew learned of Kai's plight earlier this year, they were inspired to help. When asked why they decided to help Kai, Matthew cut right to the chase: "Because she was hurt and she needed a new shell." They decided to raise funds to help support Kai's care and the development of her shell prosthetic by participating in a virtual Save the Sea Turtles race and asking for donations. They ran the race, a 5K, on a fitting date—May 23, World Turtle Day—and raised a grand total of $2,021, which they sent to the Aquarium for Kai's care.
As a thank you for their generous donation, the Aquarium team organized a tour of the Animal Care and Rescue Center on Sunday, September 12, so that Stephen and Matthew could meet Kai face to face. The brothers and their parents, Becky and Sean, received a full tour of the ACRC, which culminated with a visit to Kai's pool where they got up close and personal with our resident green sea turtle and learned more about her from our expert staff.
According to Stephen, the experience was bittersweet.
"It was a mixture of sad and happy," he explained. "I was sad because her shell was hurt, but I was happy to meet her and really happy to hear her prosthetic shell was getting upgraded. I also had a lot of fun feeding her."
Both Stephen and Matthew agree that, besides Kai, their favorite resident of the Animal Care and Rescue Center is our map pufferfish, Duncan.
It was our pleasure to host these two turtle enthusiasts and budding conservationists, and we hope their story can inspire kids and adults alike to pursue their aquatic passions in support of the extraordinary species that we share our ocean planet with!
Support the National Aquarium
Your gift supports the highest level of animal care and advances research, education and conservation action.