Introducing Kai
We're happy to announce that we have a juvenile green sea turtle in our care.
On October 13, 2020, the National Aquarium welcomed a very exciting new resident to the Animal Care and Rescue Center: a juvenile green sea turtle, which we've named Kai.
Kai's Journey
Kai came to us from South Carolina Aquarium, where she arrived in 2018 after stranding at a nearby barrier island. Found floating in the water, unable to swim, Kai was suffering from injuries sustained to her shell—otherwise known as a carapace—from a boat strike. The experts at South Carolina Aquarium got to work treating Kai's initial medical issues, and although the shell injury healed well, it quickly became apparent that the young turtle was having issues with buoyancy control. In other words, Kai was unable to dive.
A CT scan showed South Carolina staff the culprit: a build-up of gastrointestinal gas. It appears that the boat strike damaged the part of Kai's spinal cord that affects digestion, creating blockages in the gastrointestinal tract that lead to excess gas—and this excess gas causes Kai to be overly buoyant, interfering with her ability to dive.
Like many sea turtles with similar buoyancy control issues, Kai was deemed non-releasable by the National Oceanic and Atmospheric Administration. When a sea turtle is unable to control its buoyancy, it cannot dive and forage for food like it normally would, meaning it would likely not survive in its natural habitat.
Kai began to outgrow her space at South Carolina Aquarium, and her caretakers started the search for a new home. The National Aquarium was ultimately chosen because of the extensive resources available to our staff that will allow us to continue Kai's rehabilitation and provide appropriate accommodations for the rest of her life. We couldn't be more excited to be responsible for this turtle's long-term care and recovery!
All About Kai
In Hawaiian, Kai means "sea" or "ocean." Because Kai is a young turtle, it's difficult to determine her exact age, but our experts are confident that she is between 4 and 6 years old. She's currently weighing in at around 22 pounds with a carapace measuring about 16 inches long; full-grown adult green sea turtles can grow to be upwards of 400 pounds with a 3.5-foot-long carapace.
The team has been carefully observing Kai to determine if there's a pattern to her gastrointestinal issues. Radiographs are utilized frequently and give our team a quick answer about where the gas is located in Kai's system, and what the next steps should be. Oftentimes, this means readjusting weights that are attached to her shell with a turtle-friendly epoxy; this system counterbalances the gas and allows her to swim and dive normally. Readjusting these weights is a constantly evolving process that involves staff from our husbandry and Animal Health teams working together to determine where these weights need to be placed, and how heavy they should be.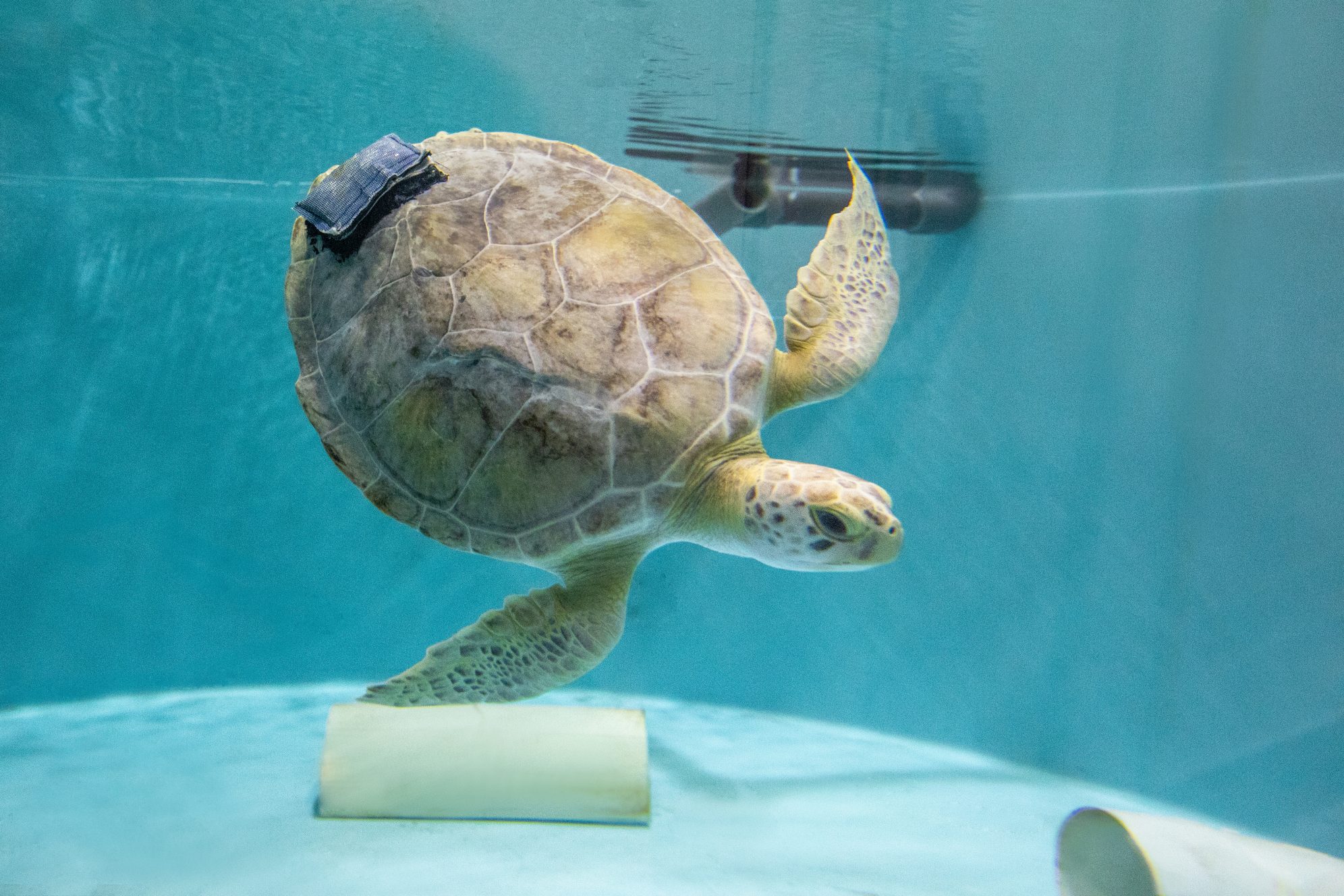 According to National Aquarium Herpetologist Ryan Kuenzel, who is leading Kai's husbandry efforts, our newest ACRC resident is a delight to work with. He says that Kai appears to be particularly fond of green leaf lettuce, although she's not picky when it comes to her greens. Ryan uses a PVC pipe to transfer greens into Kai's pool, where they sink to the bottom, allowing her to dive—with the help of her weight system—and graze. According to Ryan, Kai will stop whatever she's doing when it's feeding time, diving down to grab the greens and then using her buoyancy issues to her advantage—she'll simply let herself float back up to the surface.
In addition to greens, Kai is handfed fish filled with supplements and eats other vegetables, which she receives when she successfully comes to a target during feeding. Kai began working on target training at South Carolina Aquarium, and Ryan is continuing that work at the ACRC. Kai appears to be very interested in visitors to her space and has been extremely cooperative when she receives radiographs and medical exams.
"It has been an absolute pleasure working with Kai since she arrived at the Animal Care and Rescue Center," Ryan said. "It's been exciting working with the Animal Health and exhibit fabrication teams—and the rest of the husbandry staff—to find a solution to Kai's buoyancy issue."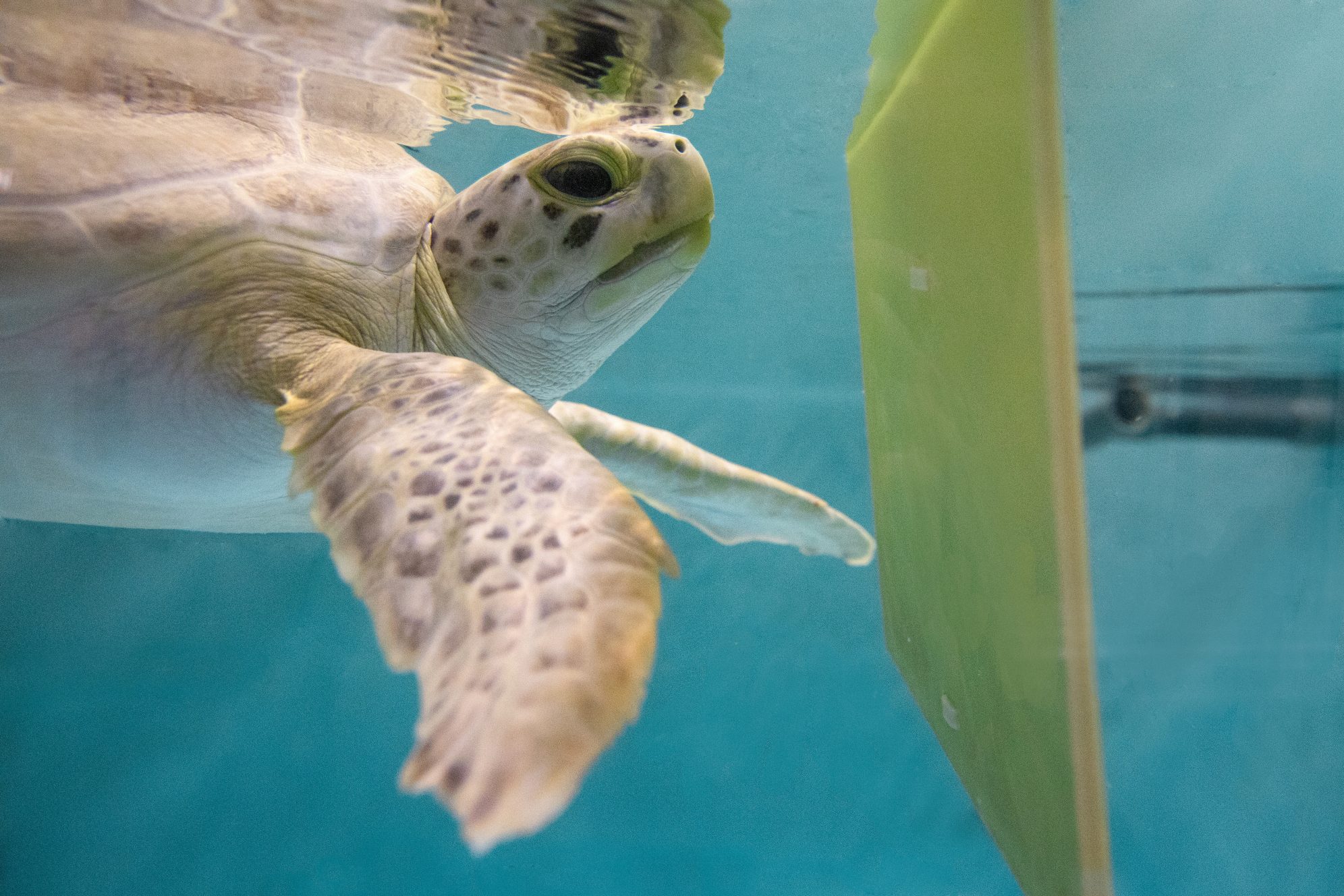 Innovating a Shell Solution
Although Kai's current weight system is functional, it's not an ideal solution because of the repetitive application required every month or so and the poor visual aesthetic. As we continue Kai's long-term rehabilitation, our main goal is to create a permanent solution for these buoyancy issues in the form of a naturalistic shell attachment.
National Aquarium Habitat Production Lead Adam Nelson is heading the effort to create Kai's shell attachment prosthetic—a product that is being designed to be safe, functional and naturalistic. His talented exhibit fabrication team is mainly responsible for designing and creating the lifelike habitats inside the Aquarium, but as they recently proved when constructing a prosthetic bill for the resident motmot of Upland Tropical Rain Forest, their expertise extends into the realm of animal care as well.
Adam's team is in the early stages of creating the shell attachment; most recently, the fabrication team made a mold of a portion of Kai's shell. Adam is now working with Ryan's team, as well as Animal Health, as they determine the proper placement of the shell weights. According to Adam, the teams are on the hunt for the perfect amount of weight that will even Kai out and allow for normal diving but won't be bottom heavy.
"Think of a sailboat and bags of sand," he explained. "If you put all the bags at one point it might tip over, but if they're evenly dispersed, the boat would handle the weight better."
When determining the type of material that would be used in Kai's shell attachment, Adam says that he didn't have to look any further than the periodic table, and there was one element that emerged as the clear winner: lead. It's the perfect option because sheets of lead are highly dense and heavy, but also thin and malleable, allowing Adam's team to shape them like an armored plate to fit Kai's shell without taking up much room. These lead sheets will be completely encapsulated between a bottom prosthetic, which will be attached to Kai's shell, and a top prosthetic, which will be painted to mimic Kai's natural shell, in what Adam describes as a "prosthetic layer cake."
"The National Aquarium has always had an intense focus on the accurate replication of the natural environment," Adam explained. "There are other approaches that we could've taken where the prosthetic would've been more obvious, but the goal is recreating the way a turtle should look and working backward from there."
As far as we know, this shell attachment prosthetic will be the first of its kind, and we look forward to sharing this innovative solution with other aquariums and rescue organizations caring for sea turtles with issues similar to Kai's.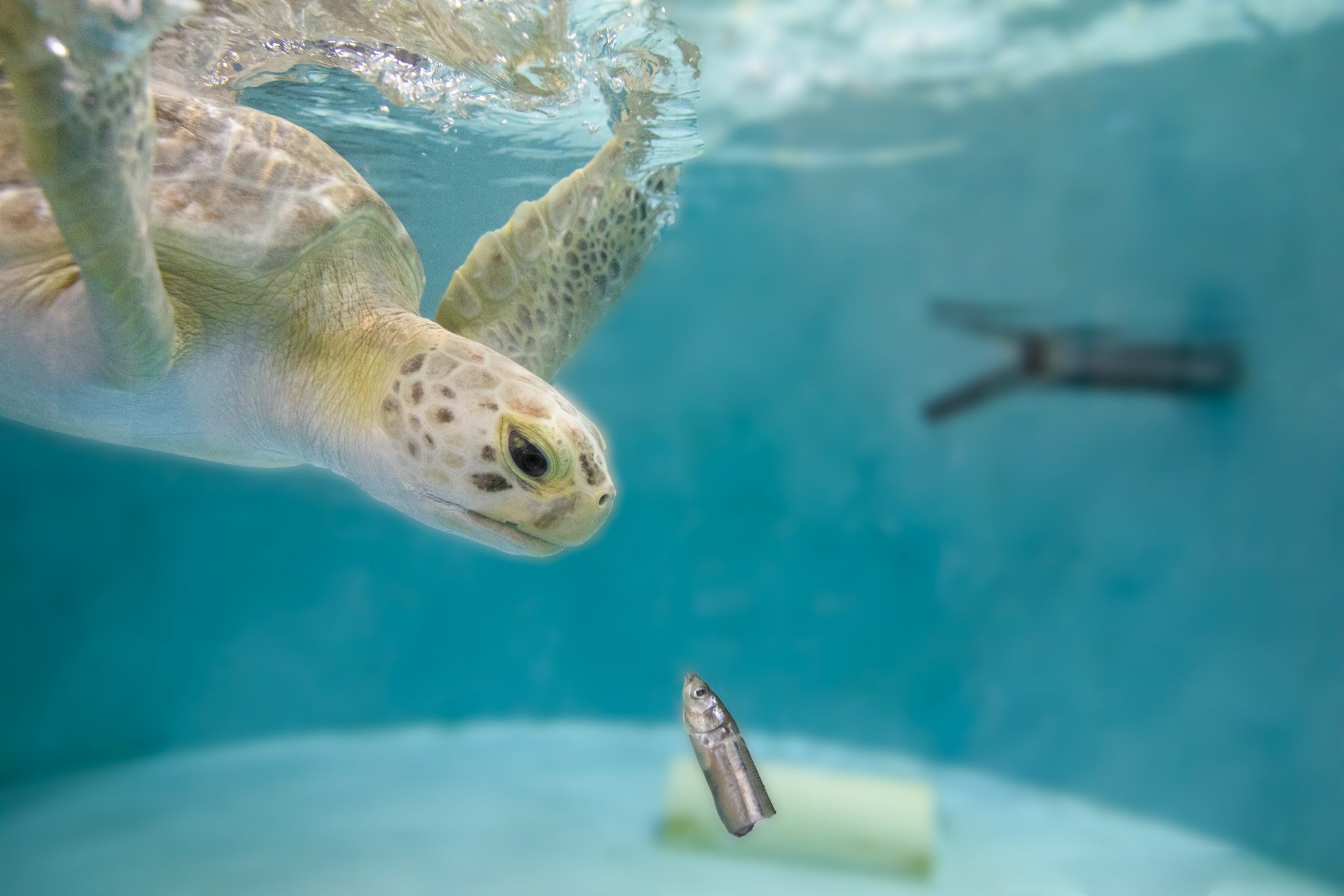 A Big Shell to Fill
Any guest who visited the Aquarium from 2002 to early 2020 was likely familiar with Calypso, the three-flippered green sea turtle who was the charismatic star of our Blacktip Reef exhibit. Guests, staff, volunteers and our Baltimore community were heartbroken when she suddenly passed away early last year, and there's no doubt that she is deeply missed.
Calypso was one-of-a-kind, and there's certainly no replacing her—but our staff is looking forward to keeping her legacy alive by caring for another green sea turtle.
"Calypso was a special animal and made an impact on everyone who worked with her, met her or simply visited the National Aquarium and witnessed her majestic beauty and unique personality," Animal Care and Rescue Center Curator Ashleigh Clews said. "We know that Kai will have the same impact and look forward to continuing to educate people about the important conservation efforts around this amazing species."
Like Calypso, Kai will serve as an ambassador for green sea turtles everywhere and help to spread awareness about the threats they face. Guests will be able to get up close and personal with Kai once Animal Care and Rescue Center tours resume.
Subscribe To Our Newsletter
Sign up to receive updates on animals, news and events.