Director of Field Conservation Charmaine Dahlenburg at Patterson Park
In this story series, National Aquarium experts take us to local places to teach us about the animals and plants found there.
Multimedia
•
Conservation
"If you look at Baltimore City from a bird's-eye view, there are a lot of tiny patches of green. Patterson Park is one of the few extended, undeveloped areas," says Charmaine Dahlenburg, director of field conservation at the National Aquarium. She's lived three blocks from Patterson Park for about 10 years and is here nearly every day, going for a run or getting her nature fix.
"A patchwork of protected natural areas across the city is really important," she says, "but so is this big, unbroken space that wildlife can use for food, shelter, all the things they need to thrive."
Walking on the boardwalk around Patterson Park's boat lake with Charmaine on a recent sticky summer day, there's evidence of this wildlife all around.
Listen as Charmaine Explores
Charmaine explores Patterson Park and talks about some of the species found there and the importance of protected habitats for animals, plants and people.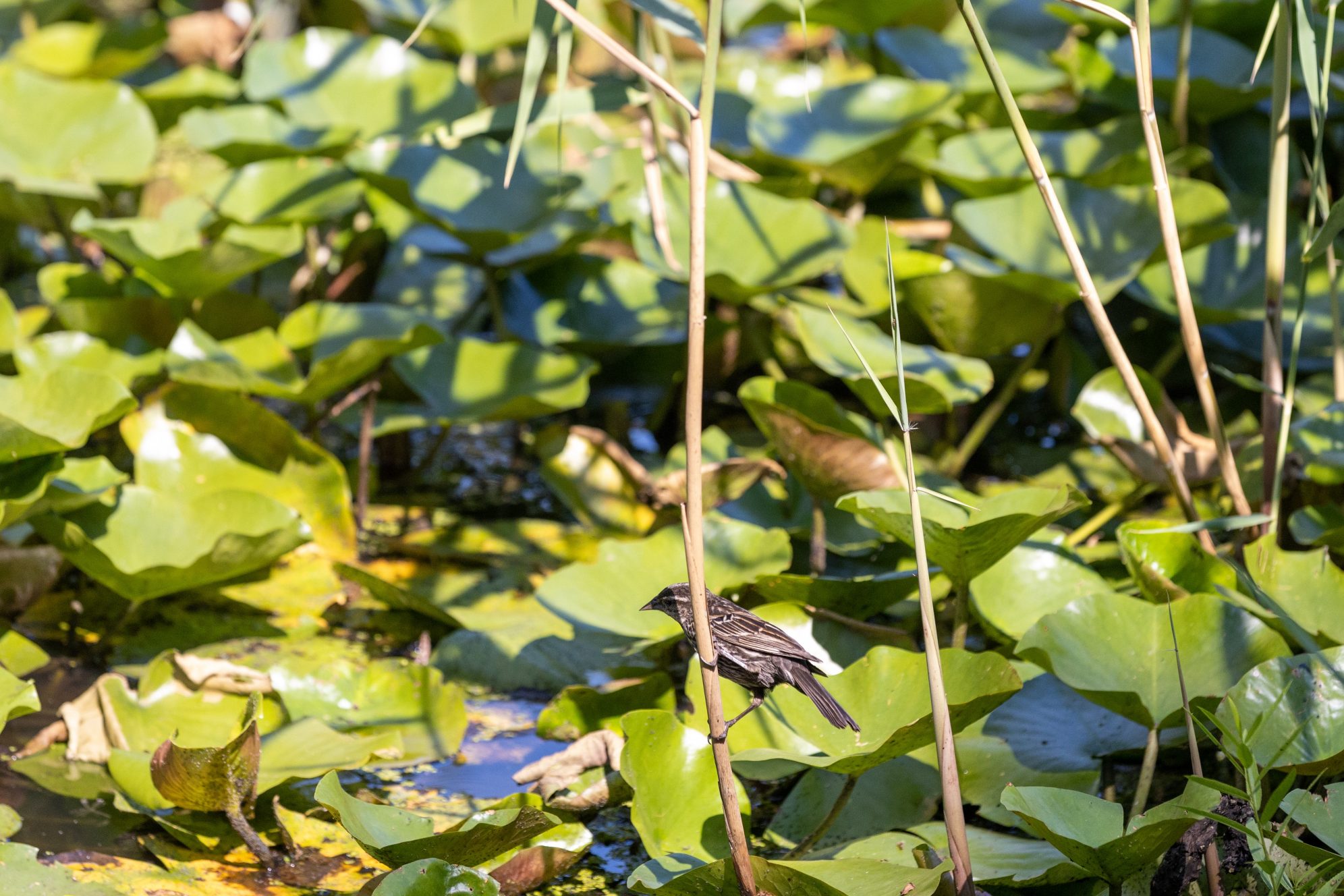 There are the short, distinctive trills of red-winged blackbirds. Frogs, spooked by footsteps, splash into the water one by one. (They're all likely American bullfrogs, Charmaine says; when she's here, she often hears the low drum sound they make.) A turtle, its head barely peeking above the waterline, leaves a visible trail through the bright green duckweed floating on the pond's surface. Despite her spotting scope, the turtle is too far away and too hidden for Charmaine to identify it.
"There are so many turtles here, but they submerge themselves when it's hot," she explains. "When it's colder, they bask in the sun, but on a day like today when the heat index is over 100 degrees, they're probably all underwater."
Turtles, bullfrogs, blackbirds and other wildlife aren't the only beneficiaries of Patterson Park's green space.
"On hot days like this, Patterson Park is always a few degrees cooler than the rest of the city because of all the trees and the tree canopy," Charmaine says. Trees help combat the urban heat island effect, which causes higher summer temperatures in urban areas. The park boasts more than 1,500 trees representing over 50 different species—a mix of recently planted ones and some known to date back to the 1800s.
People who spend time in the park not only enjoy cooler temperatures but might also get a mental health boost. "There are so many studies that show that nature nurtures us. If you're feeling stressed or need some peace, nature just has a way of calming you."
A Lifetime of Exploring
Nature was a big part of Charmaine's childhood in Pen Argyl, Pennsylvania, north of Philadelphia. "There were parks near my house that we would go to every weekend, and we were a family that camped, so I was always exposed to nature and had time for unstructured exploration. I'd just go out and find stuff, and I'd keep myself busy identifying what I'd found and learning more about it."
She was always drawn to water and the ocean, even though she didn't actually get to see and swim in the ocean until she was a teenager, when her family took a trip to the New Jersey shore.
"It was weird, that first experience," she says with a laugh, remembering putting her head under, tasting salt water for the first time and being surprised by just how salty it was.
After that, she earned her scuba certification, which led her to join the National Aquarium in 2003 as a volunteer scuba diver. From there, she moved into her current role as a vital member of the Aquarium's Conservation team.
She doesn't recall her first visit to Patterson Park, but she's sure it was within days of moving into her house in Fells Point in 2011. "I always seek out natural spaces, and I've been a lifetime runner, so I'm always looking for places to run where I don't get into traffic." At the height of the COVID-19 pandemic in 2020, her appreciation for the park grew even more. "This was my place to be at least once a day, sometimes twice."
History of Patterson Park
Named for William Patterson, an Irish immigrant who became a wealthy Baltimore merchant, Patterson Park is located in Southeast Baltimore and spans multiple neighborhoods, including Butchers Hill, Canton, Highlandtown and Upper Fells Point. In 1827, William Patterson gifted 6 acres of his property to the city for public use, which planted the seed for the 137-acre park it is today.
Patterson Park is known for its history and historic structures, like the marble fountain built in 1865, the famous pagoda observatory, and artifacts from the area's role in the War of 1812 and the Civil War. (Of course, Indigenous peoples, including the Piscataway, inhabited the region for centuries before white explorers and settlers arrived.)
Today the park offers a wealth of recreational resources that are open to all, including an ice rink, pool, tennis and basketball courts, turf and grass fields, a recreation center, playgrounds, paved paths and community gardens. It's also known as a hotspot for observing nature—trees and plants as well as animals. Groups like the Friends of Patterson Park, Patterson Park Audubon Center, and Baltimore City Recreation and Parks have a hand in making sure the park provides plenty of healthy habitats for a wide variety of wildlife—from birds and mammals to amphibians and reptiles to pollinators and insects.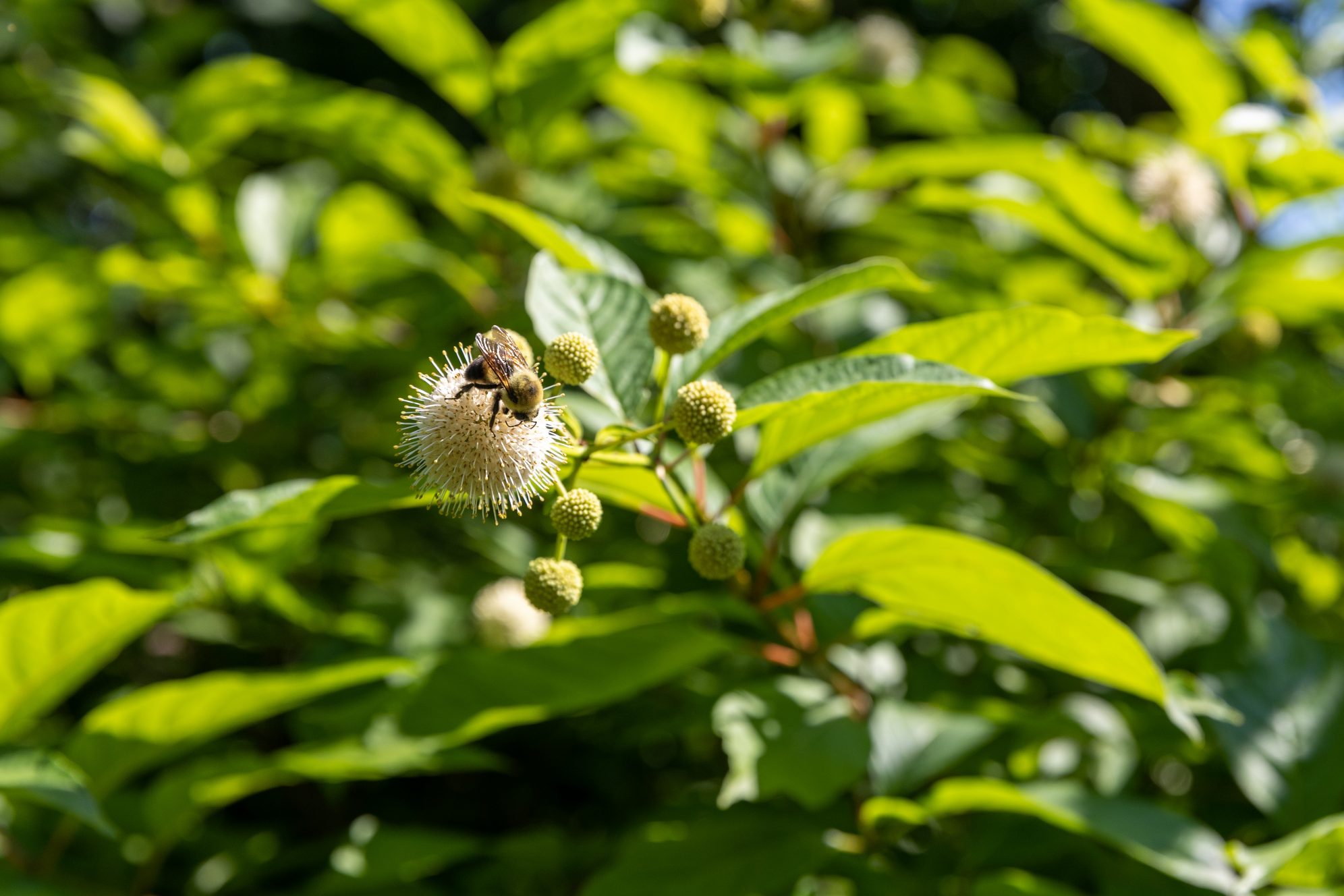 A 2-acre manmade lake in the center of the park near Eastern Avenue is one such habitat. In the 1800s, people could rent boats and row around the lake; today, it's a quieter spot. In the middle, there's a small, overgrown island where birds and other animals can hide and forage.
Water to create the boat lake may have been diverted from a creek that no longer exists. Maps dating back to the 1600s show a small stream called Harris Creek running through what's now Patterson Park and flowing into the Patapsco River. "At one point, before it was filled in and covered over, you could have navigated up Harris Creek from the harbor through this park in a canoe or small boat," Charmaine says. "Humans like to move water in certain ways, but you can never create or destroy water. If you move it, it's just going to go somewhere else. So today when it rains, even if it's not a really rainy day, you can still see where that creek likely was because the water tends to collect there."
As much as she loves Patterson Park and sees the value in its expansiveness, Charmaine would also like the city to take advantage of opportunities to create and nurture smaller natural spaces throughout Baltimore.
"It really depends on the ability of the city and communities to work together to make it happen," she says. "The more green spaces we have, the more connection there can be. The best scenario would be a wide, diverse network of habitats to give birds and other animals more places to go."
Not to mention more places where people in Baltimore can go to be nurtured by nature.
Plants and Animals of Patterson Park
Visitors can see a wide variety of animals and plants in Patterson Park any time of year. Some noteworthy observations Charmaine made at the park on this summer visit included Maryland's state tree, a black-crowned night heron, American bullfrogs and more.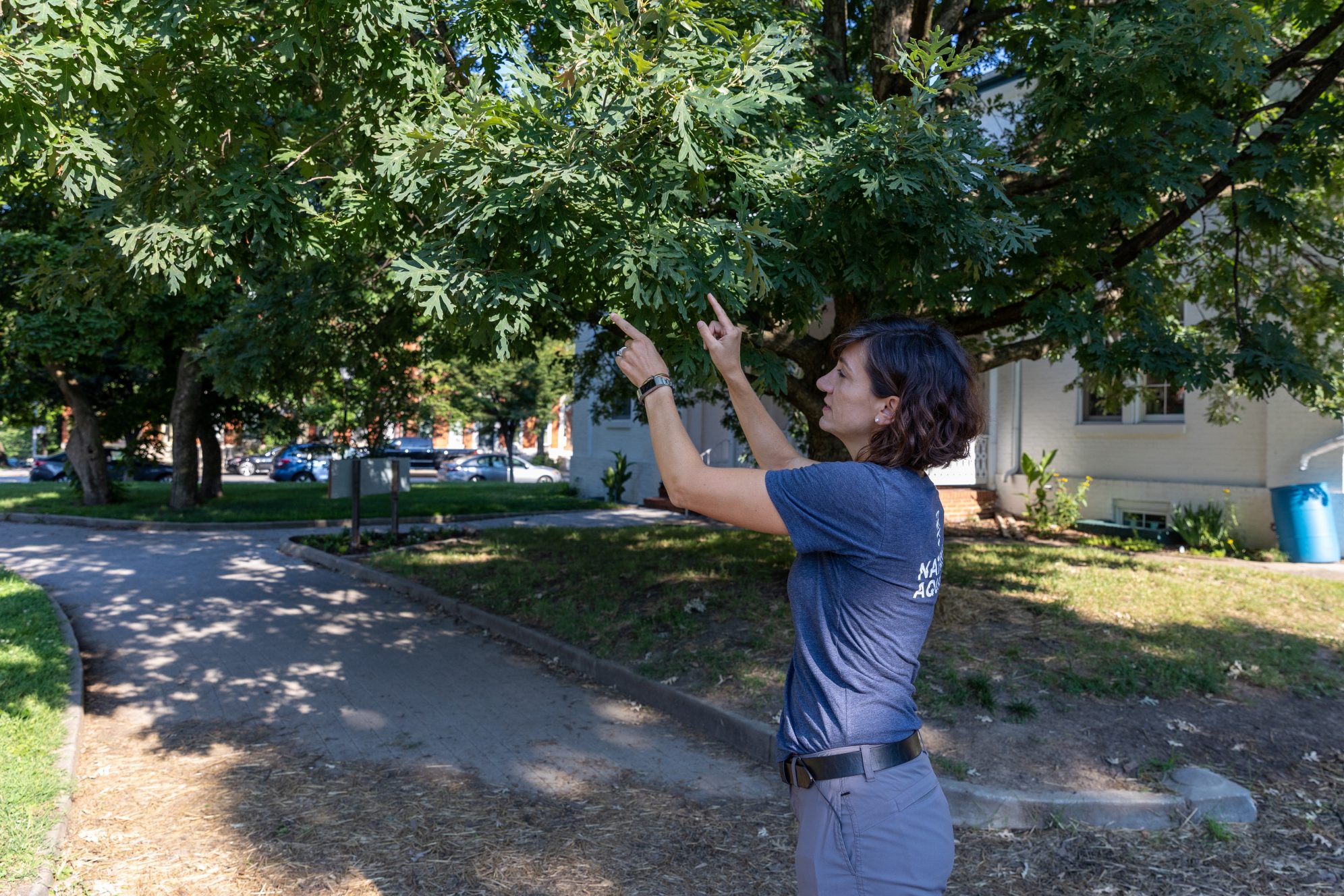 White Oak
White oaks, Maryland's state tree, are found throughout the entire Chesapeake Bay watershed and eastern U.S. The largest white oak on record was the famous Wye Oak in Talbot County, Maryland. It was estimated to be nearly 500 years old, stood 96 feet tall and had a trunk that measured 32 feet around when a storm brought it down in June 2002. Seedlings grown from its acorns over the years remain, though, and it's believed that one of those seedlings is now the formidable white oak that stands in front of the Friends of Patterson Park's office. Mature white oaks can produce up to 10,000 acorns a year, which are a food source for birds and mammals.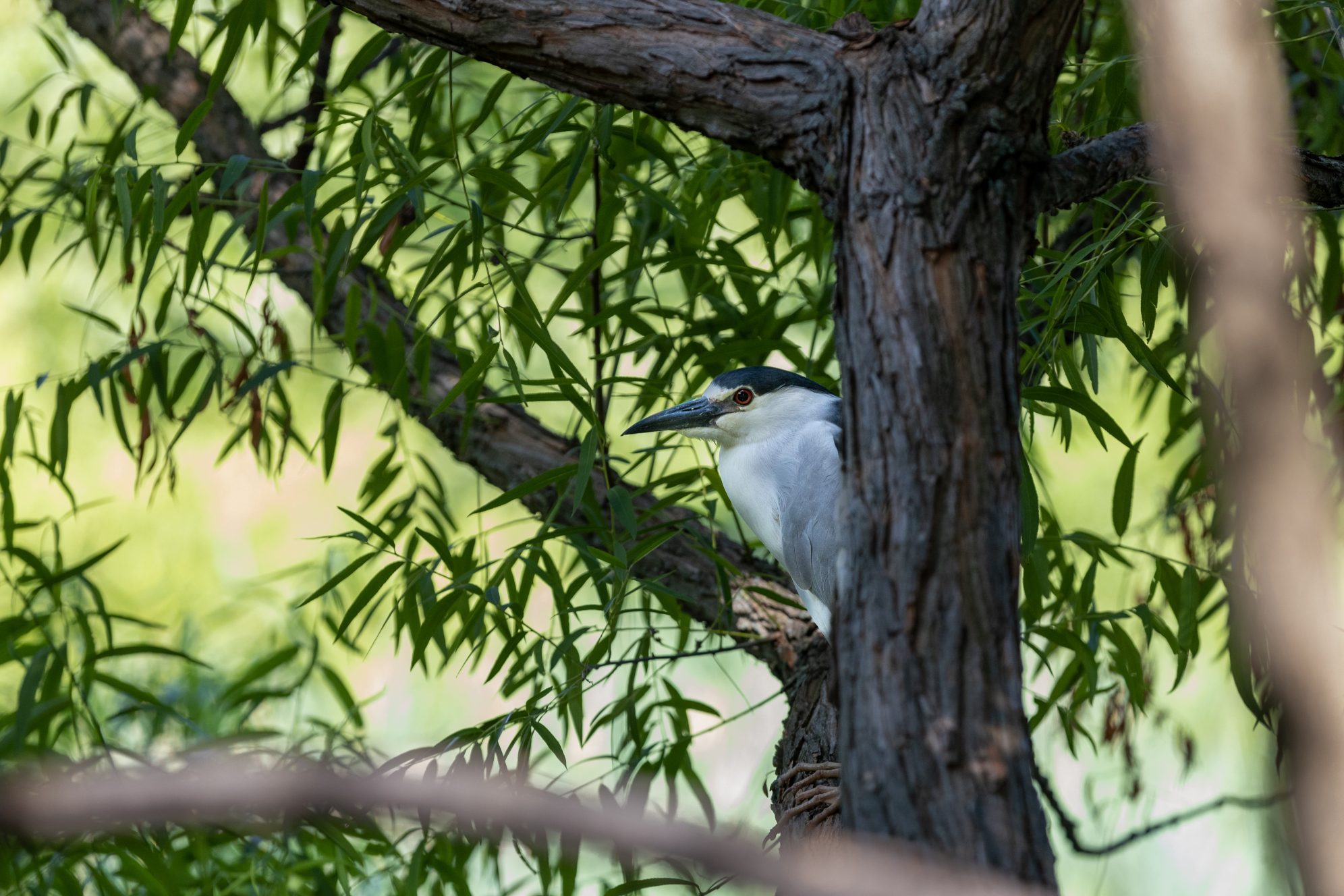 Black-Crowned Night Heron
Charmaine spied an adult black-crowned night heron sitting quietly in a tree next to the boat lake and says Baltimore City has a sizeable population of these large aquatic birds. "Last year, we had a juvenile that would feed in the center channel of the Aquarium's floating wetland in the Inner Harbor every night at exactly 6 o'clock for three days straight," she says. "And in Fells Point, on Thames Street, there's a tiny park with about seven nests, if not more. I usually walk there from the Aquarium on my way home; I could just sit there and watch. Herons come here to Patterson Park to the pond to fish, and they're very still. Even though they're big, people will walk by them without noticing."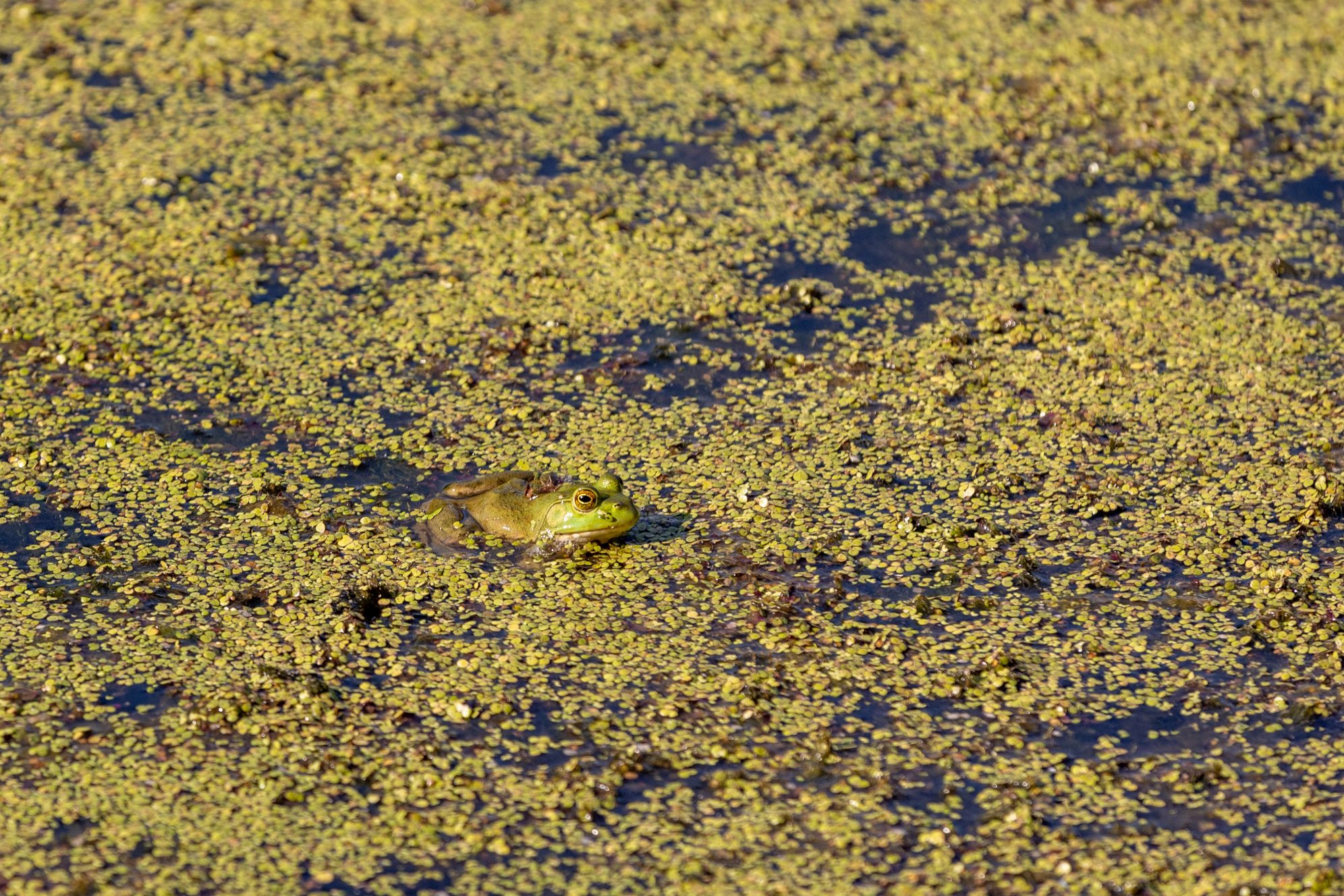 American Bullfrog
These frogs can be found from Nova Scotia to central Florida, from the Atlantic coast to Wisconsin, and across the Great Plains to the Rockies. They prefer still, shallow water, like that found at the edges of lakes and ponds or in sluggish streams and rivers. They are the largest frog in North America, weighing about a pound and measuring up to 8 inches. They ambush their prey and will eat almost anything they can catch and swallow, including worms, insects, crayfish, fishes, other frogs, snakes, tiny turtles, small mammals and even birds. (Although they'd be no match for a black-crowned night heron!) American bullfrogs can be seen at the Aquarium in Maryland: Mountains to the Sea.
Duckweed
This is a bright, yellow-green aquatic plant that grows densely in the still water of lakes and ponds. Even though it's native and is a good food source for wildlife, it can grow too aggressively when the weather is hot. "In summer, duckweed can keep growing until it uses all of its resources for growth. Then there's a massive die-off, which sucks dissolved oxygen out of the water as it decomposes," Charmaine explains. That phenomenon is called eutrophication and can harm wildlife that depend on dissolved oxygen for survival. The best way to avoid eutrophication is to keep the water moving. "That's likely why they have aerators here in the boat lake and why we have aerators as part of the design of the Aquarium's floating wetlands. Moving water disrupts the formation of these intense blooms."
Baltimore Oriole
This iconic little bird is on Charmaine's wildlife bucket list of all the things she hopes to see one day. "I look for orioles every time I'm at the park during peak migration in spring and fall. They're really hard for me to spot because they stay high in the trees—and they're very busy birds that move around a lot. You've probably been close to one, even if you've never seen one." Orioles feed on fruits and berries (preferring those that are fully ripe and a deep, dark color) as well as nectar, insects and caterpillars. Adult males are known for their brilliant orange and black coloring. Young females are a more muted orange, but their coloring deepens every time they molt, so some older females are almost as bright orange as males.
"There's this sense sometimes that nature can only be found in rural areas, away from densely populated urban spaces, and that's just not true. There's so much biodiversity right here in downtown Baltimore thanks to large, well-established parks like this one as well as a growing network of smaller natural spaces like community gardens, pocket parks and forest patches across the city. The Aquarium's floating wetlands are part of that network, too. And I love that all these natural spaces benefit people as much as they benefit wildlife."
Stay tuned for more stories in our Aquarium Inside Out series!
Subscribe To Our Newsletter
Sign up to receive updates on animals, news and events.