Members Help Defend Fort McHenry Habitats
A field day in June gave National Aquarium members a chance to contribute directly to the Aquarium's conservation priorities while getting outside and meeting like-minded volunteers.
In the garden, bees buzzed around a buttonbush and there were signs of the fox living in a den nearby. The box turtles and black rat snakes weren't hiding in the brush or the shed where they'd been spied earlier in the summer—but birds chattered noisily in the trees overhead as a group of volunteers pulled wild strawberries and invasive grasses from garden beds.
This might not sound like a scene set in the heart of Baltimore City, but it was.
Several yards away on a narrow, muddy strip of Patapsco River shoreline, more volunteers bent to pick up debris that the tide had washed in—plastic bottle caps in a rainbow of colors, small pieces of Styrofoam, cigarette butts, pale plastic cigar tips and more.
Thirty-seven National Aquarium members—ranging in age from elementary students to retirees—showed up on a humid, sunny morning in June to maintain the pollinator and rain gardens adjacent to the Fort McHenry National Monument and Historic Shrine and remove debris from the wetlands nearby. Their work directly impacts the Aquarium's conservation priorities—particularly stopping plastic pollution. Aquarium members removed 7,492 pieces of debris in a few hours that day according to Conservation Technician Hallie Carter, data that contributes to regional cleanup efforts.
Valuable Green Space in Baltimore City
When the Fort McHenry Tunnel was built along Interstate 95 in the early 1980s, the Clean Water Act of 1972 required the State of Maryland to offset the negative environmental impacts of the construction by creating a 10-acre tidal estuarine wetland at Fort McHenry, the birthplace of "The Star-Spangled Banner."
Made of dredged material excavated during the tunnel's construction, the wetland is tucked along the western edge of the peninsula that reaches into the Patapsco and forms the entry point to Baltimore's Inner Harbor. A portion of the Fort McHenry Tunnel runs directly beneath the wetland and, most days, the Francis Scott Key Bridge is visible in the distance. To protect the wetland's plants and wildlife, there isn't general public access, but parts of it can be seen from the one-mile paved walking loop around the fort.
Since 1999, the Aquarium has maintained the wetland in partnership with the National Park Service, which manages the Fort McHenry historic site, and C. Steinweg Inc., a private company that operates the Fort McHenry terminal.
Over the years, this work has created a valuable green space with diverse plant life in the heart of Baltimore City for insects, birds, mammals, reptiles, amphibians and other species.
The Plastic Pollution Problem
Experts estimate there are more than 5 trillion pieces of plastic floating in the ocean today, with millions more tons entering each year. Disposable plastic items easily wash or blow into rivers and streams and are then carried to the ocean. This pollution can have devastating effects on freshwater and saltwater ecosystems and all the living things found there. On World Oceans Day in June, the U.S. Department of the Interior announced that it will reduce and eventually phase out the sale of single-use plastic products in national parks, wildlife refuges and other public lands—which includes Fort McHenry.
"The phase-out is really great news," says Maggie Ostdahl, the Aquarium's conservation policy manager. "It's part of a suite of recent actions by the Biden Administration to advance the President's climate, nature and justice goals. Other actions include progress toward the creation of new marine protected areas and the establishment of a national ocean climate action plan—all of which are big steps forward that were influenced by the advocacy of many organizations, including the National Aquarium. We will continue to push for other national policy changes needed to address plastic pollution and wholeheartedly applaud the agency for taking this critical step forward."
The National Aquarium's Efforts
Advocating to reduce plastic pollution at the source is just one way the Aquarium works to curb the negative impacts of plastic pollution on the health of people, wildlife and ecosystems.
We recently supported Baltimore City's Comprehensive Bag Reduction Act and a Maryland law prohibiting balloon releases, while steadily phasing out single-use plastics from our own business operations. The Aquarium's on-site cafes have been free of single-use plastic food- and drinkware since 2017, and it's estimated that the water bottle-filling stations in the Aquarium have kept more than 2.7 million single-use bottles from entering landfills since they were installed in 2014.
On the cleanup front, last year alone, Aquarium volunteers at Fort McHenry and other sites throughout Maryland removed 83,184 pieces of debris—81,834 of which were plastic—from local shorelines and waterways.
Member Volunteers Share Their Thoughts
James Lee has been an Aquarium member since 2018 and he volunteers consistently at Aquarium events, including participating in sand dune restoration in Virginia Beach, a tree planting at Nassawango Creek Preserve, the shoreline planting at Chesterwood Park in Baltimore County, and a cleanup at Masonville Cove. "I like to help," he said. "Volunteering offers a hands-on experience and a direct connection to the environment, which no photo or video could remotely replace. Volunteering has always paved visceral connections to actions and decisions in my life. I did my dissertation in material science—focusing on green manufacturing and pollution output by factories—and I've always been an outdoor person, so it goes hand in hand."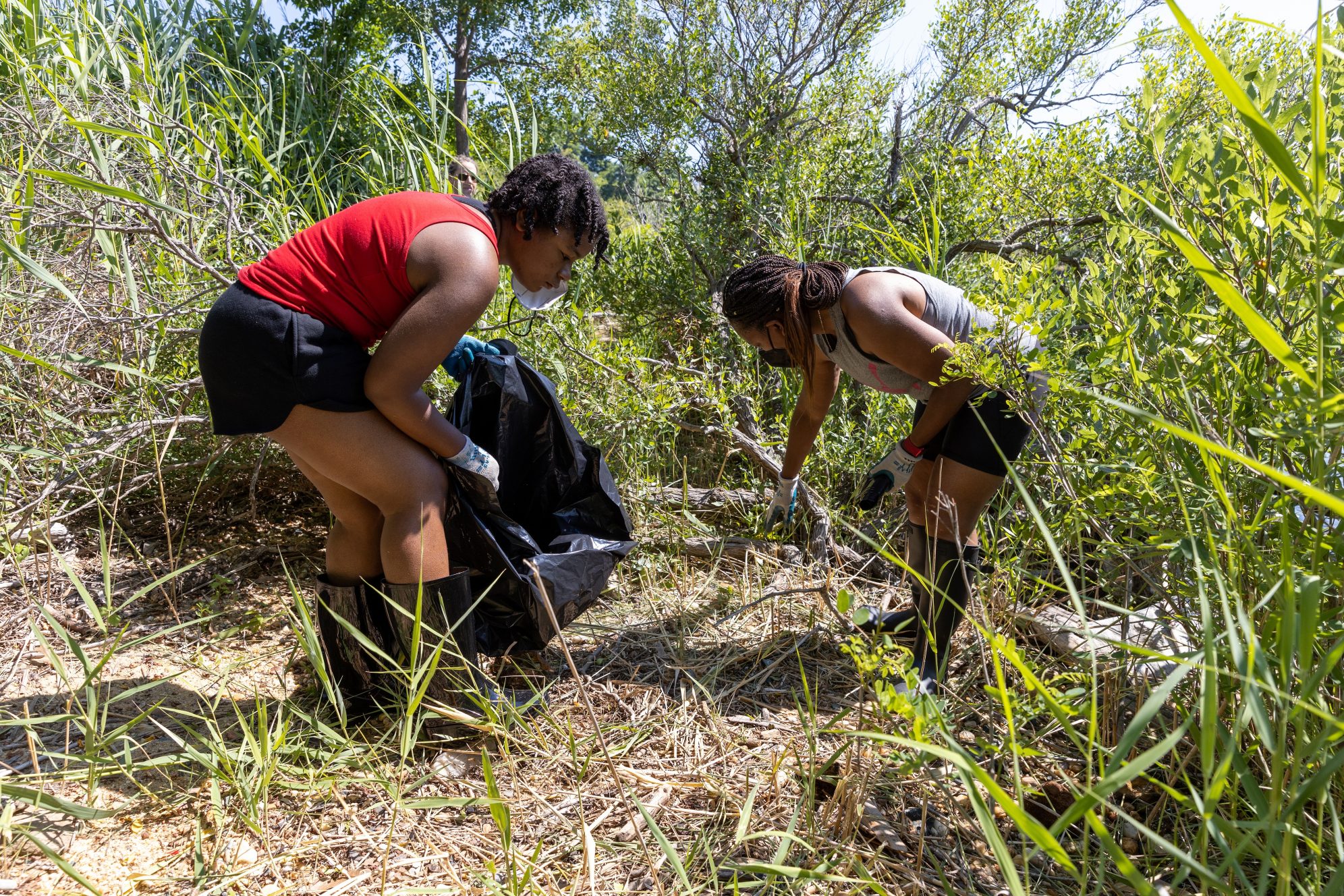 "This is our first time doing this, but it won't be the last," said Alicia Jones McLeod as she picked up debris with her daughter, Alyssa McLeod, a student at Millbrook High School. They've been Aquarium members for several years, most recently spurred by Alyssa's love of aquariums, zoos and conservation. As part of her role as the executive director of the nonprofit Challenging Racism, Alicia has been leading diversity, equity and inclusion projects at Fort McHenry and other Baltimore-area historic sites, so she was interested in spending time at the fort in a totally different capacity. Alyssa was particularly interested in where the debris she was picking up came from, and both Alicia and Alyssa observed that the lack of public trash cans, particularly in certain Baltimore City neighborhoods, could be a contributing factor.
Bob Newton, a retired educator from Baltimore County, has been an Aquarium member since 2017. As a first-time Aquarium volunteer, he picked up debris in an area of the wetland known as Angie's Cove. "What struck me was the enthusiasm of everyone who showed up, including the four teenagers in our group, and the amount of plastic we found," he said.
"There were hundreds of plastic bottle caps—hundreds. I've read about plastics in the ocean and waterways, but to actually see it was unreal."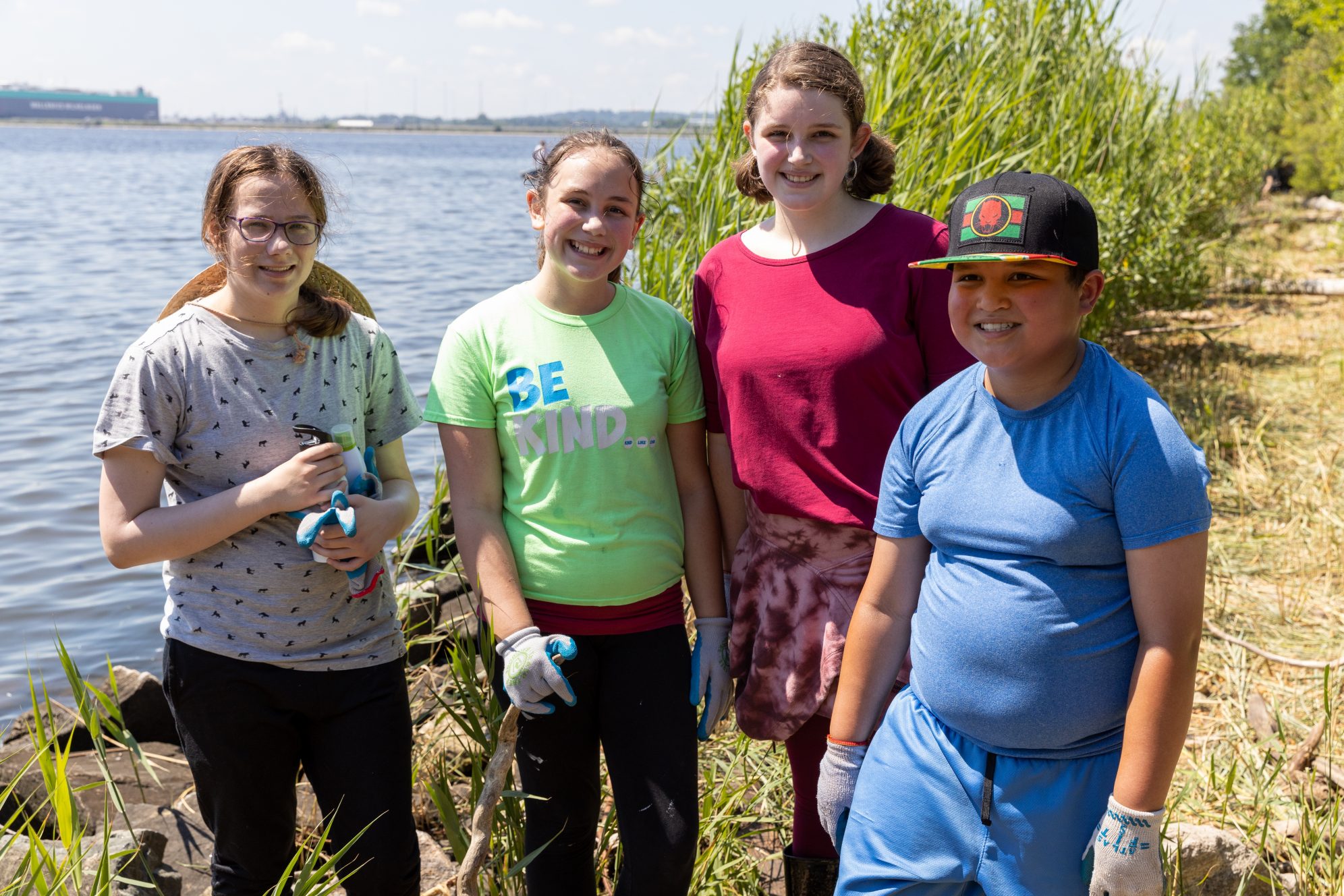 Ten-year-old Matthew Chin Jr. volunteered with his father, Matthew Chin Sr. The two of them were picking up pieces of trash at the water's edge, and Matthew Jr. shared that they'd found mostly plastic bottle caps and cigar tips, as well as small pieces of Styrofoam. Matthew Sr. said they joined the Aquarium as members because it's an enriching place to visit as a family. They'd recently visited Fort McHenry for the very first time, Matthew Sr. said, adding, "Volunteering at Fort McHenry with the Aquarium was a nice way to connect the two."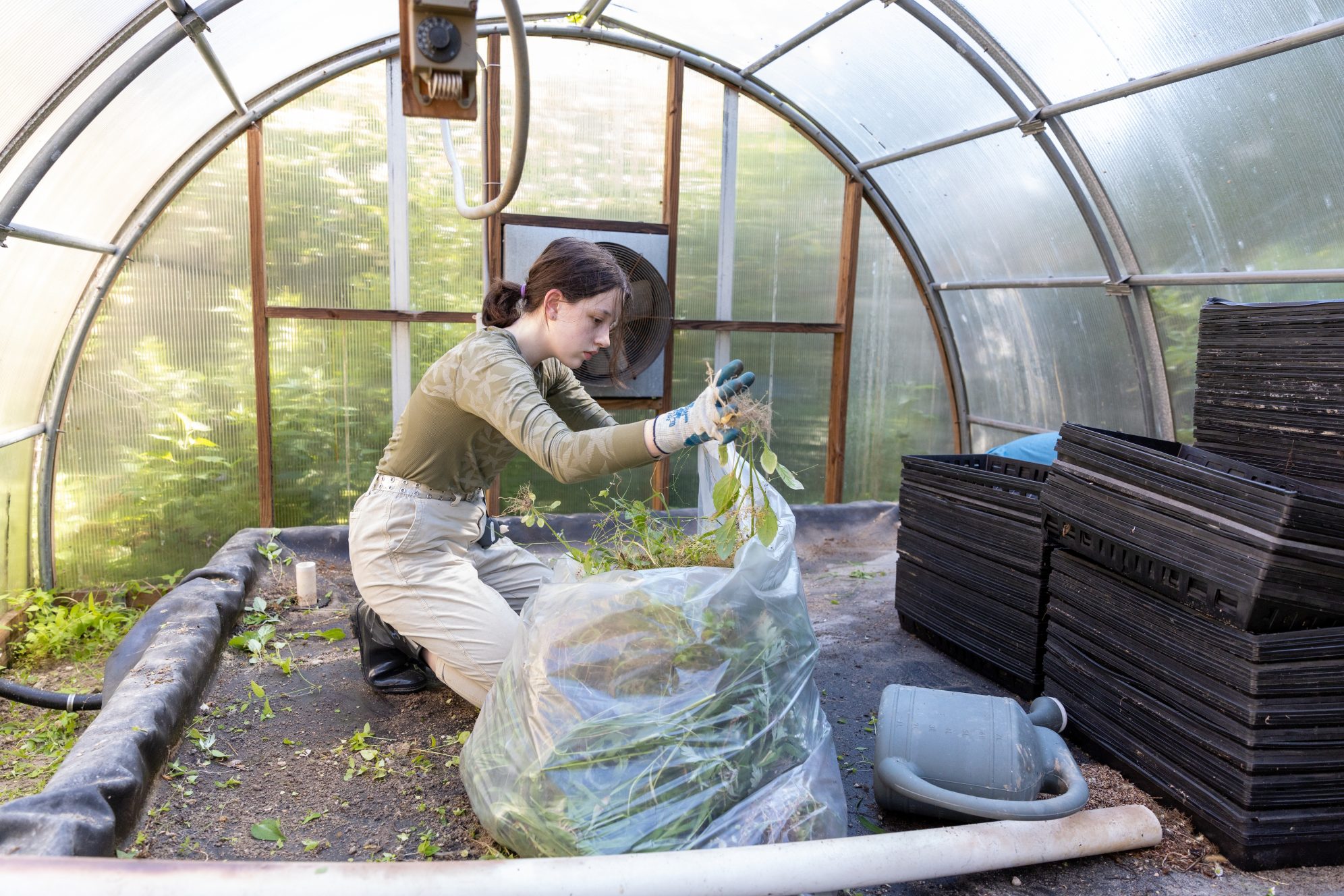 Mary Keen, a rising ninth grader at Carver Center for Arts and Technology, volunteered with her mother, Ann Keen. Their family has had an Aquarium membership on and off for several years, but this was their first time volunteering at Fort McHenry. As she and her mother pulled weeds in the greenhouse at the pollinator garden, Mary said, "I've always liked nature and wildlife. I've grown up with animals and have always had an interest in them."
For Eric Oliver, the Aquarium provided a peaceful spot to visit when he first moved to Baltimore two years ago from California, where he'd lived for 20 years. He says he decided to volunteer at Fort McHenry because he saw it as an opportunity to meet like-minded people. As he pulled weeds and dropped them into a wheelbarrow, he said, "This is the opposite of what I do every day; I'm usually sitting in front of a computer."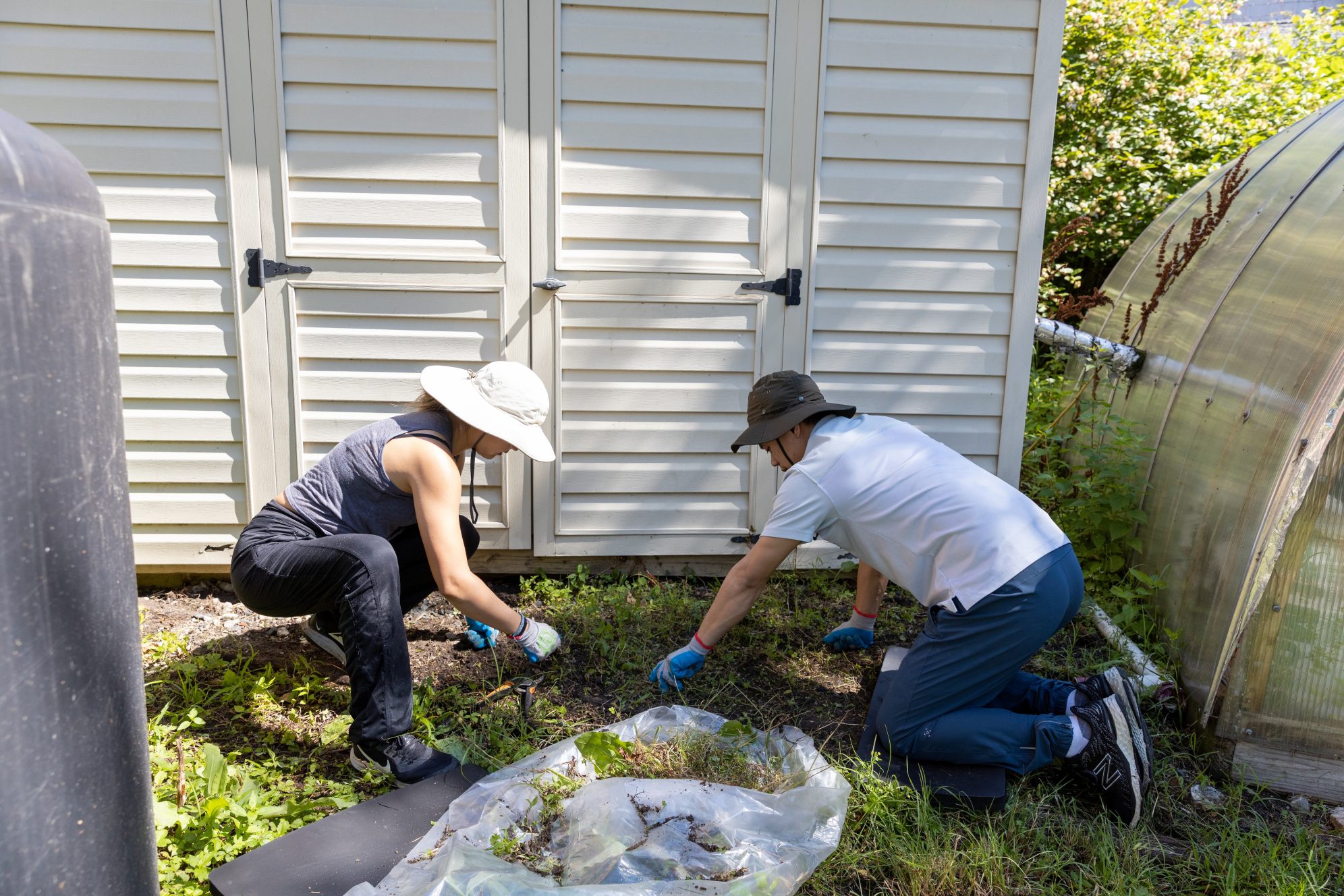 Vania Wang and Eric Liu also became Aquarium members recently when they moved to the area from California, where they lived near the beach in San Diego. Vania says visiting the Aquarium, which they can walk to from their home in downtown Baltimore, helped them transition from living on one coast to another. "We try to volunteer somewhere at least once a month," Vania said. They were motivated to join the cleanup at Fort McHenry because they're interested in helping protect the Chesapeake Bay.
Lucas Siskind, 11, volunteered with his mother, Colleen Clary. Their family joined the Aquarium as members three years ago. Lucas is involved in environmental and science-focused clubs at his school and has been asking to do something like this for a while, Colleen said. "It was good except for the fishy smell," Lucas concluded.
Potential smelliness aside, if you're interested in volunteering at an upcoming cleanup event, check the calendar in the Member News e-newsletter.
Summer 2022
More Watermarks Stories
Support the National Aquarium
Your gift supports the highest level of animal care and advances research, education and conservation action.