Supporting the Sea Turtle Rescue Assistance Act
On World Sea Turtle Day, we're thrilled to show our support for a new piece of bipartisan legislation that would provide critical funding for sea turtle conservation.
News
•
Conservation
•
Animals
For more than 30 years, National Aquarium Animal Rescue has rescued, rehabilitated and released hundreds of protected marine animals, the majority of which have been endangered sea turtles. This critical conservation work has provided a unique, up-close perspective on the challenges facing protected marine animals like sea turtles—and those who care for them.
Although sea turtles are federally protected, and despite the high costs associated with sea turtle stranding response and rehabilitation, there's currently inadequate direct federal support allotted to organizations that rescue and rehabilitate endangered sea turtles. The National Aquarium, New England Aquarium and South Carolina Aquarium—all members of the Association of Zoos and Aquariums' Saving Animals from Extinction (SAFE) Sea Turtle program and the Aquarium Conservation Partnership—are leading the charge to change that, catalyzing a national effort with organizations across the country that are working together to encourage Congress to pass the newly introduced Sea Turtle Rescue Assistance Act.
Filling a Crucial Gap in Sea Turtle Conservation
This legislation, which was recently introduced by U.S. Representative William Keating and U.S. Senator Ed Markey, will fill a crucial gap in sea turtle conservation by providing much-needed direct support to organizations that provide sea turtle stranding response and rehabilitation, permanently addressing the current lack of financial support. A survey of eight network partners in the Sea Turtle Stranding and Salvage Network (STSSN) found that they collectively spent $5 million per year to care for more than 2,000 rescued sea turtles over a two-year period. With the Sea Turtle Rescue Assistance Act, there will be necessary funding available to support organizations so that they can continue to complete this critical species conservation work.
Thanks to the leadership of U.S. Senator Chris Van Hollen, three dozen members of Congress and 42 organizations from across the country have already endorsed calls for funding sea turtle stranding response and rehabilitation in the federal budget. The Sea Turtle Rescue Assistance Act builds on this momentum by creating a permanent grant program to support organizations responding to and caring for threatened and endangered sea turtles.
Why Do Sea Turtles Strand?
Rescuing and rehabilitating sea turtles is more important than ever, with sea turtle strandings increasing in the United States—particularly in the northeast Atlantic. Sea turtles are migratory animals that swim north during the warmer summer months to forage for food. As our ocean rapidly warms—a direct result of climate change—turtles are swimming farther and farther north. When water temperatures in the northeast Atlantic start to drop in the fall months, sea turtles need to return to warmer waters, but many become stuck in the hook-shaped geography of the Cape Cod Bay and are unable to swim south.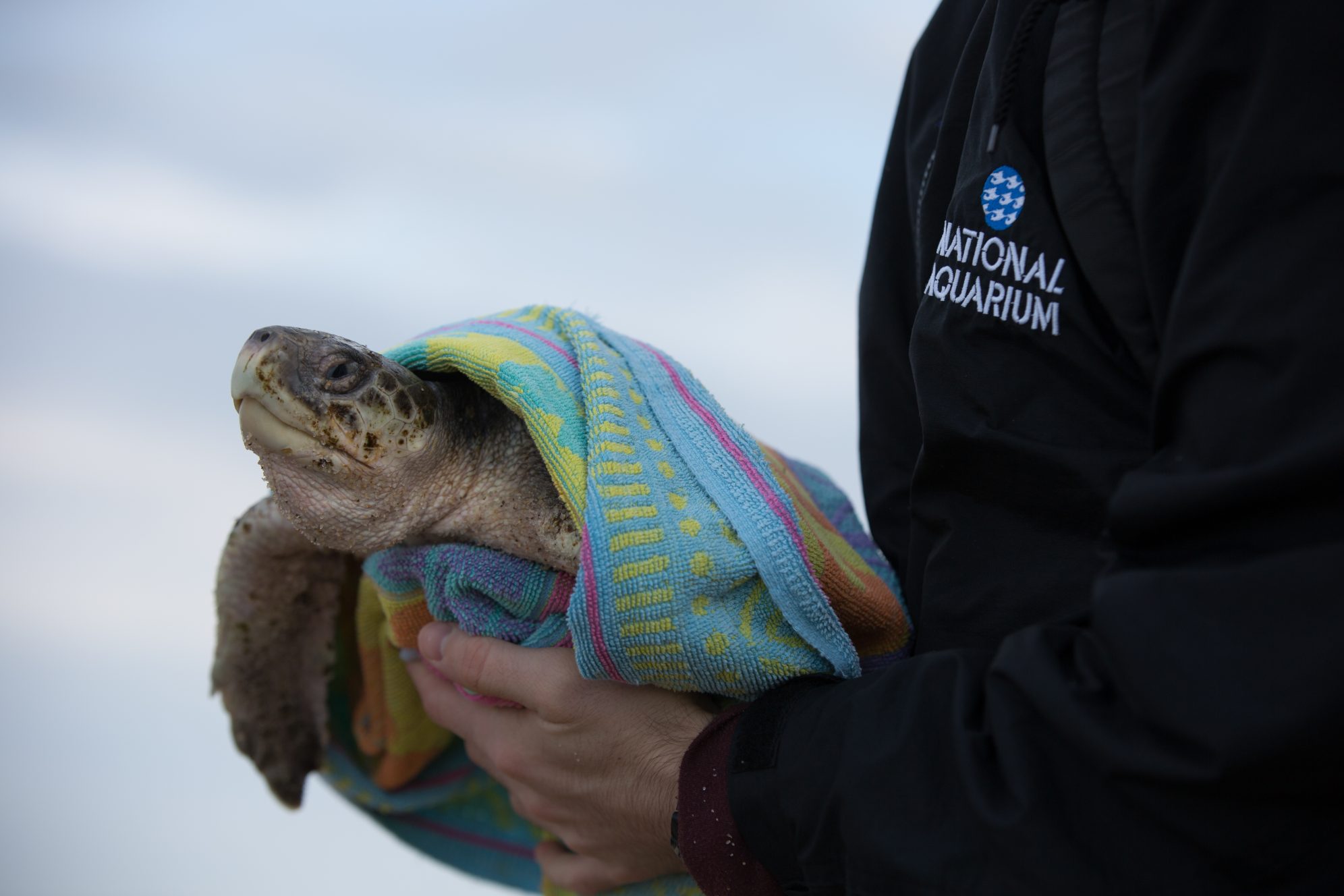 As reptiles, sea turtles' body temperatures are regulated by their surroundings—and as water temperatures plummet, their body temperatures declines until they fall into a hypothermic-like state. This phenomenon, known as cold stunning, renders sea turtles unable to swim and causes life-threatening medical issues such as pneumonia. Lethargic and ill, they wash ashore; this is the beginning of the rescue process for organizations like the National Aquarium that transport these turtles to their facilities for long-term rehabilitation and eventually, a return to the ocean.
According to data from Mass Audubon, the number of cold-stunned sea turtles has increased dramatically over the past 10 years—and it's not predicted to slow down any time soon. Experts predict more than 2,300 sea turtles may cold stun annually on Cape Cod by 2031 as ocean temperatures continue to increase, due in part to the effects of climate change.
Join Us in Showing Your Support
Sea turtle stranding response and rehabilitation is one important piece of the complex puzzle that comprises sea turtle conservation, and the demand on organizations doing the work is likely to keep increasing—especially in the face of a changing climate that puts sea turtles further at risk. Will you join us in showing your support for the organizations that help care for endangered sea turtles by urging Congress to pass the Sea Turtle Rescue Assistance Act?
Subscribe To Our Newsletter
Sign up to receive updates on animals, news and events.