Declare Independence From Plastic This July
The National Aquarium is participating in the 2022 Plastic Free Ecochallenge, which encourages people to reduce and refuse single-use plastics throughout the month of July—and you're invited to join our team!
Every July since 2018, the National Aquarium's team of employees and volunteers has participated in the Plastic Free Ecochallenge, a month-long initiative to spur people to eliminate single-use plastics in their daily lives. The challenge—inspired by Australia's Plastic Free July movement—aligns with the Aquarium's efforts to stop plastic pollution, one of the three broad goals that underpin our conservation work.
This year, anyone can join the challenge as part of the National Aquarium's team. "This is an easy, fun, social way to add more conservation habits into your life," says Aquarium Vice President of Learning and Engagement Megan Anderson, who oversees the Aquarium's involvement along with Guest Engagement Specialist Laila Van Cleve.
"All the major aquariums and zoos in the U.S. participate, and the National Aquarium's team has always finished in the top five," Megan says. "This year, the challenge is expanding beyond aquariums and zoos, with companies like Starbucks and Procter & Gamble taking part."
In other words, we need your help!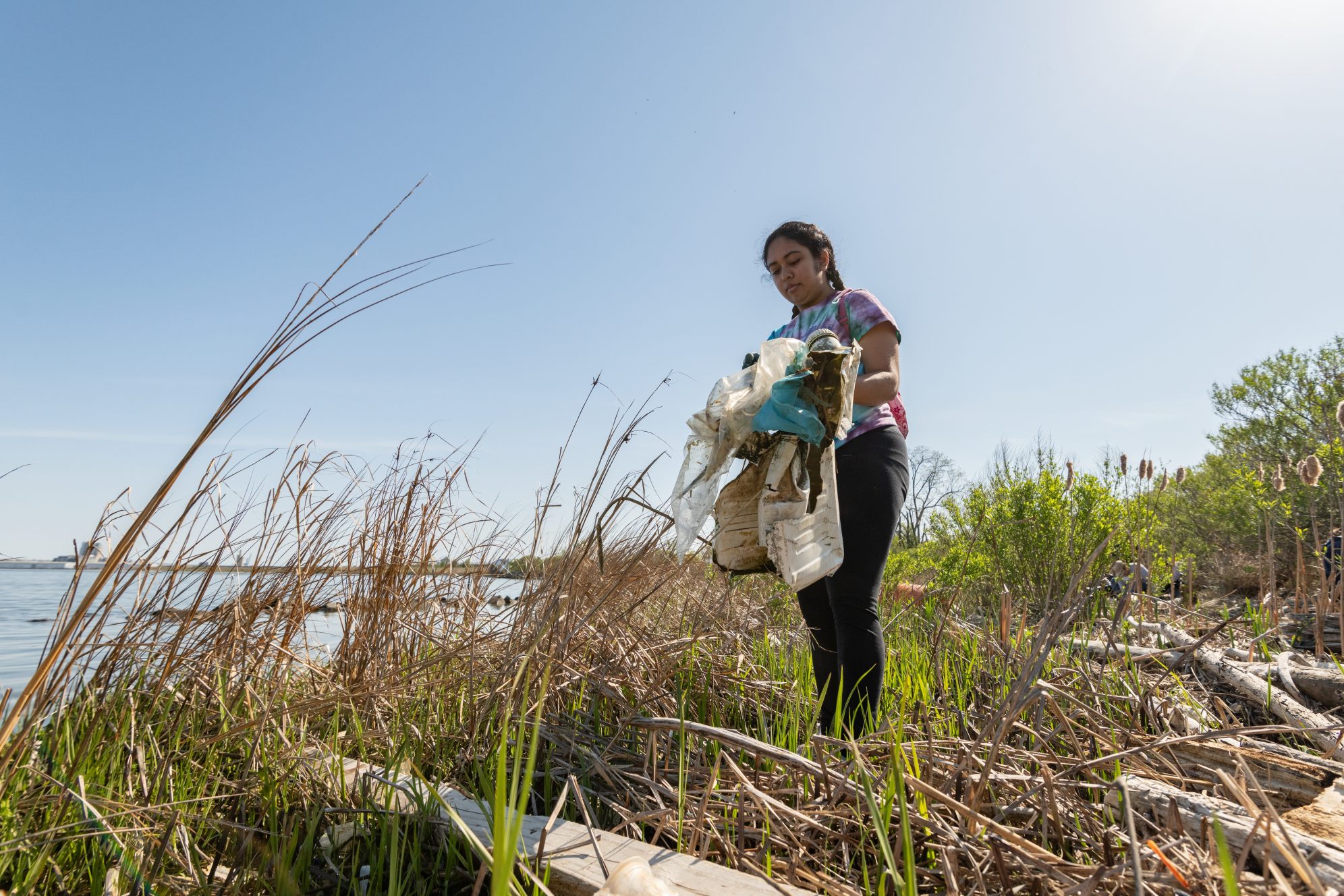 How To Participate
To sign up, visit the National Aquarium's Plastic Free Ecochallenge team page and enter your information.
Once you're signed up, the scope of your participation is up to you. You choose what single-use plastics you will try to avoid and for how long. You can commit to daily or one-time actions. Broad action categories include food, personal care and pets. Share your progress to earn points for the team.
Ways To Reduce Your Use
Plastic is pervasive and it can be overwhelming to try to eliminate it completely all at once. The challenge is a useful way to evaluate plastic usage in different areas of your life and explore alternatives.
The Ecochallenge website is full of resources and ideas; the National Aquarium also offers tips for reducing single-use plastics.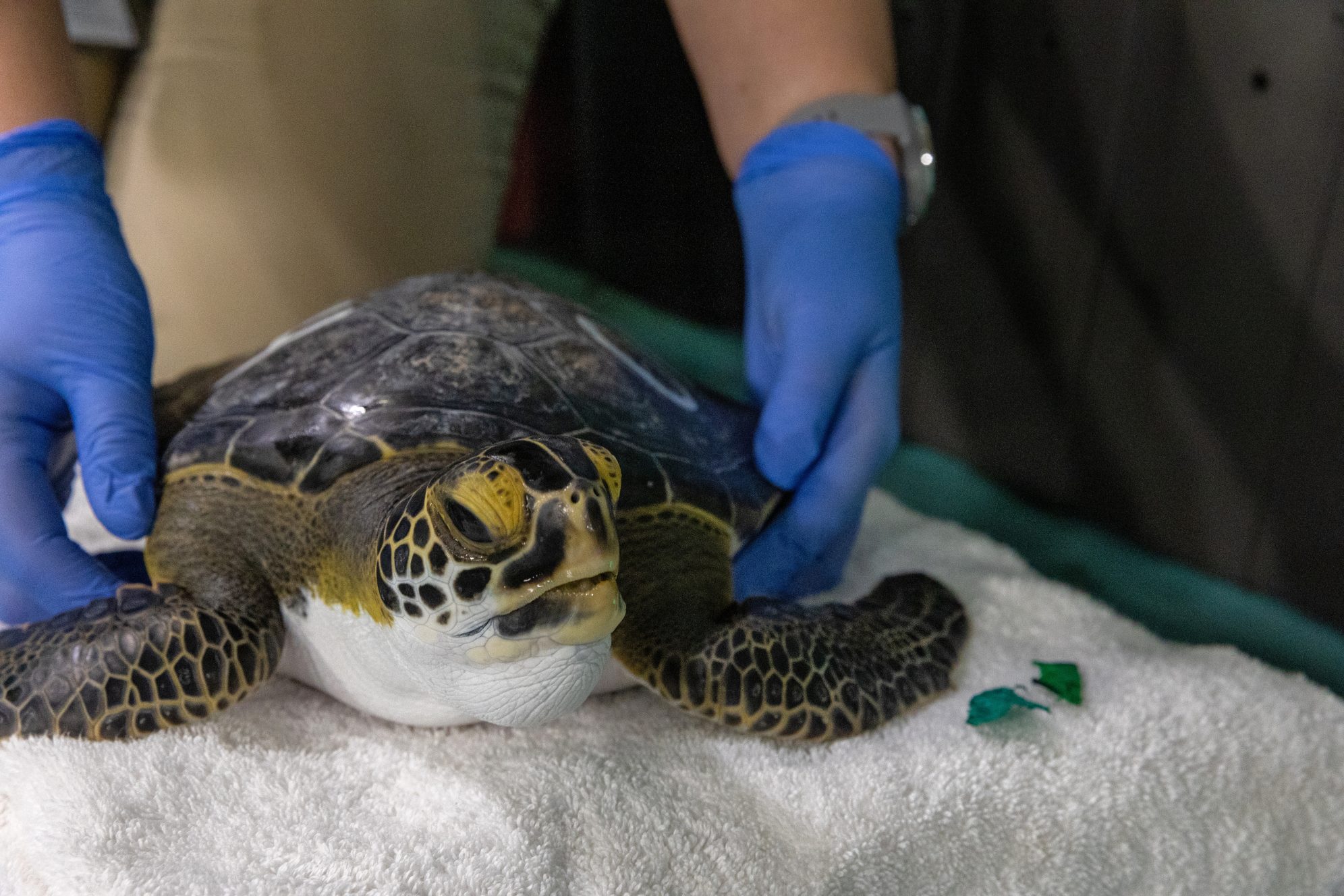 Stopping Plastic Pollution
Last year, a juvenile green sea turtle in the care of National Aquarium Animal Rescue passed two pieces of green plastic material. This was the first confirmed case of a turtle patient passing plastic debris during rehabilitation at the Aquarium.
Plastic pollution is a growing problem that negatively impacts people, wildlife and ecosystems. The Aquarium works to stop plastic pollution through waterway and community cleanups, public awareness campaigns, advocacy for source reduction solutions and by eliminating single-use plastics in our own business operations. For example, since they were installed in 2014, the water bottle filling stations in the Aquarium have kept about 2.7 million single-use plastic water bottles from entering landfills.
Our waterway and community cleanups remove plastic pollution from the environment. Last year, at our cleanup events at Masonville Cove and the Fort McHenry wetland in South Baltimore, Cox's Point Park in Baltimore County and through our coordination of Ocean Conservancy International Coastal Cleanup events across the state of Maryland, we worked with volunteers to remove 83,184 pieces of debris—81,834 of which were plastic—from local shorelines and waterways.
Whether pitching in at a cleanup or trying to eliminate single-use plastics from your day-to-day life, you can take action this July to help stop plastic pollution. Every decision makes a difference. Join us!
Subscribe To Our Newsletter
Sign up to receive updates on animals, news and events.