Back to the Future
We're celebrating World Oceans Month 2022 with the release of rehabilitated juvenile grey seal Louis Armstrong as we reflect on 50 years of federal ocean preservation—and look ahead at what needs to happen next.
News
•
Conservation
•
Animals
A Second Chance for Louis
When he arrived at the National Aquarium's Animal Care and Rescue Center on February 26, 2022, after stranding at Assateague Island National Seashore, rescued grey seal Louis Armstrong was just a few weeks old and weighed only 35 pounds. At this age and size, Louis would still have been dependent upon his mother for nutrition and support, so National Aquarium Animal Rescue and Animal Health staff knew they had their work cut out for them, feeding him gently in light of severe dehydration and wounds to his face, and eventually teaching him to swim and forage for his food independently.
After about 14 weeks of care and rehabilitation, with medical clearance from our partners at the National Oceanographic and Atmospheric Administration (NOAA), we released Louis back into the ocean on Friday, June 3, at Assateague Island National Seashore where his story with us began. Despite early difficulty eating and gaining weight, Louis grew to a robust 75 pounds, mostly over the past month after he mastered foraging for his own food and catching live fish, just as he will need to in the ocean.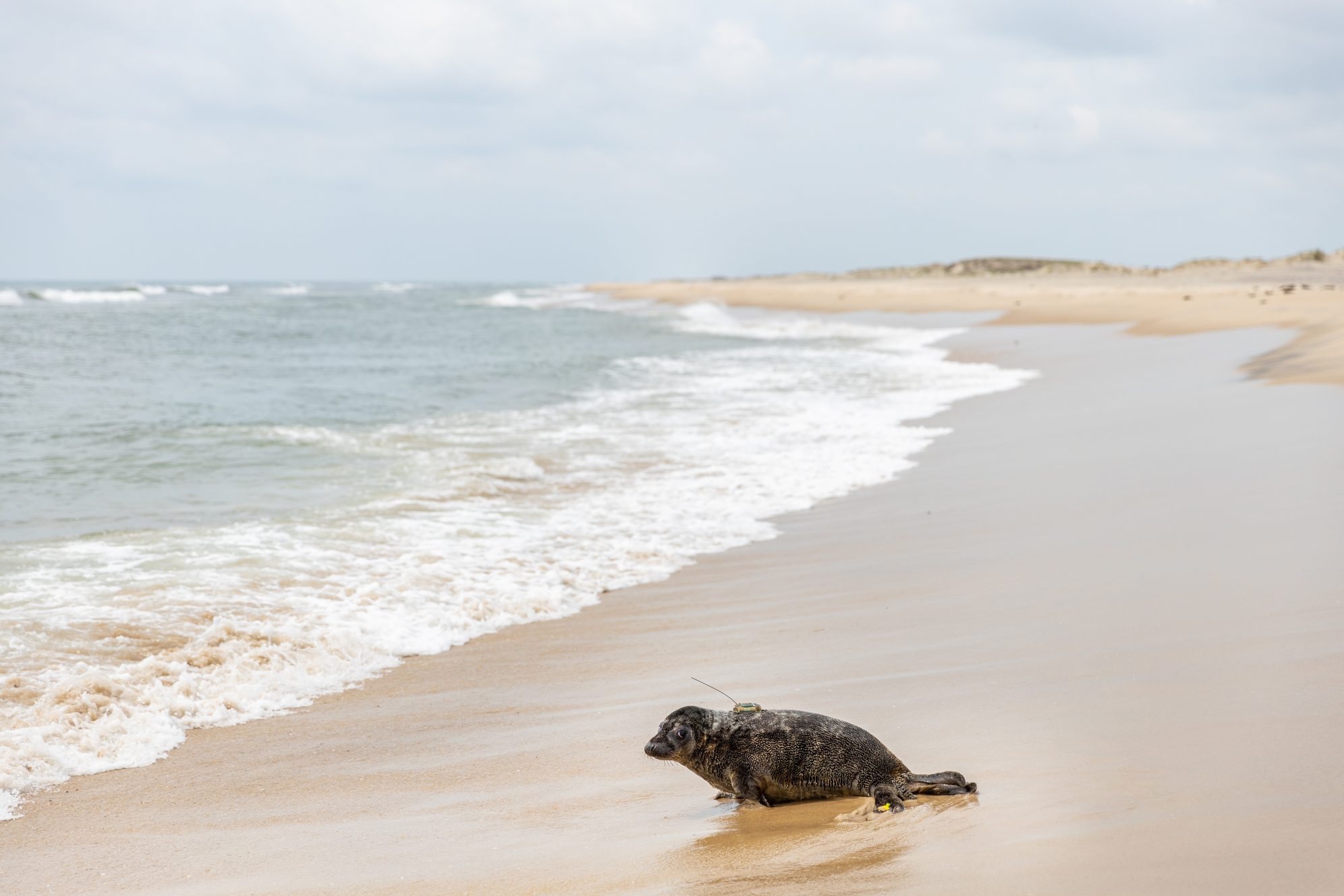 During his time with our team, Louis proved worthy of his name, trumpeting loudly to communicate his wants and needs, and letting his spirited personality shine. As he returns to the water, our team is hopeful that we'll all get a remote look at his trajectory since Louis has been outfitted with a non-invasive, temporary satellite tag affixed with adhesive that, so long as it stays attached until his next molt, will send readings of his depth and location back to our team. These metrics can both offer some assurance that Louis is doing well and give us insight into the migration and rookery habits of seals in our region.
In addition to his fancy satellite tag, Louis is also sporting a new flipper tag that will alert other institutions to his history with us if he encounters humans again. Plus, the placement of the tag generates a DNA sample that we've shared with our colleagues at the University of Maine who are working to establish a better understanding of seal populations along the East Coast, from their migration habits to genetic links from colony to colony. This research will also help researchers to understand how infection and illness impact some grey and harbor seals and not others.
A Second Chance for Our Future
Of course, nothing impacts the health of marine mammals and other aquatic life more than the health of our one, global ocean. With Louis's release taking place last week leading up to World Oceans Day on June 8, we are taking the opportunity to reflect on the ocean that he is returning to and our responsibility to ensure that we are doing everything we can to improve ocean health and protect aquatic life. This year marks the 50th anniversary of landmark ocean conservation legislation, including the Marine Mammal Protection Act (MMPA) of 1972, which was the first act of the U.S. Congress to officially set standards for the management and protection of seals, whales, dolphins and other marine mammals. The rules set forth in the MMPA have allowed seal populations to recover and flourish in marine habitats.
Also celebrating its 50th anniversary this year is the National Marine Sanctuary System, which has grown to include 15 national marine sanctuaries and two marine national monuments that conserve more than 620,000 square miles of spectacular ocean and Great Lakes waters. Designation as a sanctuary or monument not only protects and regulates the use and treatment of these designated spaces, it also creates an opportunity to connect people and communities to these special aquatic places through science, education and stewardship. Right here in our region, the Mallows Bay–Potomac River National Marine Sanctuary was designated in 2019.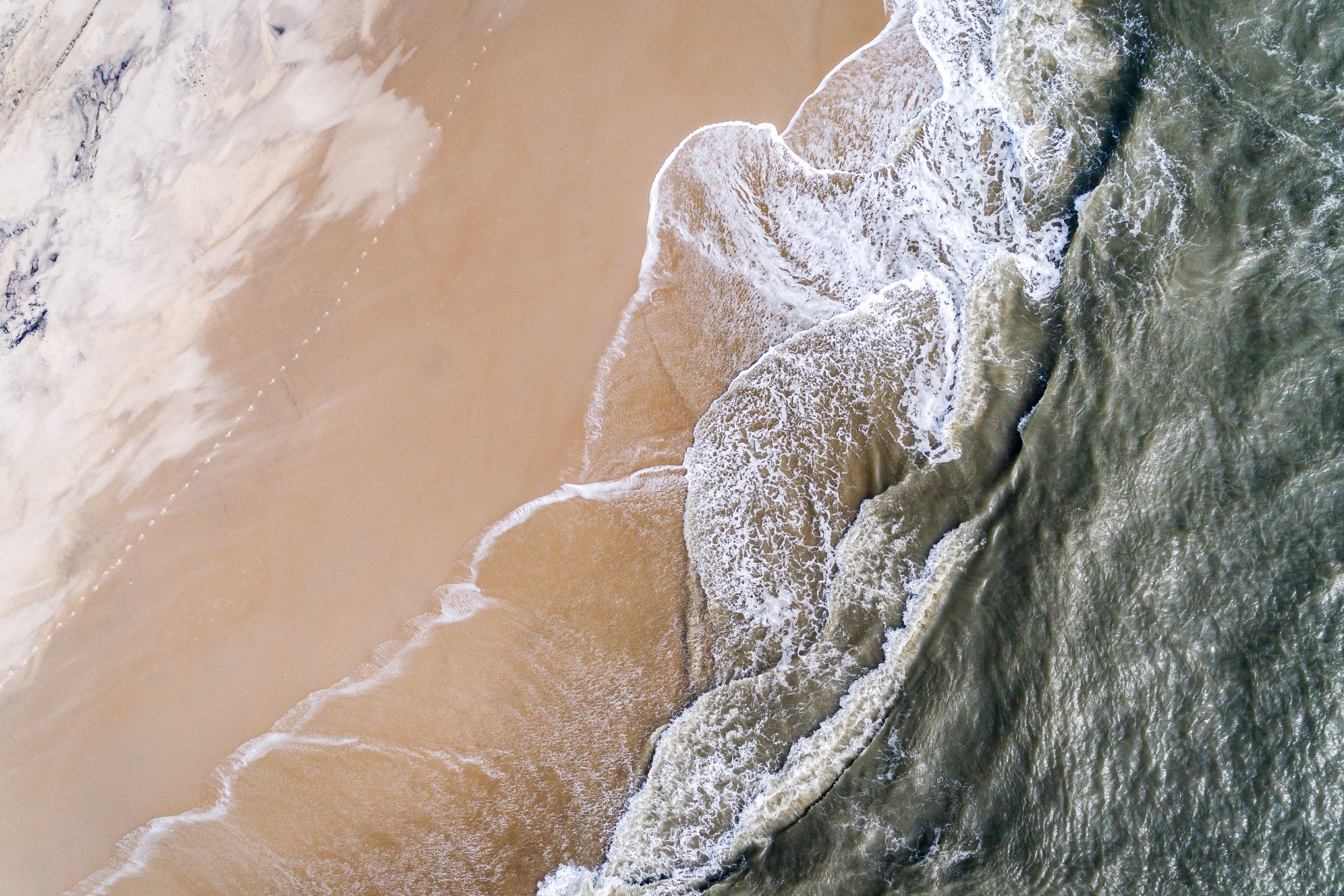 Although the National Marine Sanctuary System now protects aquatic space equivalent to the size of Alaska, it is just the beginning of what needs to take place to preserve or improve the health of our national waterways. To meet the ambitious goals of controlling the acceleration of climate change by 2030, we need to demand and support policies that will move us closer to the national conservation goal to conserve at least 30% of America's lands and waters by 2030. Meeting this goal, which is aligned with the international policy goal that calls for the formal protection of at least 30% of the Earth's surface by the year 2030, will allow our natural spaces protections they need to withstand climate change-related impacts such as warming temperatures and severe weather.
By supporting stronger protection for America's lands and waters, we demonstrate our commitment to creating positive change for our planet, for animals and for people. Better land and marine conservation means more parks, expanded access to nature, enhanced wildlife protection and investment in jobs and science that support overall environmental health. The best way to celebrate World Oceans Month is to support greater protections for our ocean, which in turn support human, animal and planet health, today and every day.
So, as we bid Louis Armstrong goodbye and good luck, we hope you will join us in supporting public policy initiatives at all levels of government that call for the protection of our natural spaces to ensure he and many generations of marine mammals may not simply survive but thrive in their ocean home.
Subscribe To Our Newsletter
Sign up to receive updates on animals, news and events.