Talking Trash
We're proud to remove plastic pollution and other litter from the Inner Harbor and surrounding waterways alongside Baltimore's family of trash wheels.
Plastic pollution is increasingly pervasive in every ecosystem on Earth, including waterways around the globe. Experts estimate that there are more than 5 trillion pieces of plastic floating in our ocean, with millions more tons entering each year. Disposable plastic items easily wash or blow into the ocean, where they can have devastating effects on marine ecosystems and animals, which become entangled in or accidentally ingest plastic debris. The damaging effects of plastic pollution extend to humans as well—we're ingesting the plastic that has found its way into our food system.
Plastic pollution can be found in the smallest streams to the depths of the ocean and every type of waterway in between, and Baltimore's Inner Harbor is no exception. Luckily, there are four googly-eyed heroes leading the fight against local litter: the city's family of four trash wheels, which are strategically located to intercept trash from waterways flowing into and surrounding the harbor before this harmful debris can make its way into the Chesapeake Bay and eventually, the Atlantic Ocean.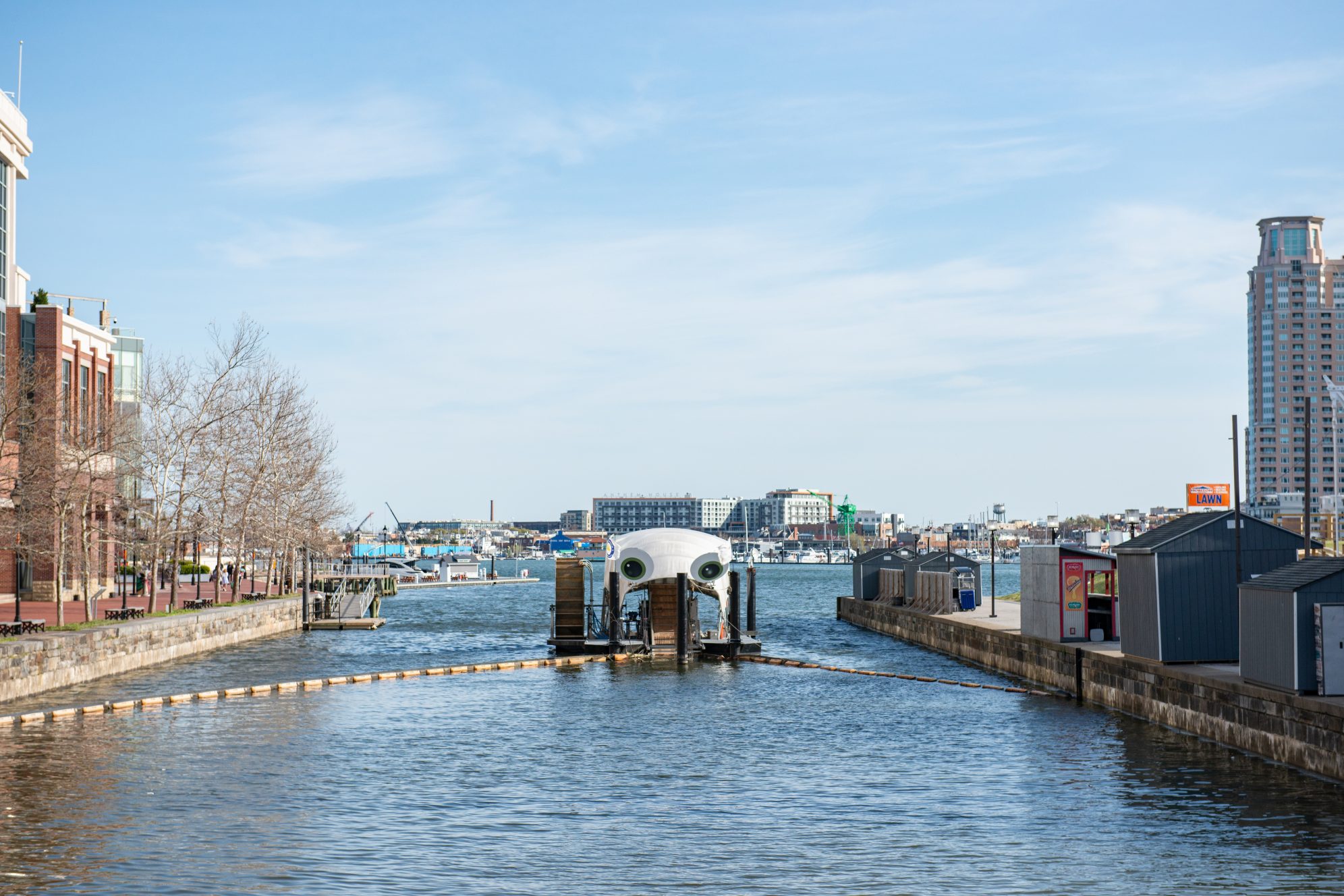 You'd be hard pressed to find a Baltimorean who isn't familiar with Mr. Trash Wheel, the original lean, green, trash-eating machine that was installed in 2014 where the Jones Falls empties into the Inner Harbor, next to Pier 6. The next wheel to join the family was Professor Trash Wheel, installed in Harris Creek in the city's Canton neighborhood in 2016. Professor was followed by Captain Trash Wheel, who joined the family in 2018 and can be found in Masonville Cove in South Baltimore. The most recent addition, Gwynnda the Good Wheel of the West, is located where—you guessed it—the Gwynns Falls empties into the Middle Branch of the Patapsco River in West Baltimore and was installed last year. The trash wheels were invented and constructed by Clearwater Mills LLC.
Baltimore's trash wheels stay busy, intercepting all types of plastic pollution and other litter before it makes its way into the Patapsco River. According to the most recent data from Waterfront Partnership, more than 2,000 tons of trash in total have been gobbled up by the trash wheel family, including over 91,000 plastic bags, 12.6 million cigarette butts and 1.4 million polystyrene foam containers.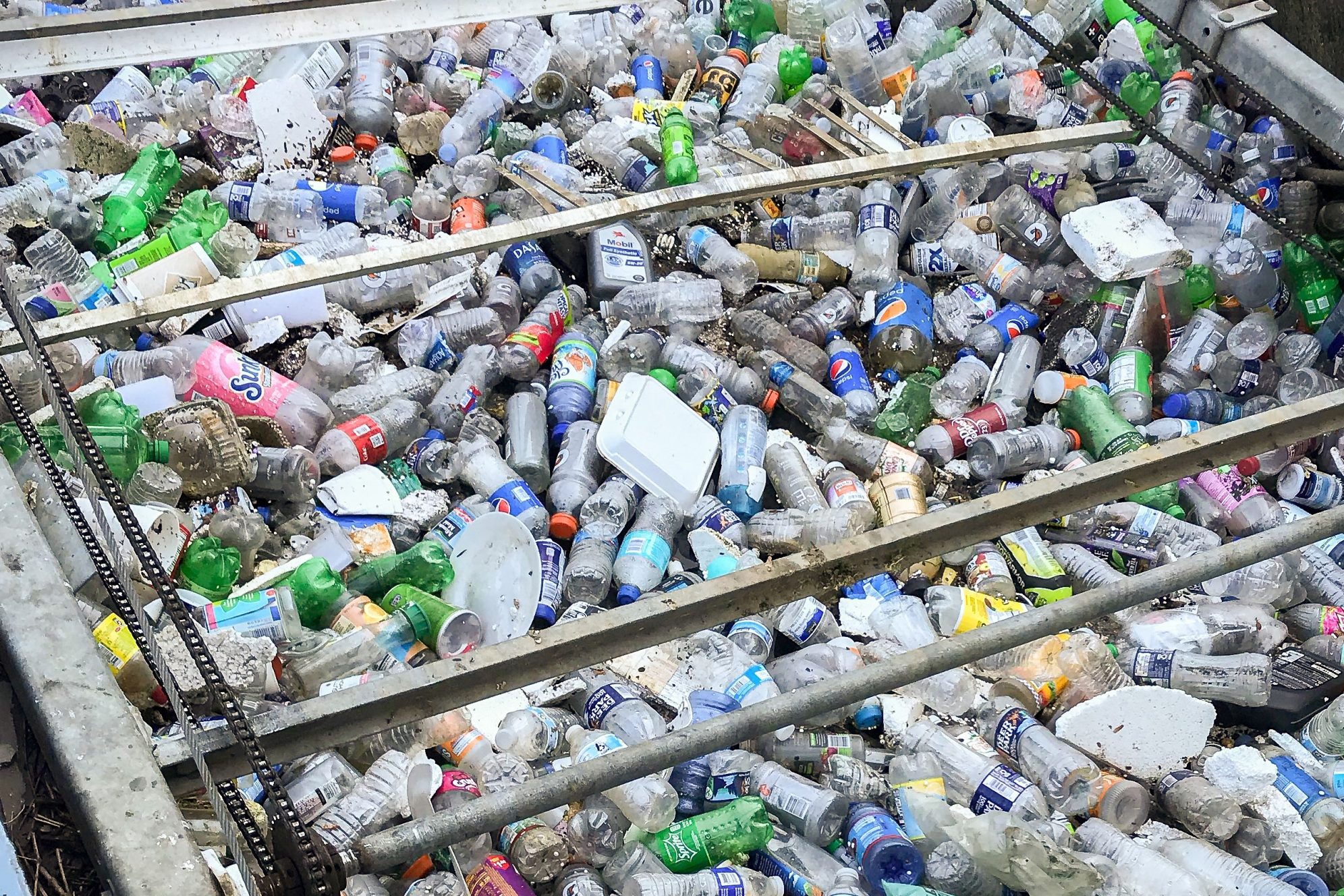 Polystyrene foam—commonly referred to as Styrofoam–is a common type of litter intercepted by Baltimore's trash wheels, but it's not nearly as ubiquitous in our local waterways as it once was, before Maryland implemented the Expanded Polystyrene (EPS) Food Service Products Ban. The ban—which had the Aquarium's full support and was implemented in October 2020—made Maryland the first state in the country to ban foam food containers.
According to data from Waterfront Partnership, there has been a dramatic decrease in the amount of foam containers in the Inner Harbor since the ban was implemented: Mr. Trash Wheel consumed a total of 153,048 foam containers in 2017—the highest year on record—compared with 17,630 last year, representing a decrease of about 88%. Data collected from the National Aquarium's Conservation team mirrors this decrease in the amount of foam containers removed from local waterways from 2017 to 2021—although unfortunately, the same can't be said for small pieces of foam being removed from shorelines at our cleanups. This is legacy pollution from foam that has been discarded and continues to break down into smaller and smaller pieces.
Polystyrene is a type of plastic, and in its foam form, is one of the most problematic types of marine litter. It's not easily recyclable, and because it's so light, it easily washes or blows into waterways, where it quickly breaks down and becomes difficult to remove.
You may not be surprised to hear that the trash wheels gobble up plenty of run-of-the-mill trash like foam, plastic bottles and plastic bags, but there have been plenty of surprising finds by the trash wheel team, too—including tires, a mattress, various children's toys, a keg of beer, an acoustic guitar, several chairs and, famously, a live snake in 2015. Presumably an escaped or abandoned pet, the ball python was found curled up on Mr. Trash Wheel, and our very own General Curator Jack Cover was called to extract it. (Thankfully, the python was unharmed.)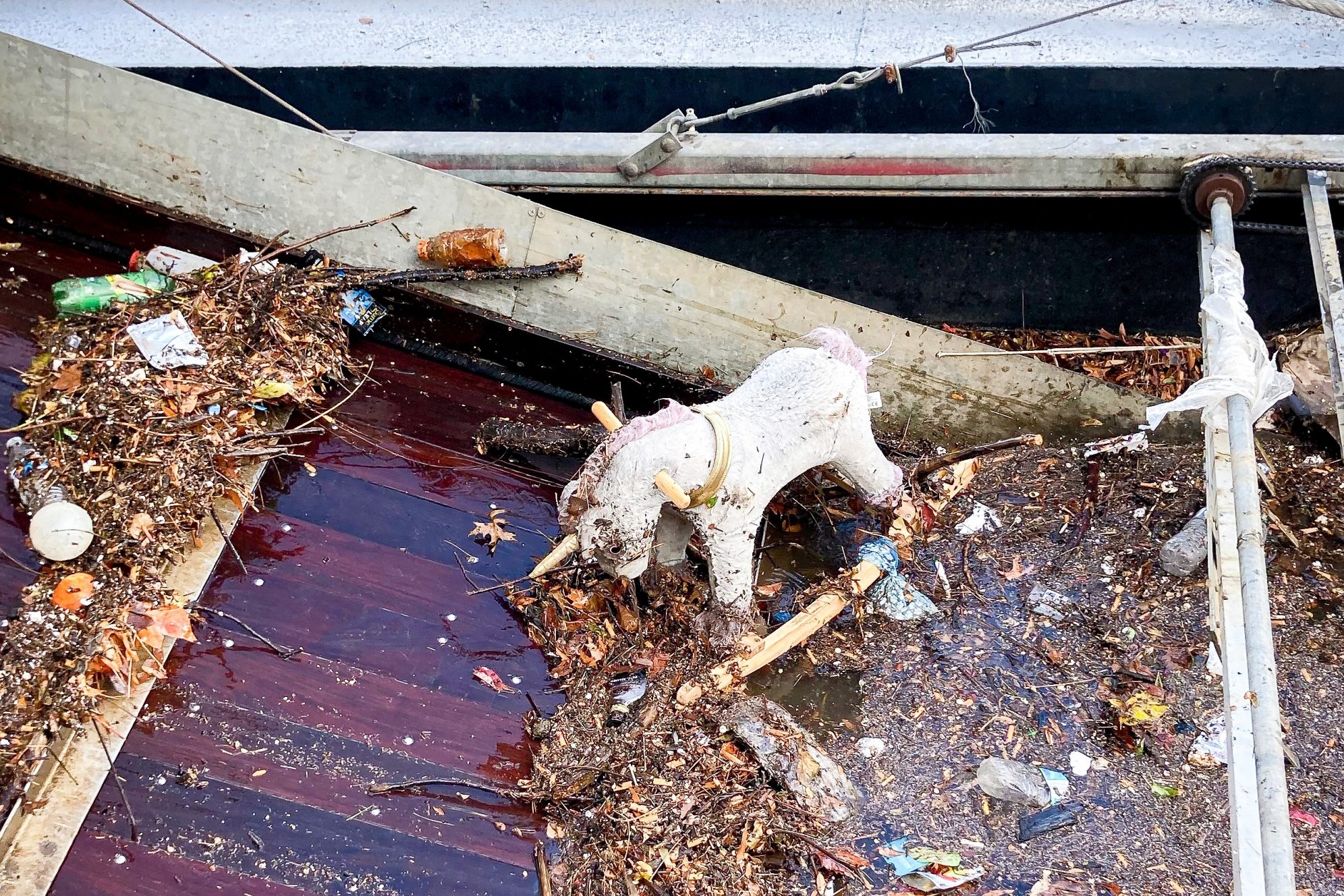 Mr. Trash Wheel isn't the only one who has discovered some strange objects in the Inner Harbor—the National Aquarium team has also hauled out its fair share of interesting finds. Over the course of two "Scooterpalooza" events in fall 2020, the Aquarium team hauled more than 30 e-scooters from the harbor, as well as one skateboard, one bicycle and a metal trash bin.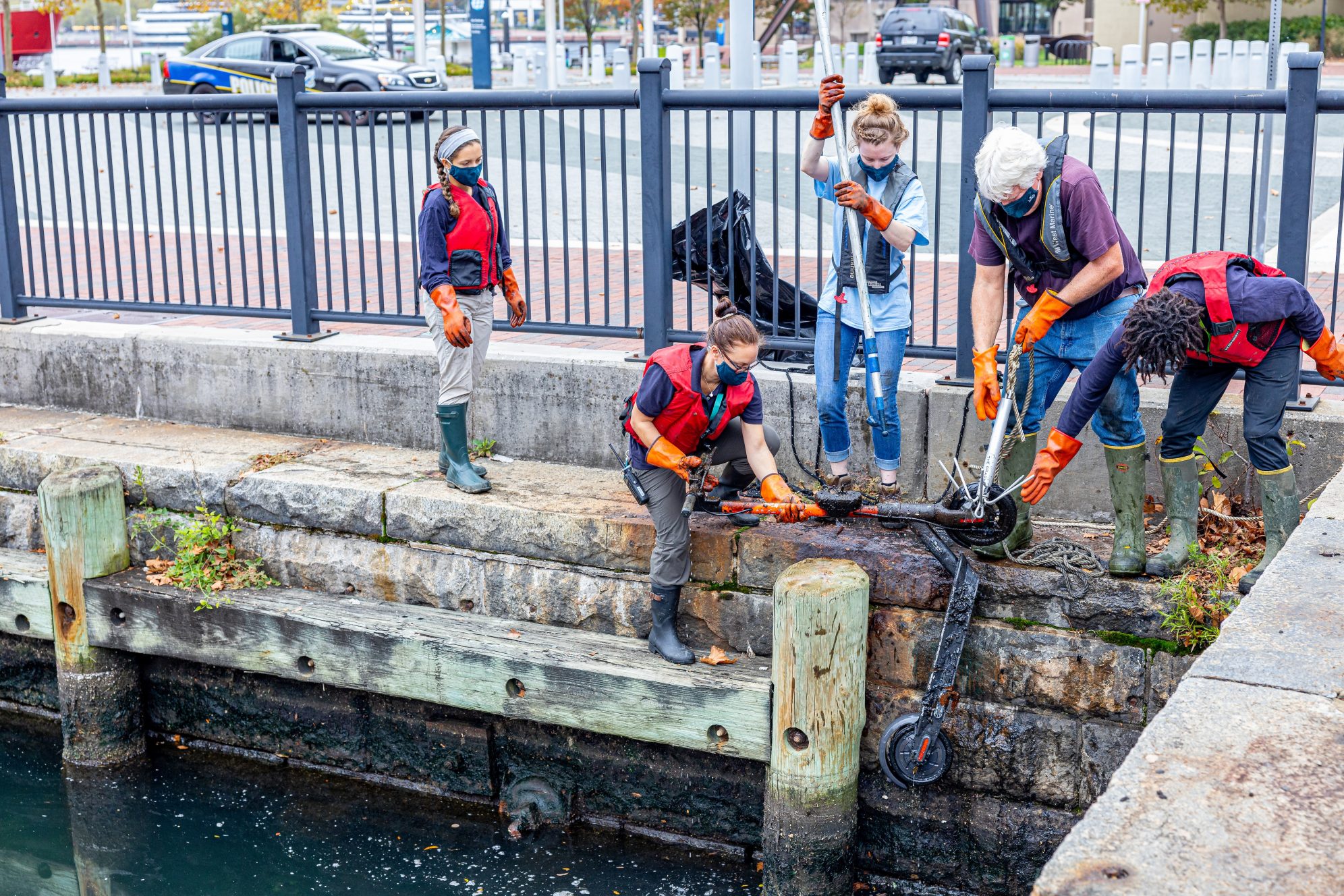 Other odd items that our team has discovered at cleanups and in local waterways include the following:
A set of car keys, found at Fort McHenry National Monument and Historic Shrine.
A boat cushion, which ended up on our floating wetland and was later reunited with its owner.
A message in a bottle—found at both Fort McHenry and in the Inner Harbor.
Many items that have been repurposed by our team, including a storage bin that is now used to hold supplies at Fort McHenry and plenty of milk crates and five-gallon buckets that are reused.
Whether it's your typical plastic trash or the occasional python, you're much more likely to see objects floating into the bellies of the trash wheels after heavy rainfall. Rain and wind carry litter into waterways, as well as storm drains that empty into bodies of water. The rushing current propels the litter down streams that eventually empty into the Inner Harbor—for example, the Jones Falls, which originates in Baltimore County. That means that the plastic bottle that you see floating in the harbor could've started its journey miles north.
Gwynnda holds the record for the all-time record of the most trash collected after a storm. In November 2021, the trash collected by this wheel filled a whopping 20 dumpsters.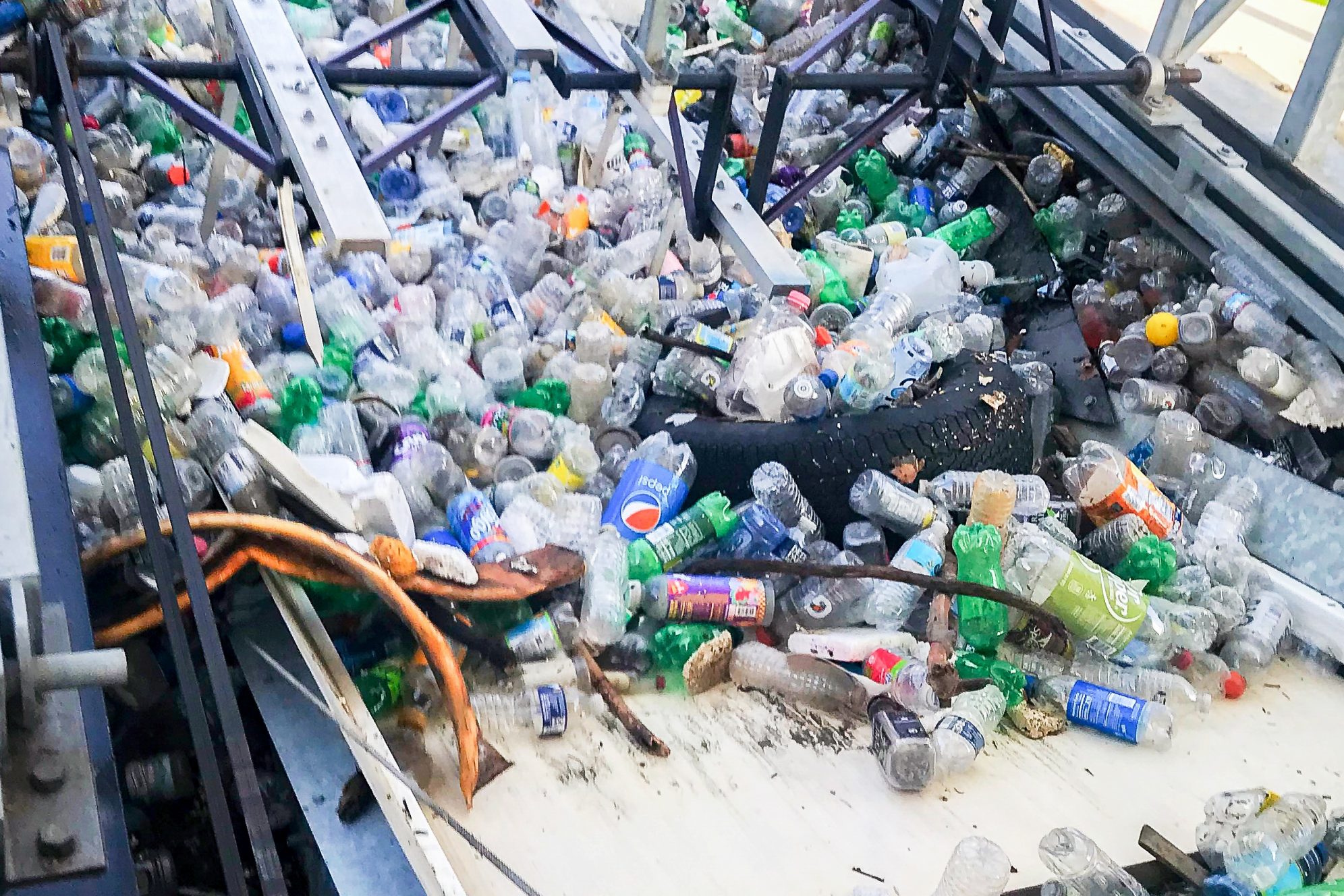 The best solution for all this plastic pollution? Stop the problem before it begins by decreasing the amount of litter that ends up in local waterways in the first place. Committing to reusable options instead of single-use plastic is one good way of taking action. Another is to support legislation that prohibits the most problematic single-use plastic items—such as the statewide ban on foam containers and Baltimore City's plastic bag ban. Local and state policies are critical in reducing plastic pollution in local waterways, and can help catalyze national policy change that is also necessary to meet the scale of the problem.
Eliminating single-use plastics at the source is the priority—but removing trash from waterways before it ends up in the Chesapeake Bay, and eventually the ocean, is also essential. The National Aquarium hosts various cleanup events throughout the year at Masonville Cove, Fort McHenry and other locations in Baltimore. Sign up for one of our field conservation events and contribute to a cleaner Baltimore—the trash wheel family can't do it all themselves!
Subscribe To Our Newsletter
Sign up to receive updates on animals, news and events.