2021 Recap: National Aquarium Animal Rescue
This year, with inspiration taken from the night sky and our childhood reading lists, National Aquarium Animal Rescue worked its magic on rescued sea turtles and seals in need of some TLC.
Turtle-y Awesome
In November 2020, just days before Thanksgiving, our Animal Rescue team officially kicked off the 2020-2021 animal rescue season, receiving 15 cold-stunned sea turtles airlifted to Baltimore from Massachusetts. The turtles—12 Kemp's ridley and three green sea turtles—were all rescued from the ocean beaches of Cape Cod as fall water temperatures began to plummet. When this naturally occurs each fall, sea turtles experience rapid changes to their body temperature, developing symptoms of pneumonia and becoming disoriented. This makes it challenging to return to their migratory routes and leaves them less agile and more susceptible to boat strikes, predators and other injuries.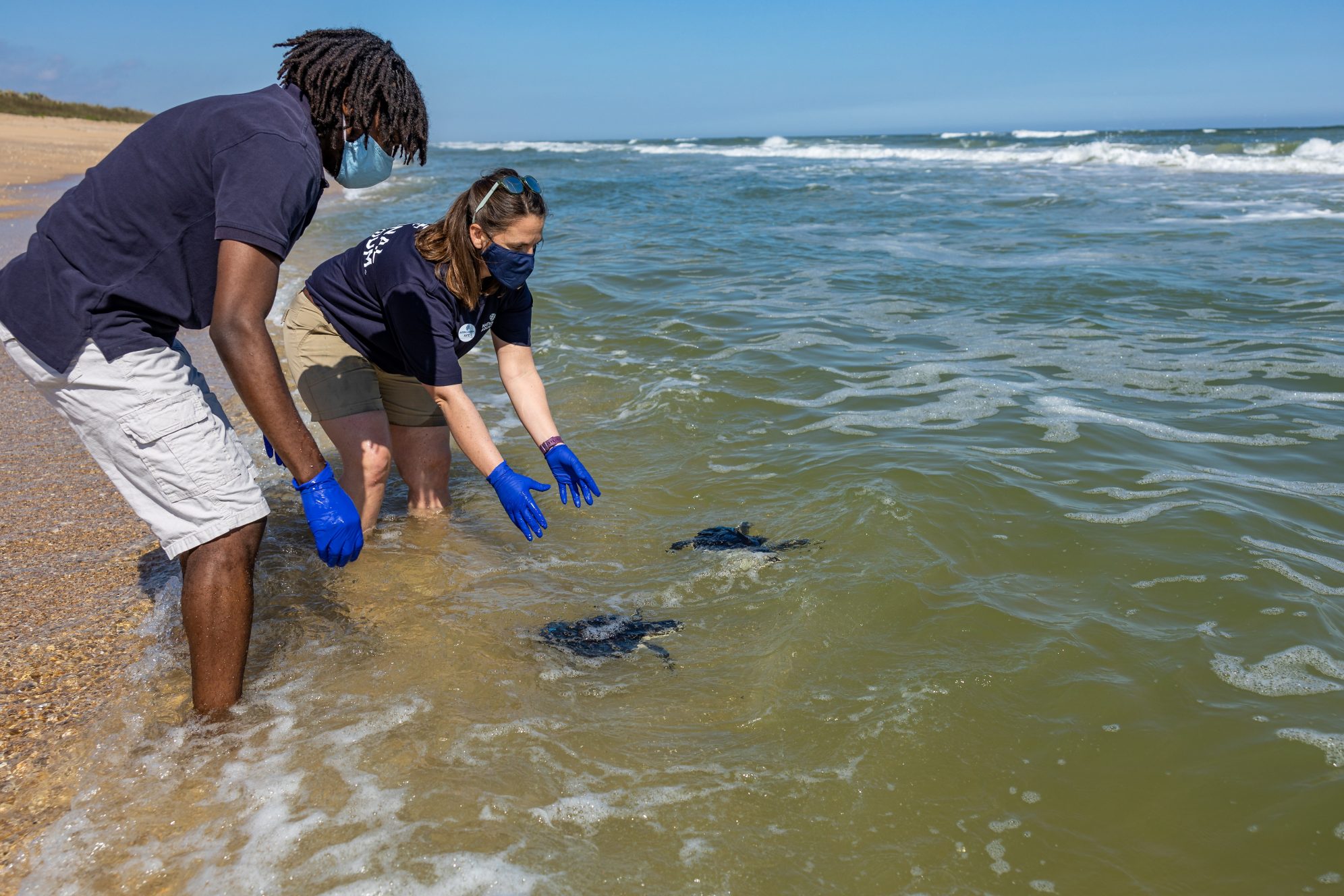 For this year's naming theme, Aquarium staff looked to the heavens, naming the 15 cold-stunned turtles after constellations. In short order, Orion, Gemini, Leo, Cassiopeia and others were triaged, treated and turned loose on our rescue pool, where many made quick strides toward recovery. In fact, nine of the 15 turtles in this year's rescue class recuperated so well that they were ready for release just three months later on February 23, 2021, when Animal Rescue staff made the long drive to Florida, releasing eight Kemp's ridleys and one green sea turtle into the warm waters of the Atlantic Ocean.
By May, the six remaining turtles—including Hydra, Hercules, Pisces and Phoenix—had finished their rehabilitation and were released back into the ocean in North Carolina, marking the successful conclusion of the care for the 2021 rescue class: 15 cold-stunned turtles admitted; 15 healthy turtles released. That's some star-studded success!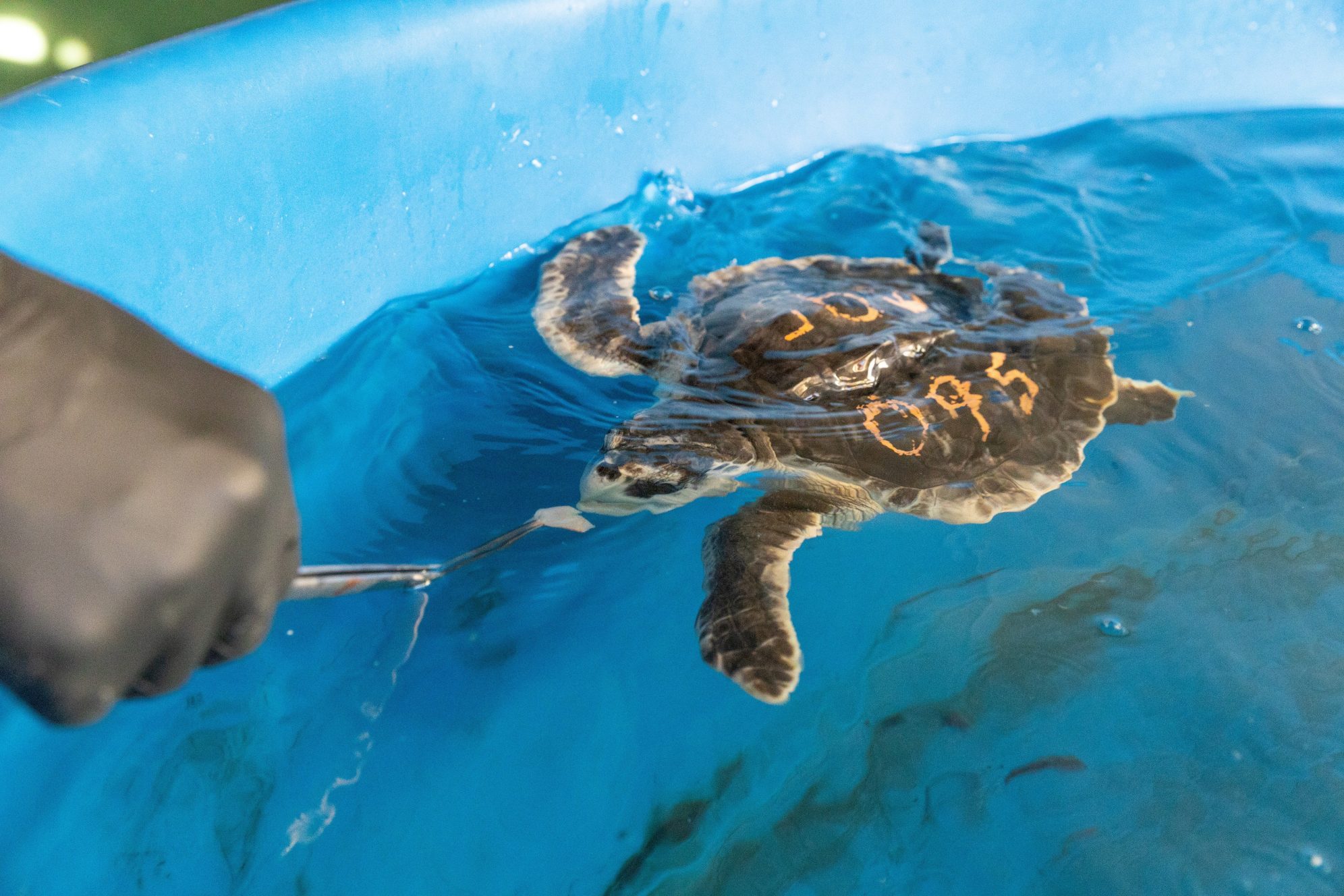 But, back at the rescue pool, our team is still working toward the rehab of one very special 2020 leftover: Pecorino, a Kemp's ridley turtle admitted in September 2020 with serious injuries from a boat strike. Although not a cold-stunning case, Pecorino was the first turtle patient of last year's season after being rescued in Delaware. While continuing to make great strides, growing, eating and swimming well, he is currently not a candidate for release due to lasting effects from his injuries that impact his neurological functioning. He will remain in the care of our team and continue rehabilitation.
Seal of Approval
Once turtles arrive, our team knows that it won't be too long before seal rescue season is upon us. As opposed to sea turtles, which migrate north into warming waters during the summer months, seals migrate south into cooling waters during the winter months, dipping into our region from the Northern Atlantic along their seasonal migration routes and sometimes following their food sources into the mid-Atlantic.
This year's seal rescue season saw three juvenile seals—two grey seals and a harp seal—spending time in our Animal Care and Rescue Center. Harkening back to our childhoods, we stuck with storybook characters for the 2021 seal rescue naming theme.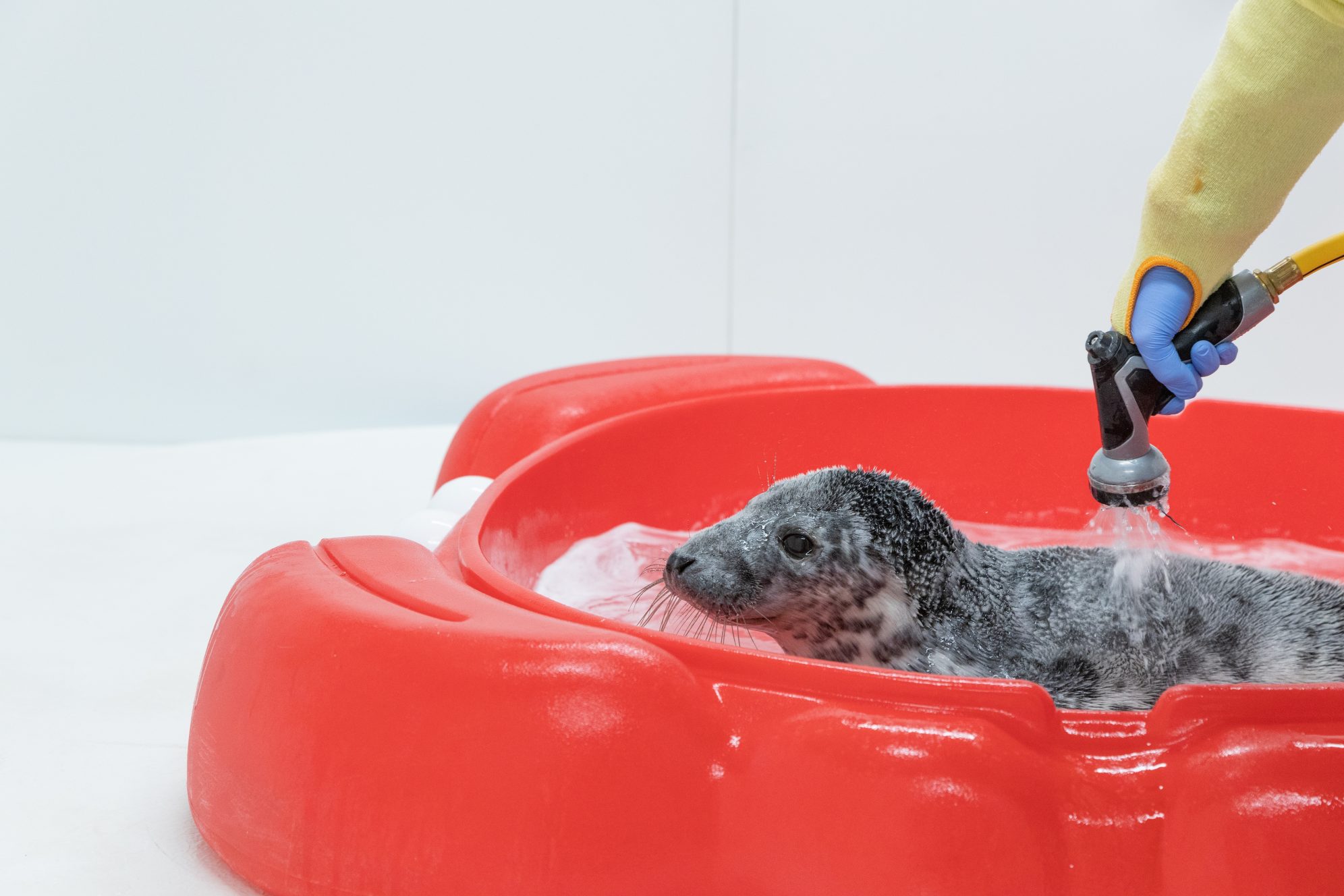 The first seal to arrive—a female grey seal nicknamed Eloise—was rescued from Cape Henlopen, Delaware, by our partners at the Marine Education, Research and Rehabilitation Institute (MERR) and transported to our Animal Care and Rescue Center on February 14 after she was deemed to require rehabilitation. Our team quickly realized that Eloise was extremely young—perhaps only about a month old. Since a seal of that age would not likely be foraging and eating independently in the ocean, our team was immediately engaged in addressing Eloise's nutritional needs and tending to some small lacerations on her neck. Though she was but small, she was mighty, quickly meeting and surpassing her rehabilitation milestones, eventually eating up to 10 pounds of herring per day. She returned to the ocean at Assateague State Park on April 7, 2021, after about six weeks with our team.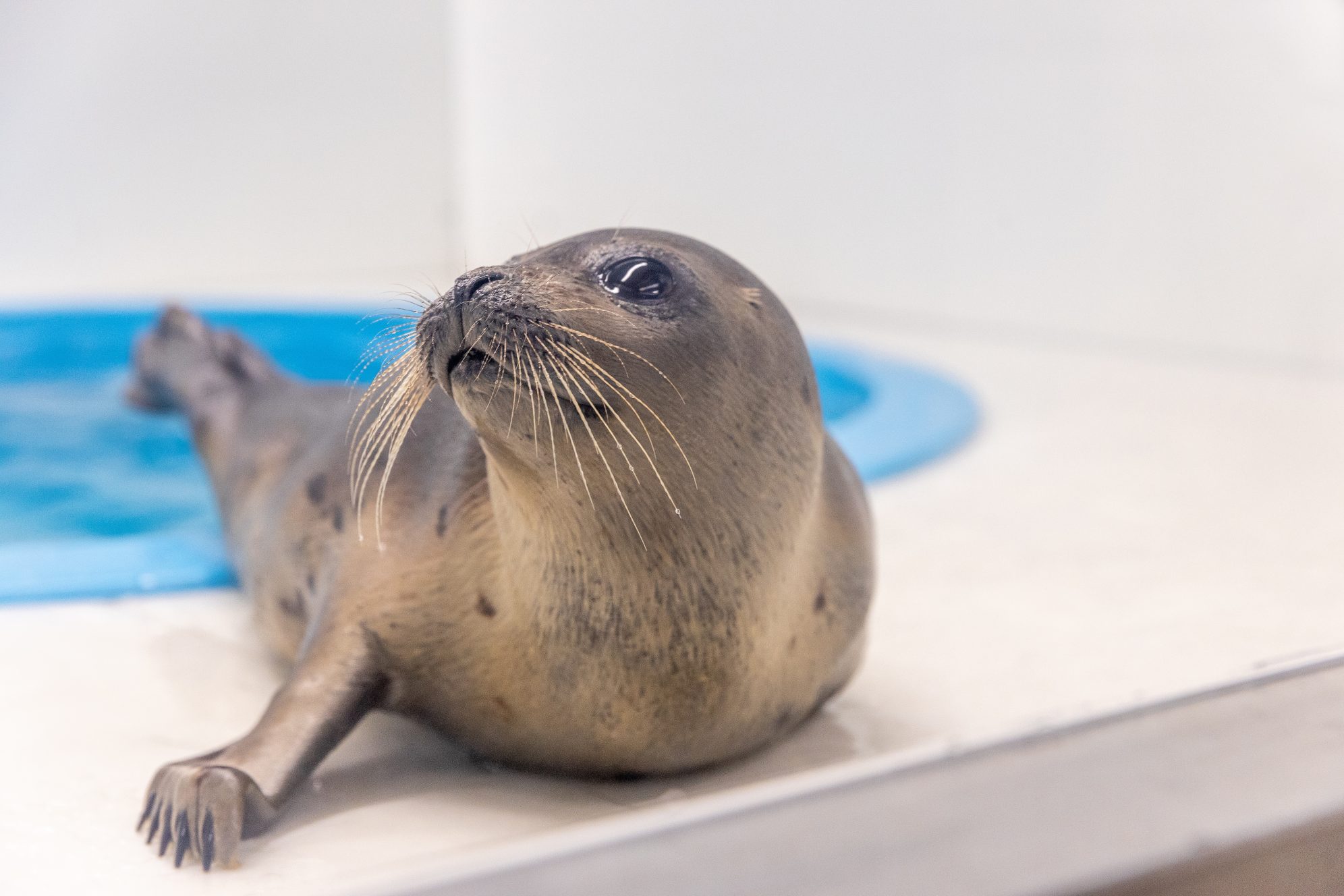 Beginning on March 2, 2021, Eloise had company in our seal ward. A juvenile harp seal nicknamed Stuart Little became her neighbor after he was spotted eating sand—a possible sign of malnutrition—by the beach patrol in Ocean City. Upon assessment, our team found that Stuart was indeed dehydrated and had a parasitic infection. However, with medication and care, Stuart didn't stay little. He proved to be an enthusiastic eater, eventually growing to a healthy 70 pounds while in our care. He was released back into the ocean on April 23, 2021.
Just as those two characters were being cleared for release, the third and final patient of the 2021 season—a juvenile grey seal that we nicknamed Tom Sawyer—was arriving. On April 19, 2021, Tom was spotted by our partners at MERR, and arrived in our care with injuries to his jaw and flipper, as well as an eye ulcer and a lungworm infection. Our team's initial concerns were stabilizing Tom and treating his lungworm infection. That infection, the eye ulcer and flipper injury were fixed with relative ease in comparison to his more severe tooth and jaw injuries, which eventually required the assistance of a veterinary dental specialist. Tooth woes aside, Tom was a healthy eater, taking in about 8 pounds of capelin a day while our team worked to provide enrichment activities that wouldn't irritate the delicate condition of his mouth.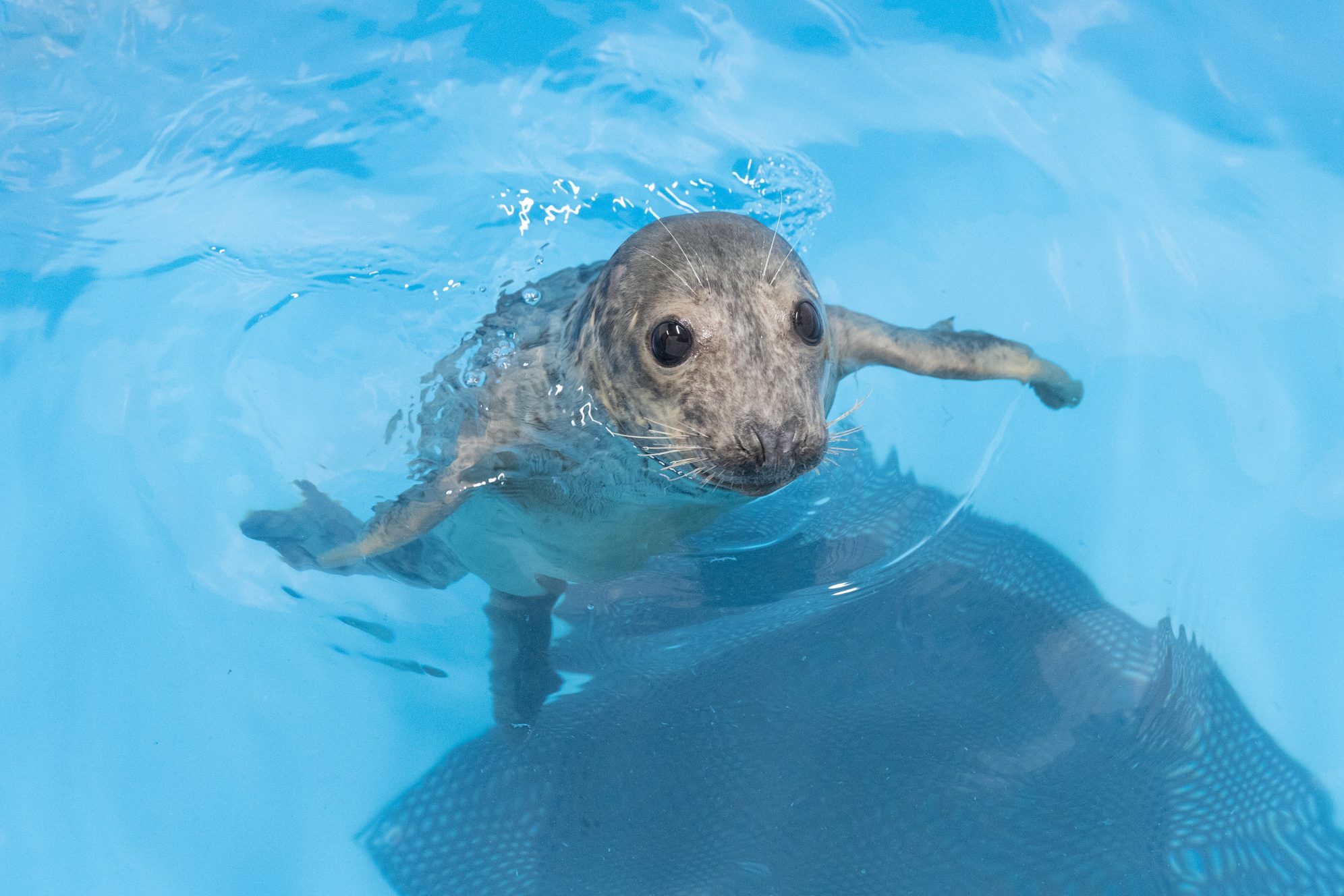 Facing so many challenges, Tom was with us a bit longer than his 2021 predecessors but was eventually released back into the ocean after passing a unique final exam. After feeding Tom fresh—but dead—fish throughout his stay, our Animal Rescue staff challenged Tom to a live prey test, making sure he was ready to forage for live meals upon his return to the ocean. Tom passed with flying colors and, at a healthy 69 pounds and with a healed, fully functional jaw, Tom splashed back into the water on August 11, 2021, also from Assateague State Park.
Seal rescue season in the mid-Atlantic typically lasts from the late winter through April. Remember, should you encounter a beached seal, it may not be sick, only resting. If you do see a seal, do not touch or approach it, and keep a distance of 150 feet—about the length of three school buses. Please note your location and time of day and immediately contact the National Aquarium's Stranded Animal Hotline at 410-576-3880.
With seal season just about upon us and 30 cold-stunned turtles in our care as of last week, we will have more Animal Rescue team updates coming in the new year!
Subscribe To Our Newsletter
Sign up to receive updates on animals, news and events.