Build Up the Beach
When you cross the dunes this year, take note of these amazing sand structures—and what you can do to help sustain them!
School is out, summer is here—and the beach awaits! Once you've loaded up the cooler and beach bag to take the long trek down the walkway and over the hot dunes toward your slice of seashore, take a minute to consider the habitat you're traversing.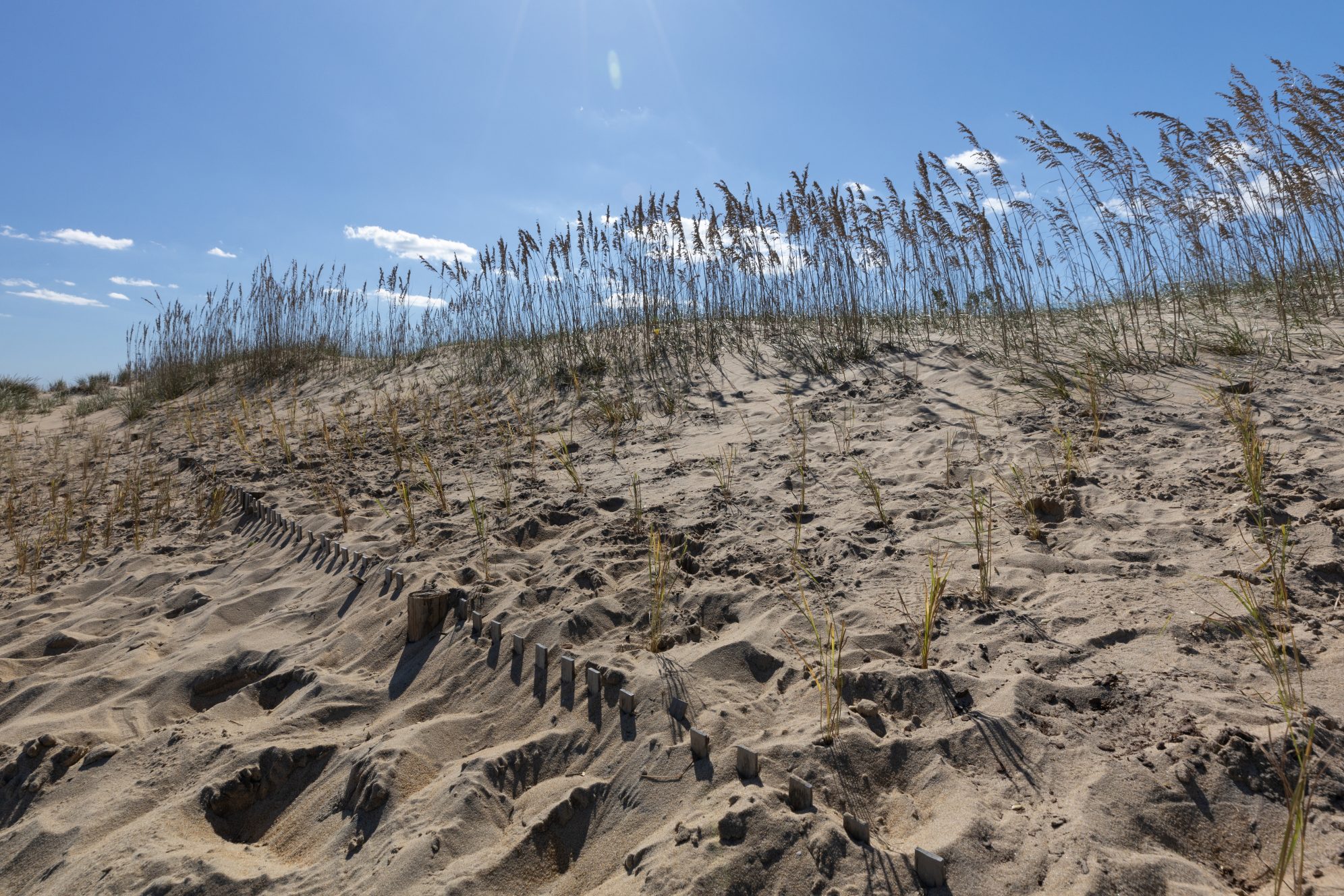 What's Up, Dune?
Sand dunes are so much more than just mounds of sand; here along the East Coast, dunes are home to lizards, insects, crustaceans such as ghost crabs, birds such as sanderlings and terns, and even small mammals including mice and foxes. Look carefully down from the walkway and you'll see little holes and burrows dotting an active ecosystem teeming with life.
Dune habitats are bolstered by dune grasses and beach shrubs that may look random but are critical to the security of the dune itself. The shallow, web-like root systems of beach grasses actually form a protective mesh that helps keep sand securely in place, protecting against erosion from animals scampering about, as well as damage from wind, rain and human interference.
The protection provided by grasses and plants helps dunes to withstand powerful storm surges during intense coastal weather. Without the natural protection provided by sand dunes, waterfront areas are at risk for increased flooding, extensive property damage and coastal erosion. Overtime, as humankind developed oceanfront communities and flattened or deepened beaches for recreational use—and experienced increased coastal flooding along with it—the importance of strong, healthy dunes became clear. As intense weather events increase in number and severity with climate change, dunes have never been more important.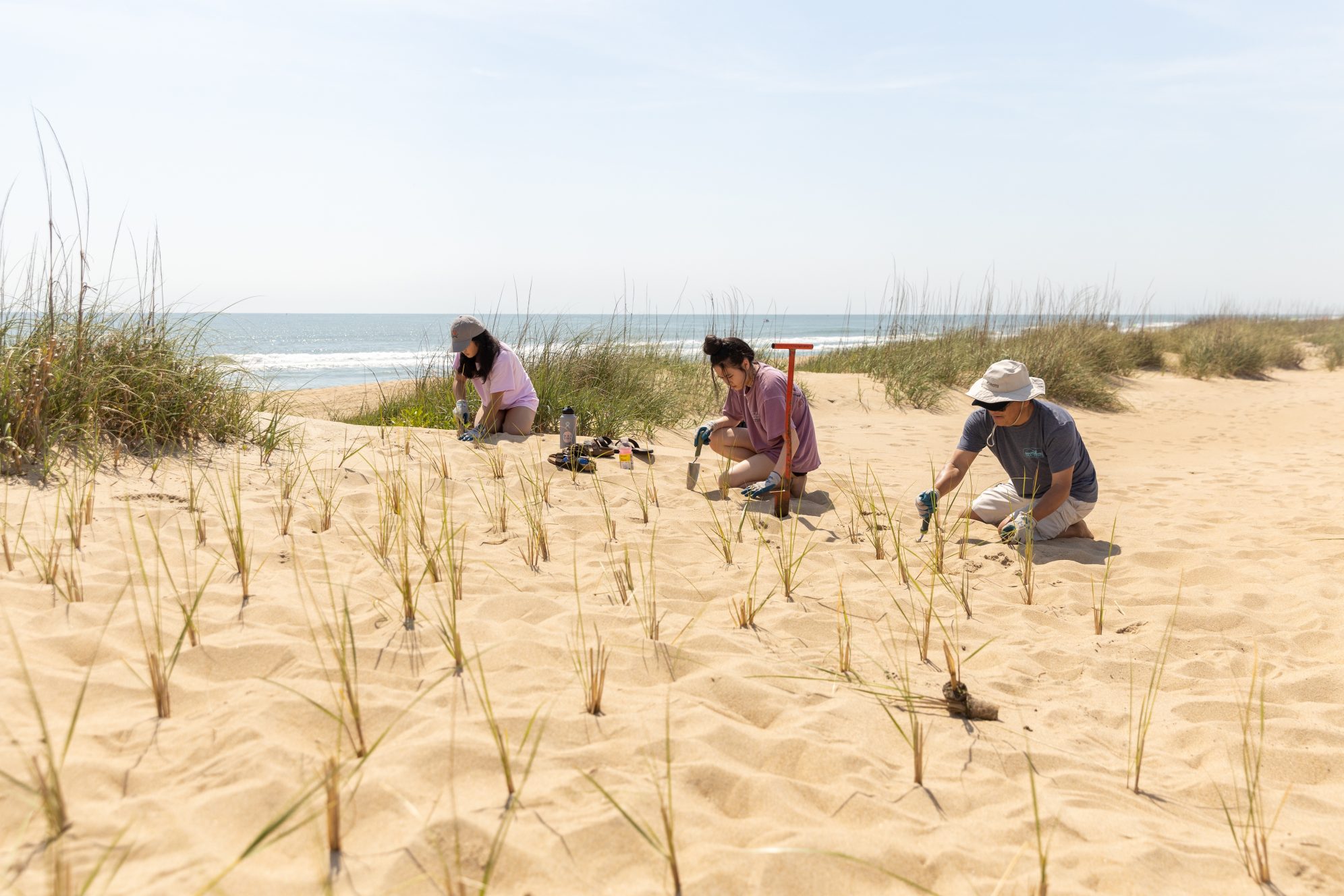 People Power
To that end, the National Aquarium Conservation team has partnered with Naval Facilities Engineering Command Mid-Atlantic since 2004 to ensure a four-mile stretch of dunes along Naval Air Station Oceana-Dam Neck Annex remains resilient and intact, protecting the crucial base operations just over the dunes and ensuring that the beach remains viable for both Naval operations and recreation, as well as the local wildlife that call these Virginia Beach dunes home.
Our team undertakes the important task of reinforcing and fortifying the dunes using fencing, while planting beach grasses and shrubs whose roots anchor the dunes, protecting from weather and manmade erosion. At this year's dune stabilization event in May, 79 volunteers planted 28,550 grasses and 1,500 shrubs. These dunes—which were badly compromised when the Aquarium partnered with the Department of the Navy to begin work at the site more than 15 years ago—are now so strong that they can once again be considered natural (as opposed to manmade).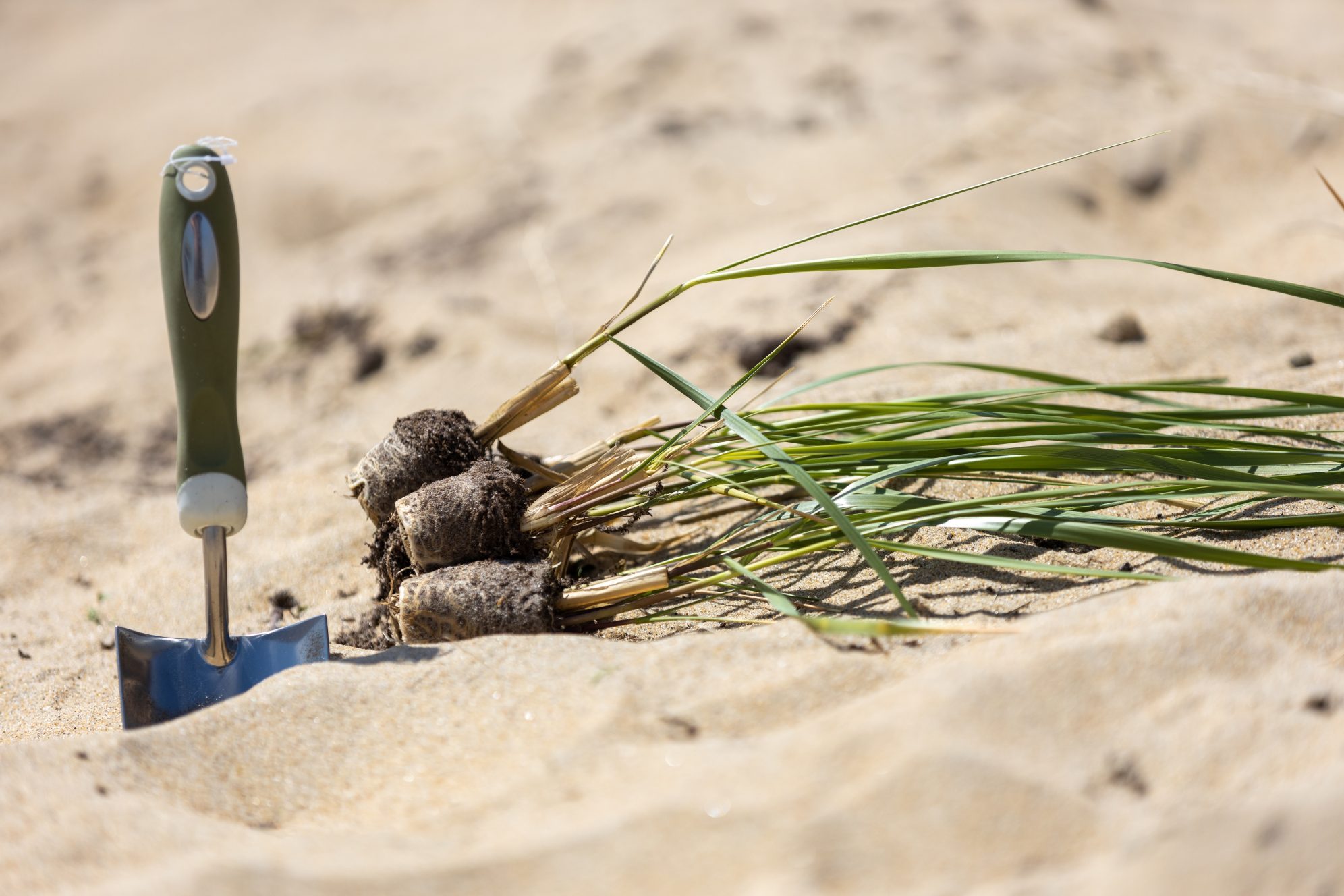 Lend a Hand
While bringing a spade and beach grasses to plant on your vacation this year might be more than you can ask of your friends and family, there are simple things that you can do to leave the beach even better than you find it. First, do like the sign says and stay off the dunes! Even a child's footprints can shift dozens of pounds of sand with each step, impacting animal and plant life and causing erosion. Don't let kids climb and scamper—and be sure to set up far enough from dunes that your umbrella and chairs aren't impeding upon them.
To keep the beach and ocean safe for animal life, think about what you are packing in your cooler by avoiding plastics and light-weight packaging that are easily swept up in the breeze—and be vigilant about cleaning up wrappers, bottles, cans and toys before you go. In fact, pack an extra trash bag for any plastic and debris that you might find littered on the beach when you arrive. Even when trash cans are provided, think twice! Do they have lids? Are they overflowing? Placing trash in an open, full or unsecured trash can leave it susceptible to wind and curious animals, and that is no better than leaving it in the sand. Err on the side of caution and take it with you. Respecting the beach and being a responsible beachgoer ensures that the seaside spots you love—and the animals that rely on them—will be secure for generations to come!
Subscribe To Our Newsletter
Sign up to receive updates on animals, news and events.