2020 Recap: Seal Rescue
For the three rescued juvenile seals that spent parts of this year in the care of our Animal Health and Rescue teams, the customized treatment they received resulted in real storybook outcomes.
Even if you were able to escape quarantine for some time at the ocean this summer, you might find it hard to picture seals hauling up on the beaches of the Delmarva peninsula. Yet, most winters, National Aquarium Animal Rescue is called in to help grey, harp and harbor seals stranded along our regional coastline. While not truly native to our region—seals thrive in the cooler waters of the northern Atlantic from New England onward—seals may pass through Maryland waters as part of their annual migration routes or sometimes because they are a little off course.
As the organization responsible for responding to stranded marine mammals and sea turtles along the nearly 3,190 miles of Maryland coast, National Aquarium Animal Rescue works with a network of stranding partners in this region along the East Coast to help respond to, rescue and release animals year-round, including seals. Typically, the seals our team encounters are juveniles especially vulnerable to injuries, ailments and infections that might require our help.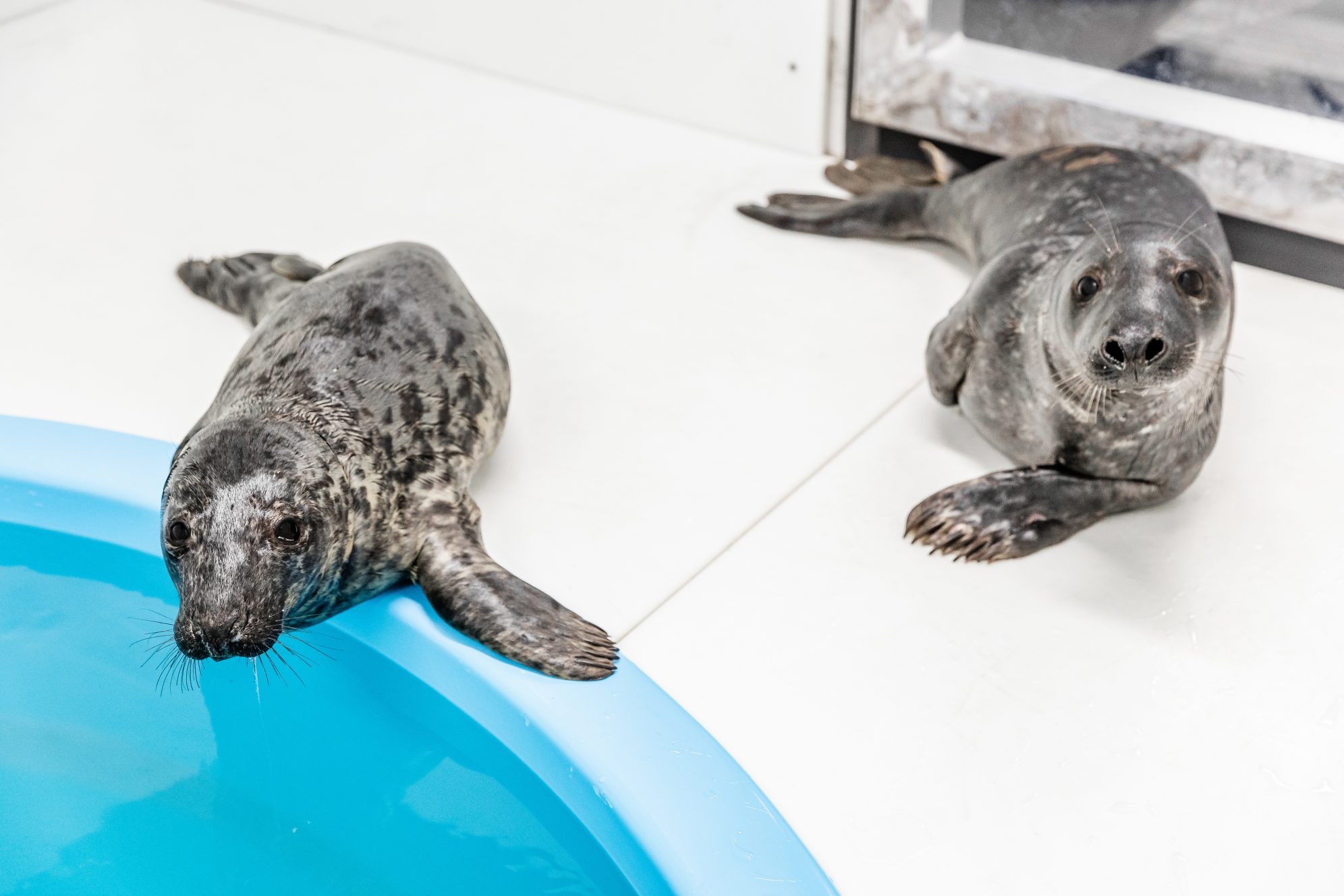 Rescue By the Books
In 2020, National Aquarium Animal Rescue and our Animal Health teams were busy. Not only did they manage more than 30 rescued sea turtles that spent time in the Aquarium's rehabilitation pool, but they also provided extended care for three seal pups at to our Animal Care and Rescue Center. As Aquarium tradition dictates, a naming theme is selected each year for the seals in our care. For 2020, our selected theme was storybook characters. So, in rapid succession beginning in early February, we would greet grey seals Pippi Longstocking and Huckleberry Finn and harp seal Amelia Bedelia, all juveniles. One in particular would become one of our longest tenured—and most challenging—Animal Rescue patients ever.
First came Pippi who was rescued from Dewey Beach, Delaware, on February 8. Dehydrated and malnourished with an infected flipper, it quickly became clear that Pippi was our youngest rescue ever. Because she still had her baby fur, known as lanugo, our team was able to ballpark Pippi's age at less than one month old. A seal that tiny should still be in maternal care, so her case was considered serious right off the bat, and she was prescribed a regimen of antibiotics, anti-inflammatories and round-the-clock.
Just a few weeks later on February 23, juvenile harp seal Amelia was rescued with the help of our partners at the Maryland Coastal Bays Program in Ocean City, Maryland. Amelia was suffering from severe dehydration and was only able to eat with assistance, receiving a steady diet of fish gruel via tube. Later that same week on February 26, Huck was spotted on the beach not far from where Amelia was discovered. Underweight, dehydrated and malnourished, Huck was brought to the Aquarium the next day where it was discovered that he also suffered from infected wounds throughout his body. His care also included antibiotics, anti-inflammatories and plenty of specialized attention.
All of the injuries and conditions displayed by our three young patients are typical of those seen in other rescued seals. Our teams frequently see and treat injuries caused by seal-to-seal physical interactions, and common illnesses such as pneumonia or upper respiratory infections. We also see human interaction cases, including entanglements in marine debris, injuries from dogs incurred when seals attempt to haul up and rest on the beach, or even human interventions which, even when well-intentioned, cause disturbances to resting behaviors.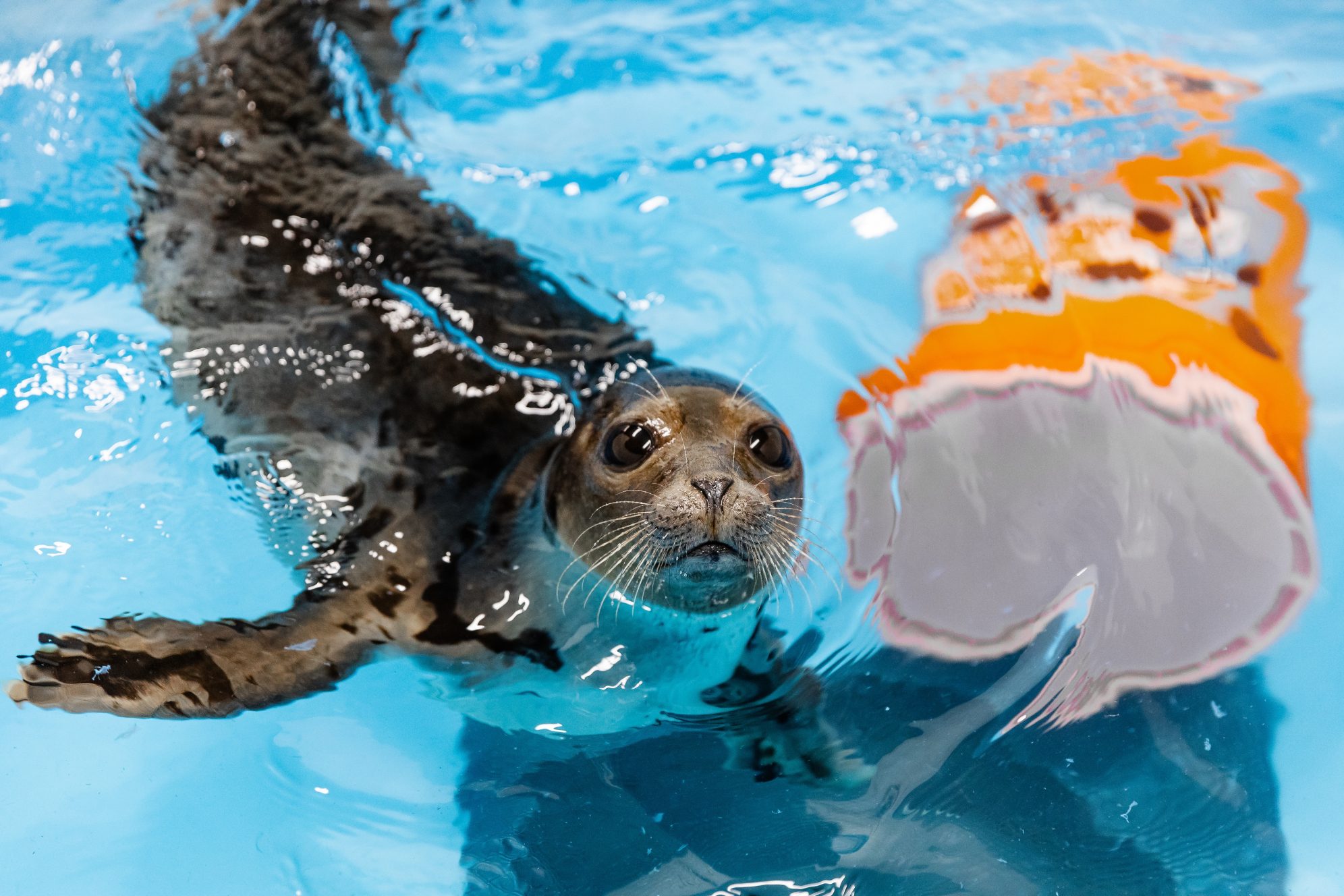 One Chapter at a Time
But, just as 2020 taught us in terms of human health, the condition and challenges of each seal are as individual as they are. As weeks passed by after our three young seal patients arrived in February, each of them recovered and rehabilitated at their own pace. To be released back into the ocean, rehabbed seals must demonstrate they're ready by engaging in enrichment activities, passing medical and behavioral evaluations and weighing at least 50 pounds.
Amelia, second to arrive at the Aquarium, recovered quickly, moving past her severe dehydration and quickly regaining her independence. During her time in rehabilitation, our team employed enrichment items like puzzle feeders to make sure her natural foraging skills remained sharp. After less than a month in our care, she was released back into the ocean on March 17.
Huck also responded well to his regiment of care and medications. In the two months he spent at the Animal Care and Rescue Center seal rehab pools, he developed a sibling-like bond will fellow gray seal pup Pippi—and gained an impressive 30 pounds despite arriving severely malnourished. Huck was declared healthy enough for release after just eight weeks with us and dove back into the ocean at Assateague Island National Seashore on April 29.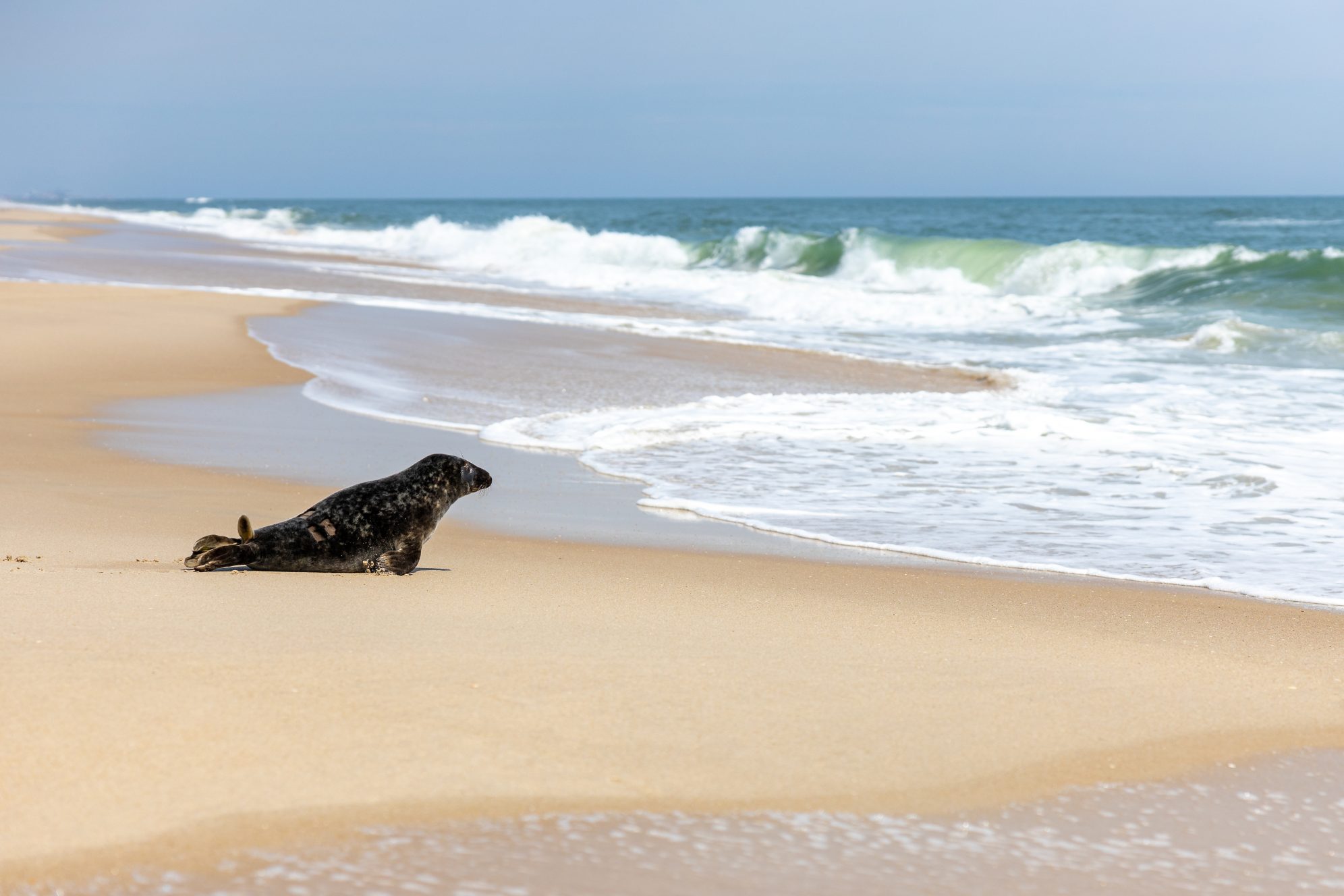 No Text Book Case
For Pippi, the road to recovery would be a bit longer. Perhaps because she was so young, the full extent of her injuries were tricky to diagnose and ended up teaching our Animal Health and Rescue teams volumes more than they knew about assisting in the recovery of a patient this small. Although she successfully gained weight and improved in our care, it was determined in May that Pippi was suffering from a severe ear infection which poses a particular treatment challenge in seals due to their anatomy.
Several tense months passed as our team attempted treatment without successfully curing the infection, in part because of reduced access to diagnostic testing due to COVID-19 precautions. In August, Pippi ended up receiving life saving surgery—the first of its kind ever performed on a seal pup—to remove her ear canal and portions of her bony ear structure. Although that ear hole would now be permanently closed, the surgery save Pippi's life. Her surgery was performed by Dr. Sakthila Jeyakumar, BVSc (HonsI), MS, DACVS-SA of Chesapeake Veterinary Surgical Specialists.
"The surgery performed on Pippi is the first of its kind on a gray seal. We had a great team and worked hard to prepare for all the possibilities we would encounter during the surgery. I feel very fortunate to be part of this team," said Jeyakumar. "I have also enjoyed watching her recover and grow. We hope, now that she has healed, she will continue to flourish in her natural habitat."
Happy Endings
Gradually, Pippi did indeed flourish. Finally, after nine months in our Animal Care and Rescue Center, with her intake weight more than doubled to 70 pounds, her ear infection cleared and her surgery successfully behind her, Pippi was finally released back to the ocean at Assateague State Park on November 11, 2020. While her recovery was long and arduous, she has earned a special place in the hearts and minds of the teams that worked to save her.
According to Director of Animal Rescue Jenn Dittmar, "Even though not all cases have a positive outcome, the successful stories provide spots of hope that remind us that small actions can lead to big impacts. We didn't give up on Pippi when we were faced with several challenges in managing her case--including the pandemic--and our already-experienced staff learned so much from her and her case."
The National Aquarium Animal Health and Rescue teams earned their rest after a busy season, but that rest will be brief. The 2021 seal rescue season is now only a month or two away.
If you or any member of the public sees a stranded marine mammal or sea turtle on the beach, please do not touch or approach the animal, or allow other people/pets to do so. We ask that you carefully note your location and time of day and immediately contact the National Aquarium's Stranded Animal Hotline at 410-576-3880.
Seal rehabilitation activities conducted under NOAA permit 18786-04.
Subscribe To Our Newsletter
Sign up to receive updates on animals, news and events.