Secret Cemetery Sanctuaries
Even though they're commonly associated with death, an abundance of life can be found in cemeteries.
From placing remains on a mountaintop in Tibet to burying the dead in hollowed-out trees in Manila, people all over the world have unique and complex burial traditions. Despite these distinctions, death is a universal part of life. And despite the differences in burial methods and practices, human bodies have always been part of a natural pattern of decomposition and nutrient cycling.
Even though we commonly think of cemeteries and burial sites as places associated with death, they're brimming with life, too. Wildlife seek refuge behind their stone walls and remains replenish nutrients found in the soil to feed new life.
Finding Nature
Tucked inside a fieldstone wall near Clifton Park, Baltimore's oldest cemetery offers just under three acres of urban seclusion. Established in 1713, Friends Burial Ground is a Quaker cemetery with 1,900 nearly identical headstones under a swath of mature oak and maple trees. It's listed on the National Register of Historic Places, mainly due to the simplicity and uniformity of grave markers typical of 18th-century Quaker cemeteries.
The cemetery is also significant due to its association with the early Quaker community in Baltimore, who later founded the Baltimore Monthly Meeting of Friends in 1792. The group included influential merchants, industrialists and activists who shaped Charm City politically and economically—including Philip E. Thomas, the first president of the Baltimore and Ohio Railroad; philanthropist Johns Hopkins; and Elisha Tyson, Robert Townsend and James Carey, who organized the Baltimore Abolition Society.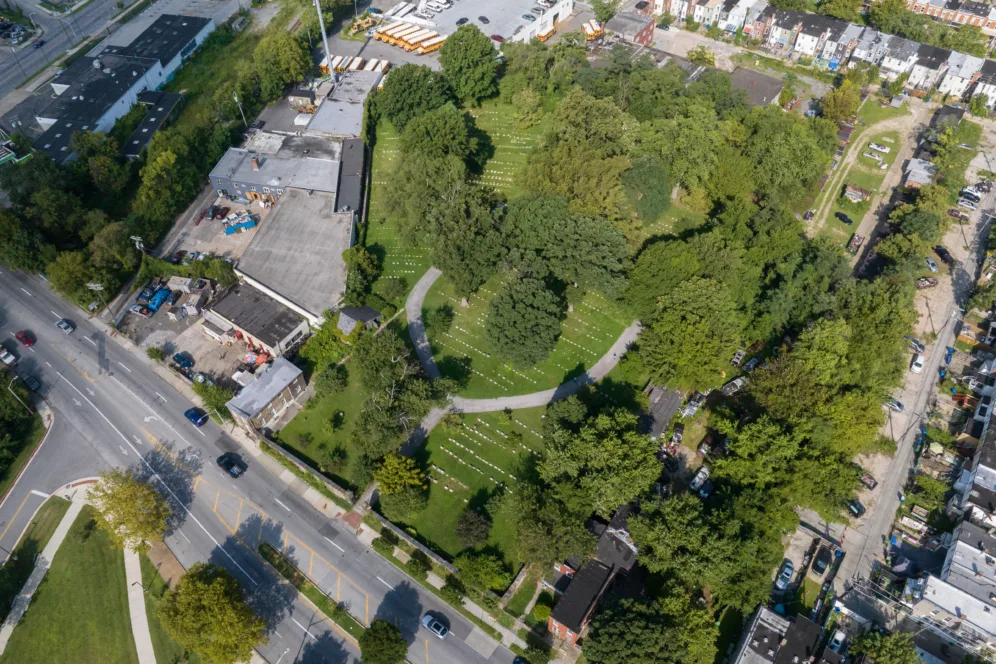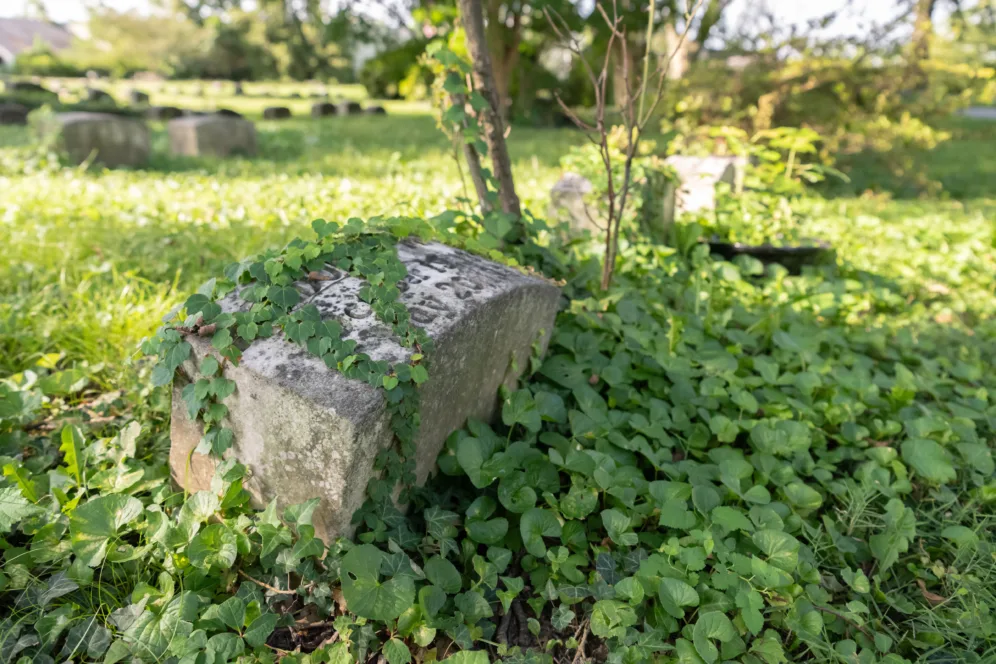 Today, the cemetery is maintained by a groundskeeper who has been tending to the site for over 50 years. She provides food for eager mourning doves taking refuge in the numerous trees. Nearby, pest-eating yellowjackets burrow underneath a historic headstone while pollinating insects dance around a flowering shrub. In cities, swaths of land with mature trees are rare, especially in historically low-income or minority neighborhoods. The trees and other shrubbery provide essential habitat and food to wildlife, cool the air around them and provide shade.
In 2007, the city of Baltimore created a goal to increase tree canopy in the city from 20% to 40% by 2037. By reducing the differences between natural environments and stark urban spaces, species like those found at Friends Burial Ground will have more room to roam and flourish, allowing everyone to enjoy the benefits of nature.
Dust to Dust
Embalming was once almost nonexistent in the United States. That changed with the Civil War when soldiers who died in battle had to be transported long distances to their hometowns for burials. The practice was crude and uncommon for non-soldiers until the death of Abraham Lincoln, whose funeral train and viewing spanned nearly 1,700 miles. Embalmers were later required to become licensed practitioners and the application became more mainstream.
Today, most people in the U.S. are embalmed and then buried or cremated. The chemicals used in embalming, including formaldehyde, can leach into the surrounding environment and eventually into the groundwater. On top of that, each year, an estimated 1.6 million pounds of concrete are poured into vault liners and 20 million feet of hardwood boards, including those harvested from the threatened Amazon rain forest, are used for caskets. In total, each traditional burial produces around 250 pounds of carbon. And while initially thought to be a greener choice, cremation, the process of putting a body in a furnace for up to two hours, is comparable to driving a car 500 miles.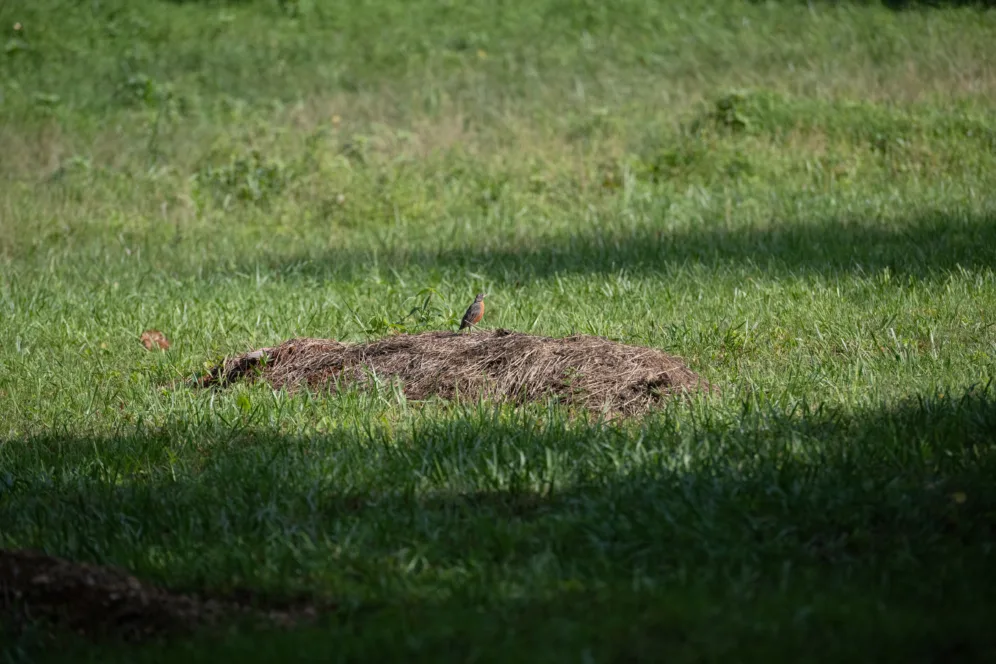 Serenity Ridge Natural Burial Cemetery and Arboretum in Windsor Mill, Maryland, is returning funereal ceremonies to their earlier roots to benefit grieving families and the environment. They are one of the growing number of cemeteries in the United States offering green burials, which forgo the embalming process as well as concrete vaults and traditional caskets. Families can choose a bamboo casket or a cotton sheath, which will break down along with the body. Unlike traditional burials, graves are dug to around three and a half feet, shallower than a typical grave to allow for decomposition but deep enough to avoid attracting wildlife. According to the Green Burial Council, a nonprofit organization that advocates for environmentally sustainable cemeteries, a green burial sequesters 25 pounds of carbon from the atmosphere.
The property itself is surrounded by an 80-acre forest and neighbors Patapsco Valley State Park. Not only does Serenity Ridge focus on maintaining the existent nature, but management is also keen to restore the area by removing invasive plants and using only native Maryland species. The burial requirements and restoration of the natural space within Serenity Ridge's grounds are changing the climate of cemeteries for both past and future generations.
Washed Away
During Hurricane Katrina, thousands of coffins and vaults were lifted from parish cemeteries, sending them across the Gulf Coast. New Orleans isn't the only place this has happened; hurricanes have uprooted remains in other coastal states from Florida to South Carolina.
Across the coastal United States, waters are rising due to floods, storms and climate change. In the mid-Atlantic of the U.S., the ocean is rising two to three times faster than the global average, putting pressure on conservationists and historians to document and preserve cemeteries that may soon be washed away. Since many historic cemeteries dot the coastline, they also reside on land that is critical habitat for migratory species. During spring and fall migrations, millions of birds can pass over Maryland in a single night, using the coastline as a guide or a place to rest and feed.
Additionally, parts of the Eastern Shore in Maryland and Virginia make up some of the largest undeveloped coastal wilderness in the United States. These islands help protect the inland from storm surges and provide critical habitat for native species. The Robinson Neck Preserve on Taylor's Island in the Chesapeake Bay is one such example. Here, osprey and bald eagles thrive amongst the tidal marsh habitat characteristic of our region. But as waters rise, these birds aren't the only ones in trouble; nestled into the preserve is the Robson family cemetery, with some headstones dating back to the 1700s.
Some conservationists are trying to use restoration to build on the barrier islands' success and save both the historical elements of these places while protecting their future inhabitants. In Oyster, Virginia, a town that sees flooding regularly, the Nature Conservancy is helping to revitalize oyster reefs, which can reduce shoreline erosion by acting as a natural sea barrier.
Restoring a Lost Island
Poplar Island, in Talbot County, Maryland, is another island almost completely eroded from 1,100 acres in 1847 to just 4 acres in the 1990s. The island has been a success story, rebuilt and revitalized as part of a federal-state project to restore ecosystems using dredged material, which has resulted in a mass immigration of native species.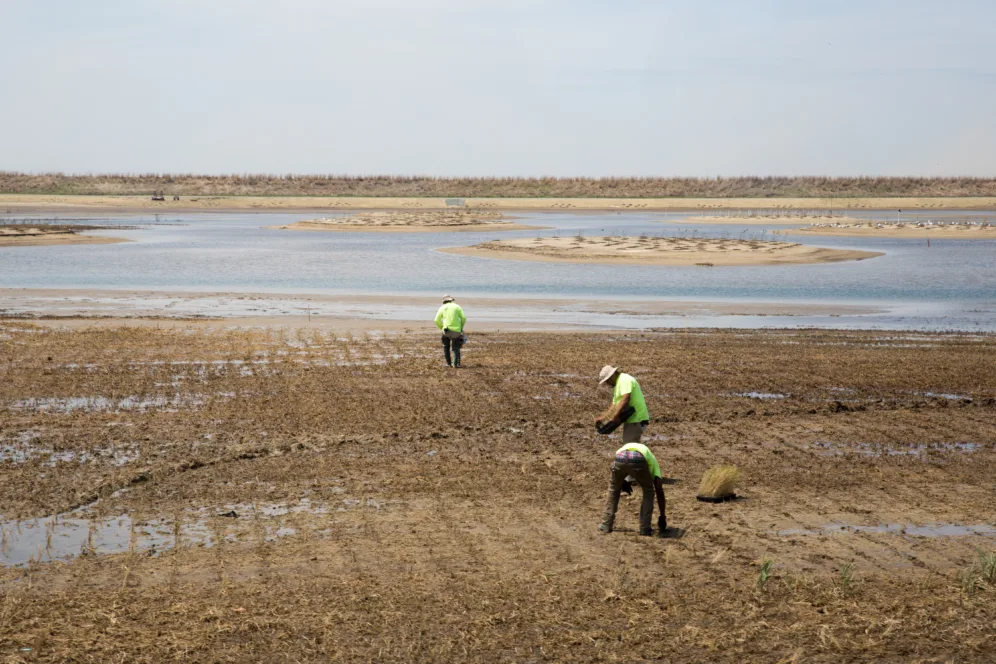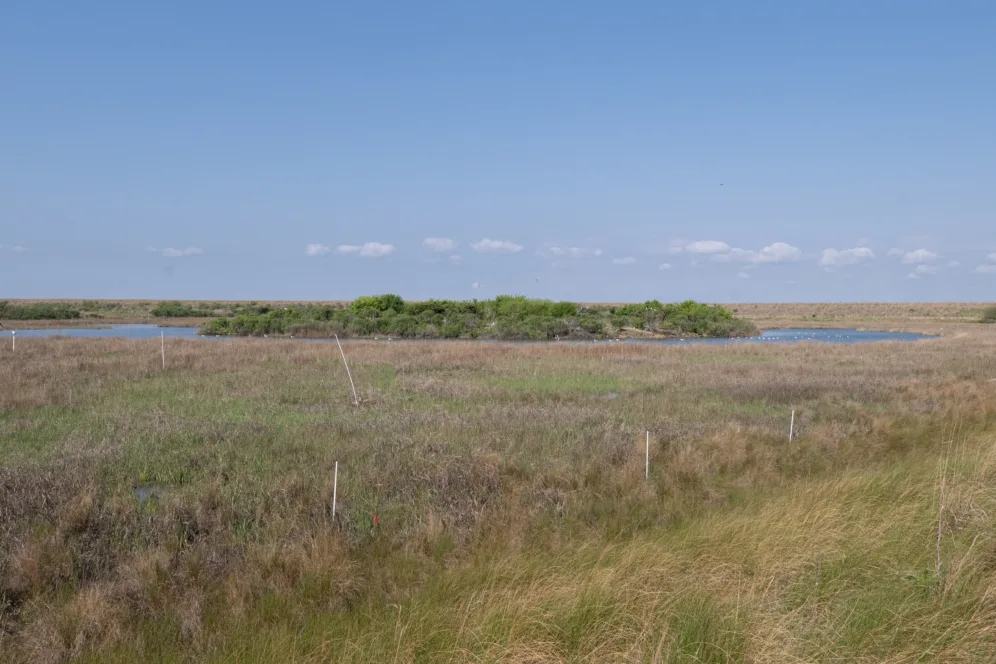 1 of 2
Federal, state and local agencies found Poplar Island to be of great environmental value. To rebuild lost land, dredged material and native plants were used to recreate its natural ecosystems.
2 of 2
Although the restoration project is ongoing, wildlife has returned to the island. Visitors can see diamondback terrapins, various waterfowl and even whitetail deer!
Looking Forward
The consequences of climate change are already being felt, but there are strategies that can help communities adapt—including interconnected green spaces, improved policies and better infrastructure design. We also know that healthy coastal habitats reduce flooding, erosion and storm surge. As plans are enacted to protect our homes, businesses and communities, we must consider how to best preserve or document historical cemeteries at risk of being lost—these places are not only final resting places, but vaults of history and havens for wildlife that should not be allowed to wash away.
Get Involved
Want to get involved and help preserve our beautiful Chesapeake Bay region? The National Aquarium relies on the help of volunteers to support our conservation events, which include tree plantings, cleanups, BioBlitzes and more! Sign up for our conservation newsletter to receive updates about upcoming events all year.
Subscribe To Our Newsletter
Sign up to receive updates on animals, news and events.