Rescued Sea Turtle Update
Our Animal Rescue and Animal Health teams are currently caring for 31 rescued sea turtles and preparing for the first release of 2022 next week.
Thirty of the juvenile rescued sea turtles in our care—26 Kemp's ridleys and four greens—arrived in Baltimore in November after stranding in Cape Cod, Massachusetts. These turtles, which are all named after musical instruments in accordance with this year's naming theme, were triaged at the New England Aquarium in Boston before heading south to the National Aquarium for long-term rehabilitation. Tuba, Trumpet, Clarinet and the rest of the group are all receiving treatment for medical issues associated with cold stunning, a phenomenon that occurs when sea turtles fall into a hypothermic-like state as water temperatures drop, rendering them lethargic and unable to swim.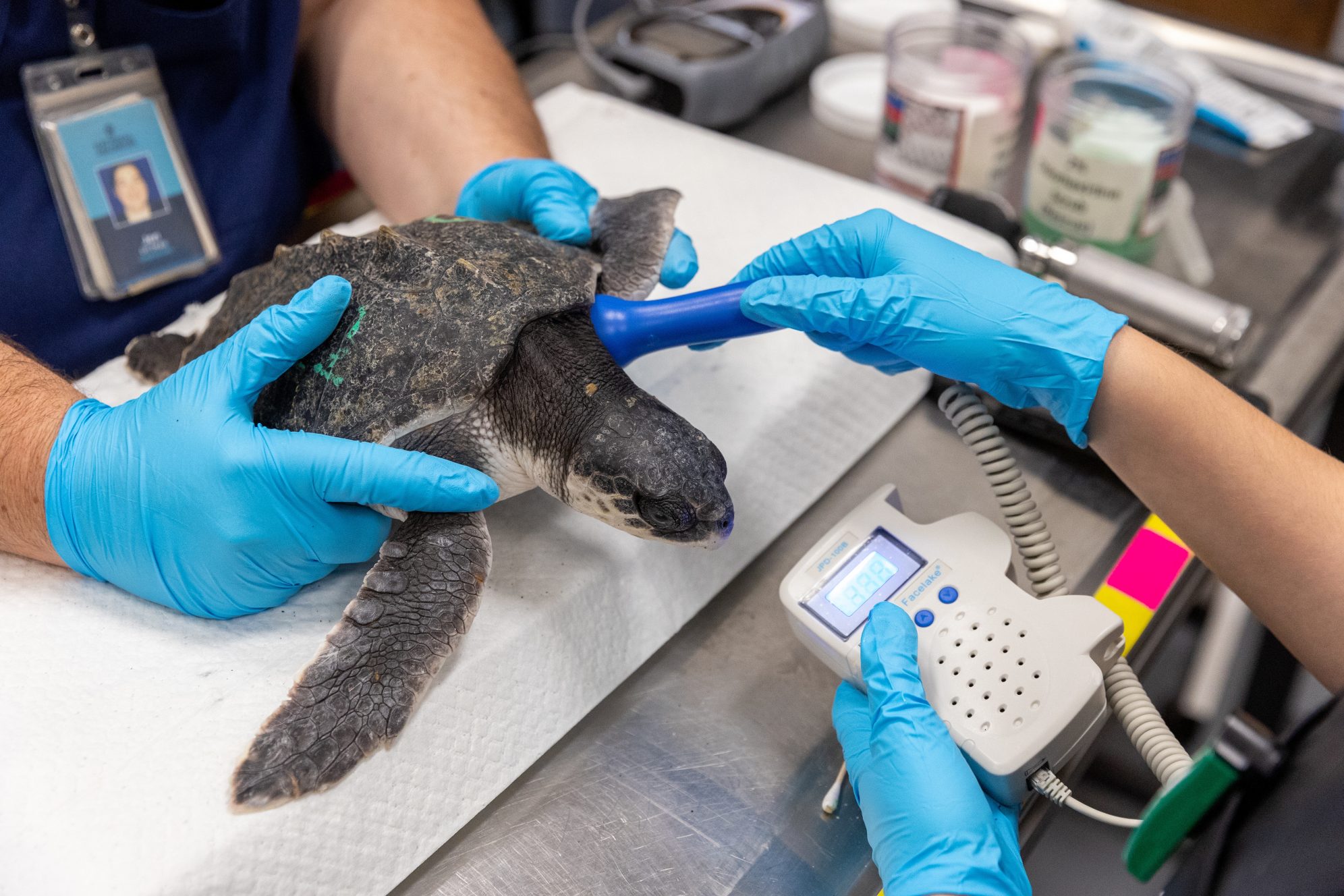 Our team also continues to care for Pecorino, a Kemp's ridley sea turtle that arrived at the Aquarium in September 2020 with head injuries from a boat strike. Although Pecorino has made great strides in his recovery, he is currently not a candidate for release and will remain in the care of our team for the foreseeable future.
Most of the patients that arrived in November are typical cold-stun cases, suffering from medical issues such as respiratory infections, emaciation, skin lesions and dehydration—but one notable case is Kemp's ridley Bassoon.
Upon arrival to the Aquarium, Bassoon was one of the more critical patients in the group. He was inactive and unable to open his jaw—and therefore unable to eat. Cold-stunned turtles don't always eat during their first few weeks in rehabilitation, and after a month in our care, our team began administering IV nutrition for Bassoon so that he could get the nutrients he needed.
After undergoing a CT scan and being diagnosed with myositis in his jaw, Bassoon received a steroid injection into his neck to reduce inflammation and then began physical therapy and acupuncture treatment. Physical therapy exercises include stretches to loosen jaw muscles, and acupuncture helps to reduce pain and inflammation.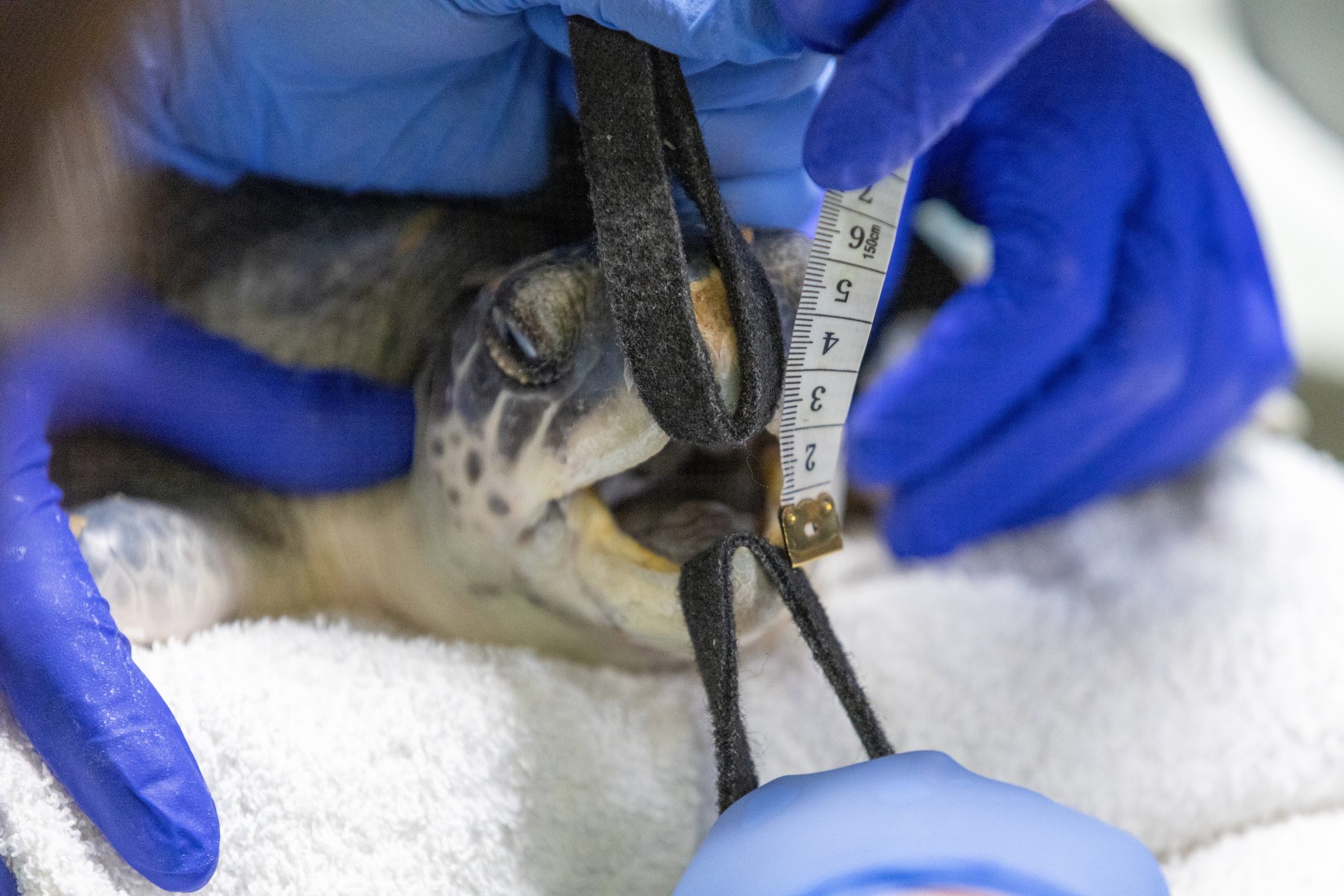 Initially, Bassoon was receiving acupuncture treatments daily, but he's made enough progress in his recovery that these treatments are now reduced. Although he can't open his mouth fully yet, he is successfully foraging on his own after weeks of tong-assisted feedings. Our Animal Health experts are pleased with his progress, and report that Bassoon is now much more alert and active than he was upon arrival.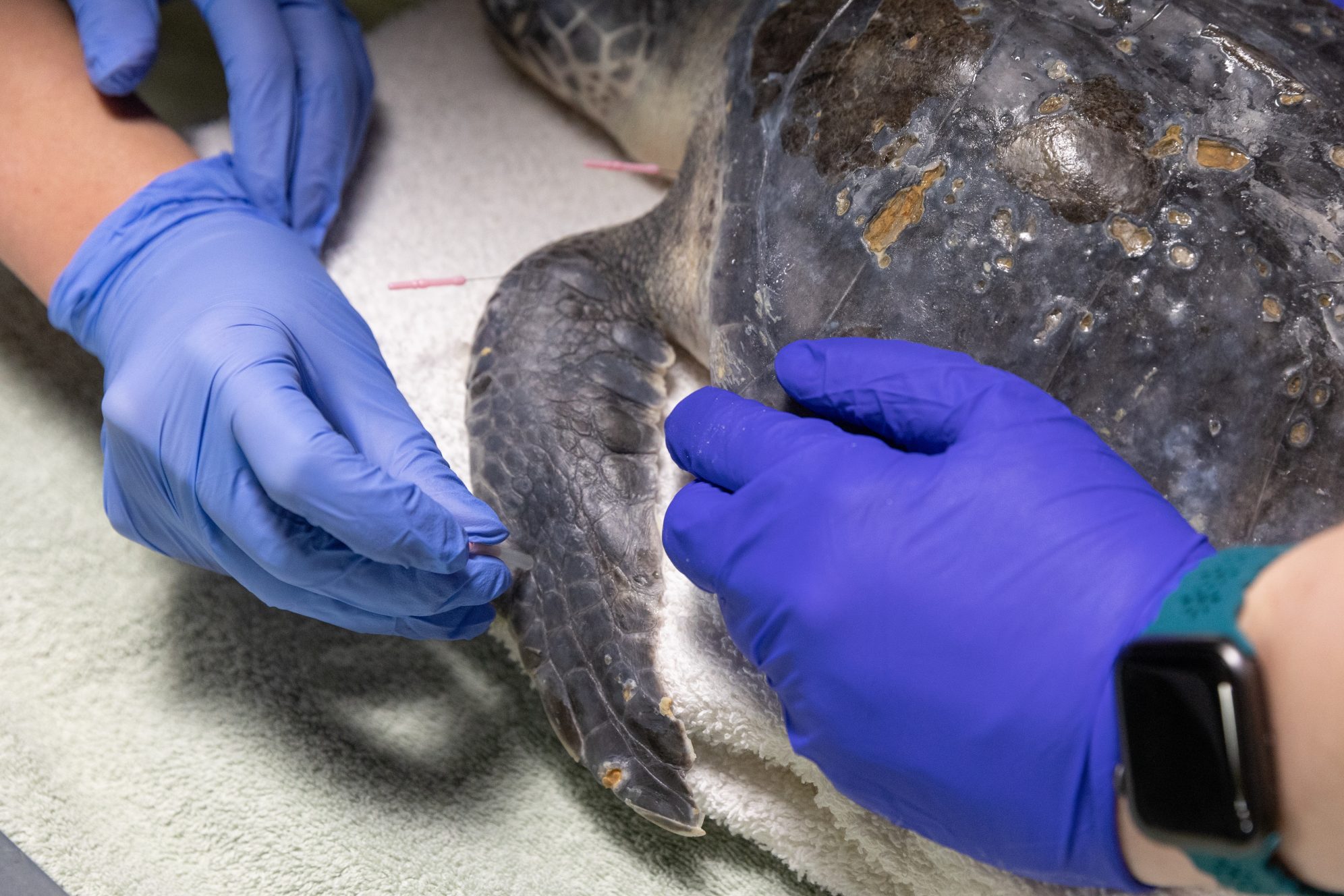 Although he's made major improvements, Bassoon isn't currently a candidate for release, since he's still receiving several treatments for his myositis as well as pneumonia. While there is still a long road ahead, our team is optimistic that he will ultimately make a full recovery.
Of the 30 patients that were admitted to the Aquarium in November, 15 sea turtles have made a full recovery and will be returning to their ocean home next week at our first release of 2022. Our team will travel to the warmer waters of Florida with 13 Kemp's ridley and two green sea turtles in tow. Through our work with the Greater Atlantic Region Stranding Network, we'll also be releasing 14 additional cold-stunned sea turtles that have successfully completed rehabilitation at other facilities.
Supporting Sea Turtle Conservation
Organizations that make up the Sea Turtle Stranding and Salvage Network are facing increasing demands to respond and rehabilitate federally protected sea turtles—but there's currently inadequate direct federal support for this crucial conservation work. At the National Aquarium, we continue to work with partners across the country as we advocate for stronger federal funding for sea turtle stranding response and rehabilitation, which is vital to the recovery of these endangered animals.
Subscribe To Our Newsletter
Sign up to receive updates on animals, news and events.