Celebrating Latino Conservation Week at Masonville Cove
This year, our annual BioBlitz event at Masonville Cove was also an opportunity to celebrate Latino Conservation Week.
Volunteers gather at Masonville Cove in South Baltimore every year to find, identify and record as many species of plants and wildlife as they can at the nation's first Urban Wildlife Refuge Partnership. At our eighth annual BioBlitz on July 17, 88 volunteers made 279 observations and identified 137 different species—from black-eyed Susans to ospreys to snapping turtles and many species in between.
Every year, BioBlitz events allow volunteers to contribute to community science while exploring the flora and fauna that thrives in this urban refuge, but this year's event also provided a special opportunity to celebrate Latino Conservation Week.
This year, Latino Conservation Week—an initiative from Hispanic Access Foundation—was observed from July 17 through 25. Its purpose is to provide a platform for Latinos to demonstrate their passion for the preservation of nature and engage in experiences that foster their connection to the environment.
In honor of Latino Conservation Week, we've asked Veronica and Selvin Martinez, leaders at TAYR, one of our South Baltimore community partners, a few questions about their experience with National Aquarium conservation events and connecting with nature in their community.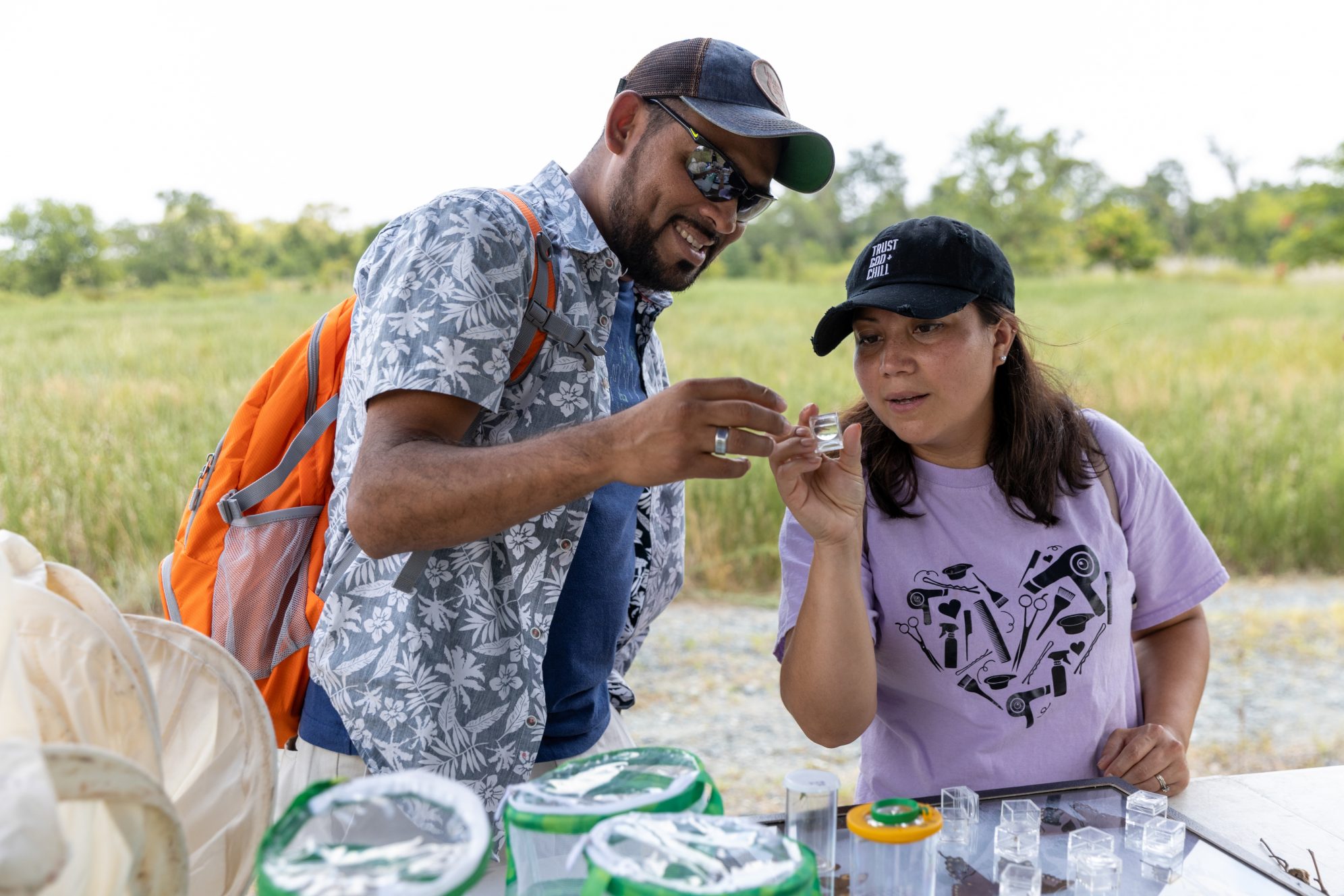 Here's what Veronica shared:
Q: How long have you been members of the South Baltimore community?
A: We have been members of the South Baltimore community for 10 years.
Q: How did you get started participating in conservation events?
A: We started participating in conservation events when we did cleanups in our church area and neighborhood through the Aquarium and also becoming involved with Masonville Cove and learning about caring for the Chesapeake Bay.
Q: What do you enjoy about participating in conservation events?
A: I love that we can enjoy nature, that we can also work together as a community and become aware of and care for the environment, and the Bay. I enjoy seeing how everyone is passionate about what they do and it's inspiring to others.
Q: How do you think your community benefits from connecting with nature?
A: Our community benefits from connecting to nature a whole lot. We are educated on a lot of things we aren't aware of; we are ... becoming responsible for where the trash is thrown out because a lot of that has to do with how plants and animals are treated, which overall causes a positive effect on the air we breathe.
Q: Why do you think it's important for your community to participate in these types of conservation events?
A: It's important our community participates in these events because it reminds us [to] conserve [and] care for the planet.
Q: What's your hope for the future of natural spaces in your community?
A: My hope is to see more green areas in my community; that we can all be much more responsible for all actions taken.
The critical conservation work the National Aquarium engages in wouldn't be possible without our partnerships with local organizations like TAYR. We thank them for their dedication in helping us to reach our goal of creating a better Baltimore by protecting our city's waterways and wildlife!
Subscribe To Our Newsletter
Sign up to receive updates on animals, news and events.