Shark Tales: Aquarium Staff Members Share Their Stories
Elasmo Week presenters Jennie Janssen and Symone Barkley on how they landed at the Aquarium.
From a series of eye-popping, made-for-television movies to the omnipresent children's earworm, sharks have become a staple in pop culture for a good reason … they're amazing animals! This elevation to icon status comes with a price, though: Much of the incredible academic research on sharks is left behind in favor of the fantastical, and the stuff that makes it through is not representative of the diverse group of people that constitutes the shark science community.
Elasmo Week was created in response to this dilemma and presents an opportunity to showcase and celebrate the work done by scientists who come from marginalized backgrounds—people of color and women, specifically.
Two of our staff members, Assistant Curator of Blue Wonders Jennie Janssen and Manager of Education Programs Symone Barkley, were tapped to participate in the week's celebrations; check out their livestream below.
In celebration of Elasmo Week, Jennie and Symone shared their shark stories with us—that is, how their research on elasmobranchs landed them at the Aquarium in two drastically different positions!
When did you first become interested in STEM, and how were you first introduced to the idea of working with sharks?
JJ: I've always been fascinated with sharks. In college, one of my professors convinced me that studying sharks was absolutely a legitimate career path, and I took him at his word.
SB: I am from Baltimore City, specifically Cherry Hill. I grew up not having much of a physical connection to the environment, or a body of water, even though the Patapsco River was right in my backyard. However, I was interested in nature and watched television programs highlighting animals, fish, and ecosystems, growing my curiosity.
The summer after I completed eighth grade, I joined the Student Summer Volunteer Program at the National Aquarium. After that experience, I knew I wanted to study marine science. I received the NOAA educational partnership program undergraduate scholarship in 2010 and completed two internships at NOAA facilities; in the first internship, I studied pesticide application in zones inhabited by ESA-protected species.
The second internship under this scholarship program sparked my interest in sharks through the study of electropositive metals as a hook deterrent to reduce shark bycatch, so I attended Delaware State University for graduate school studying sand tiger sharks in the Delaware Bay.
You've both had exciting and interesting career paths—how did you end up working at the Aquarium?
JJ: I had been working in aquariums for many years and was very happy where I was, but with Maryland being where my husband and I both grew up and our families still living in the area, I took the time to read a job posting from the National Aquarium that popped up in my email. Astonishingly, they had pretty much posted my resume, which was a fairly niche combination of skills at the time. With our desire to move home, it was a perfect fit.
SB: When I was in undergrad my loved ones would assume that I would work at an aquarium as a marine biologist, but I knew that I wasn't interested in being an aquarist, so I did not seek any positions at aquariums. It was not until my Knauss Fellowship when I learned about initiatives at aquariums to work with the community, foster youth development and provide programming to schools.
Symone Barkley
After realizing all that aquariums can offer, I came to the National Aquarium to do work that impacts kids like me in my hometown.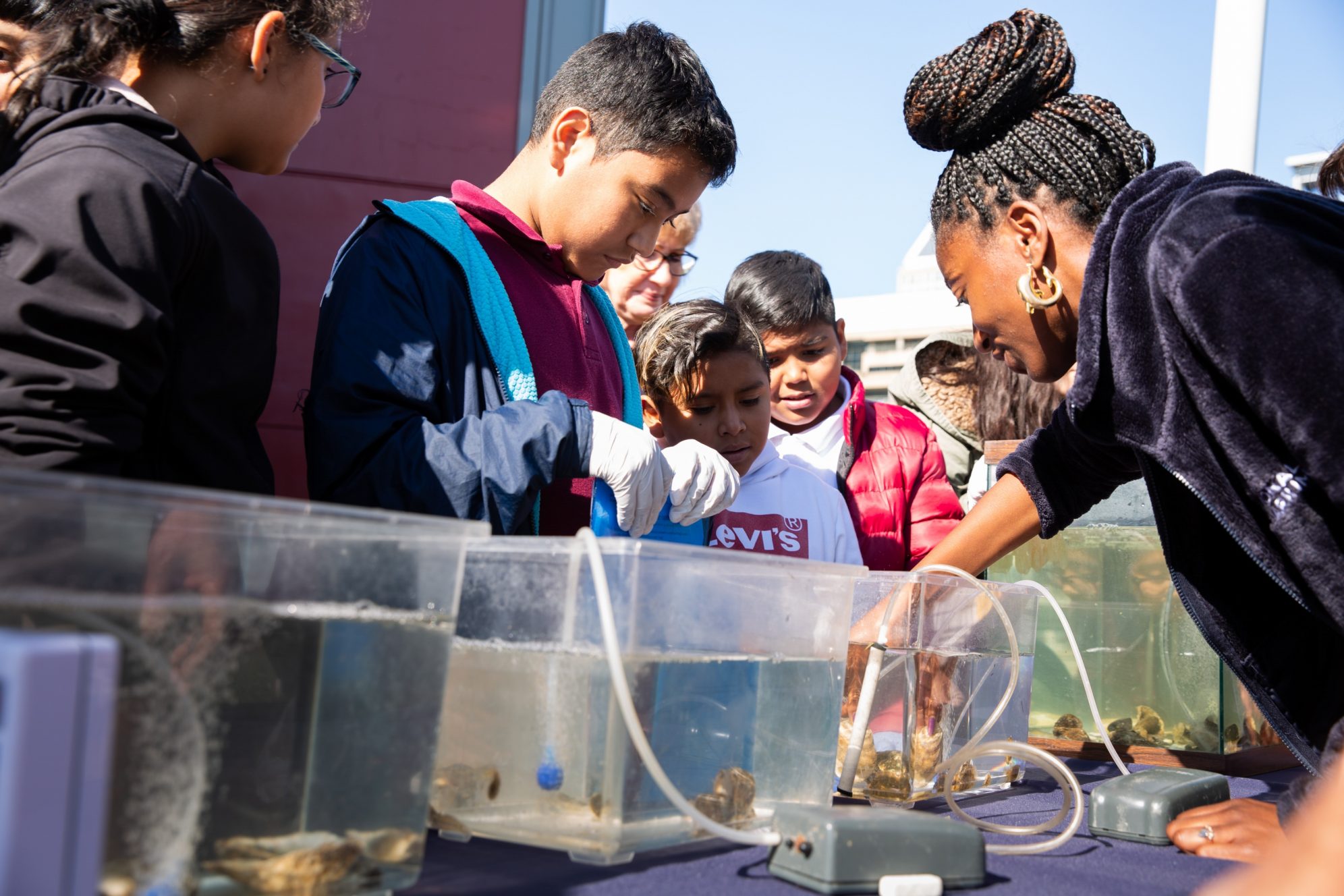 Can you describe what your average day at the Aquarium looks like? What does your job entail, and how does it involve working with sharks?
JJ: As a manager, there is a lot of sitting behind a computer these days—coordinating routine animal exams, dive schedules, etc. But if I'm functioning as an aquarist, we do morning checks first thing to make sure all is well from overnight, check water quality, do food prep, feed the animals, do the dishes, dive/clean the exhibits, work on plumbing projects, move the next day's food from the freezer to the fridge, disinfect the kitchen, do afternoon checks to make sure that everything is good before we go home, and record all the feeding and maintenance logs for the day.
We feed the sharks several times a week, which involves calling them to specific feeding stations and feeding them using poles or tongs. For the blacktip reef sharks, we have them swim through a stretcher so we can more easily handle them when it's time to do their physicals. We also dive in our shark exhibits to do cleaning and other maintenance.
SB: My typical workday does not involve working with sharks. I love research and studying sharks was an amazing experience—one that I really do miss—but I feel that it is my calling to use my background and experiences as a tool to reach back and bring awareness to people in my community. My job is really about building strategic partnerships with school districts, colleges/universities and other environmental organizations to increase environmental literacy.
I do a lot of teacher training and youth/early-career professional development through multiple programs we have at the Aquarium. My days are usually meeting-filled, but my favorite days are ones when I go outside with students and explore.
What advice do you have for aspiring shark scientists, especially those who do not currently see themselves represented in the field?
SB: This advice is for anyone interested in marine science, not just studying sharks. Figure out if what you want to do requires a graduate degree and if so, what type. There are non-thesis master's programs that are usually not recommended by traditional scientists but could be sufficient if you are not planning to do a significant amount of research in your career. If you would like to do research, there are master's and Ph.D. programs, but you should look into the pros and cons of each as it aligns to your career goals. I would suggest visiting labs that you are interested in joining and talking to current members of that lab to better understand their experience at the university.
Jennie Janssen
If you want to work with sharks, you absolutely can. It's about having a love for learning and having a passion for the animals. What you look like or what others think you should look like is irrelevant; don't let those people's opinion discourage you or hold you back. You know what you're capable of, and you're probably capable of more than you think.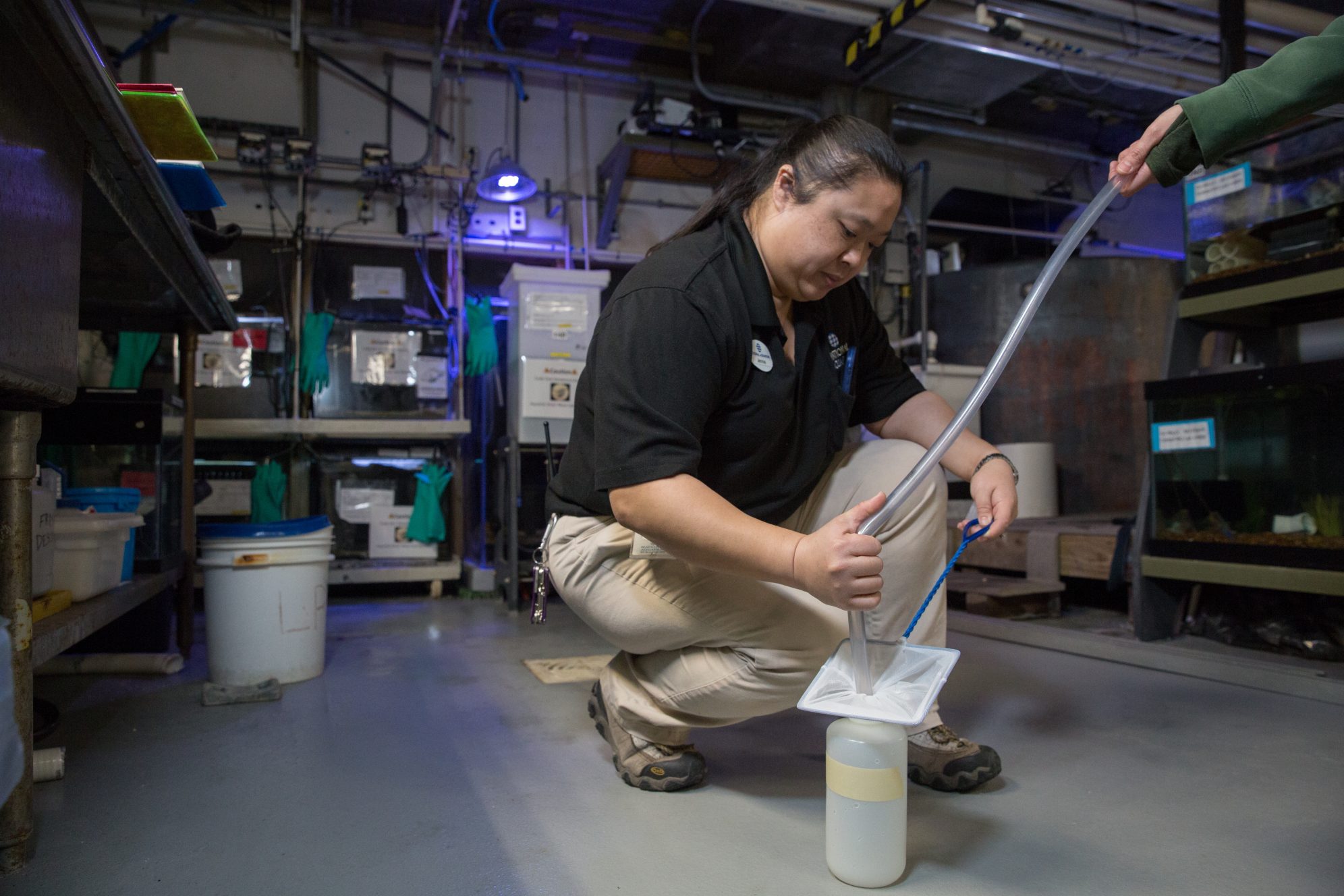 What's something you love about sharks that most people don't know?
JJ: They have really beautiful skin. Their scales give them this almost metallic sheen that can be strikingly beautiful up close.
SB: One thing I love about sharks is that they have been around for over 455 million years!
JJ: I love diving with them and making eye contact with them. Just that moment of silent conversation (although I'm usually talking out loud through my regulator)—it brings me joy.
Interested in learning more about shark science?
Watch a panel discussion we hosted with the founders of MISS—Minorities in Shark Sciences—that's full of great advice.
Subscribe To Our Newsletter
Sign up to receive updates on animals, news and events.