Shaking Up Science
Our dolphins provide insight into animals' earthquake-sensing abilities.
Most Marylanders didn't know what to think when the ground started shaking on August 23, 2011, the result of a 5.8-magnitude earthquake in Virginia. However, it turns out at least four Baltimore residents knew what was coming before Mother Nature informed the rest of us.
A new study published in the April 2015 issue of Marine Mammal Science posits that four of the National Aquarium's Atlantic bottlenose dolphins sensed the earthquake before it rattled the Maryland area. Authors Mark R. Turner, Cynthia Turner, Sue Hunter and Michelle Day used Day's meticulous observations, plus audio recordings from hydrophones (i.e., underwater microphones) located in the dolphins' pools, to conclude that early seismic waves called P-waves were responsible for tipping off our marine mammal residents.
Aquarium volunteer Day noticed unusual behavior in four of our dolphins around the time the earthquake occurred about 189 kilometers southwest of the Aquarium. Though humans sensed no indication of the shaking to come, this group of dolphins began swimming very quickly in close formation—something Day had not seen them do before. She recorded her observations in a handwritten log. Seconds later, Day says, her chair "started to dance across the floor."
The dolphins' "high-energy teamwork as the earth was about to quake left me in awe of animal reactions to the forces of nature," Day says.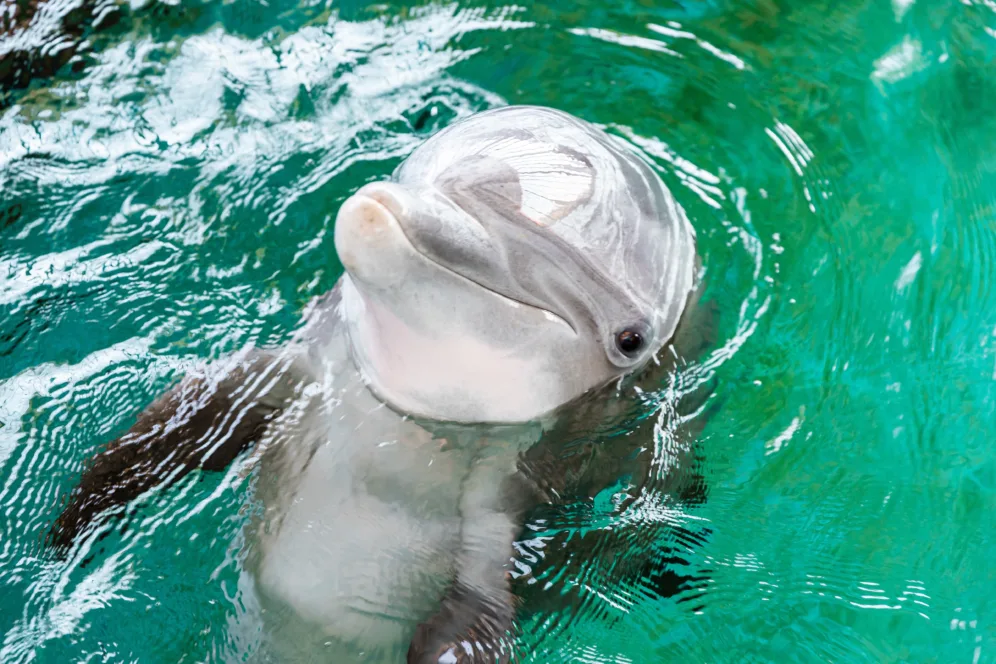 The timing of the dolphins' behavior coincided with the arrival of the P-waves at the Aquarium, which the hydrophones picked up almost 22 seconds before the arrival of the S and surface waves (the ones that cause shaking).
Researchers theorize that the dolphins likely felt the P-waves rather than heard them, since the P-wave-induced vibrations recorded by the hydrophones fell below frequencies within a bottlenose dolphin's hearing range. A dolphin's skin, however, is highly sensitive—particularly around the eye, blowhole and head region—so it's possible they felt the low-frequency vibrations, which spurred their unusual behavior.
Subscribe To Our Newsletter
Sign up to receive updates on animals, news and events.