Cleaning Omega: Giving Old Bones a New Look
Exhibit construction presents unique opportunity for conservators to give our 5,000-pound whale skeleton a deep cleaning.
A visit to National Aquarium, Baltimore is incomplete (and nearly impossible) without sighting Omega, the finback whale skeleton that has been at the Aquarium since we opened more than 30 years ago.

The scaffolding and lid needed for the construction of our new Blacktip Reef exhibit have given us a unique opportunity to bring in a expert team of conservators to give Omega a proper cleaning.
Due to its location, the skeleton (which weighs approximately 5,000 pounds!) has been mostly inaccessible for adjustments and cleaning. Over the years, Aquarium staff have cleaned the skeleton by using a small vacuum and soft brushes, however, this deep-cleaning will give a team of four conservators the opportunity to carefully clean Omega and tend to any chemical and physical deterioration to the skeleton.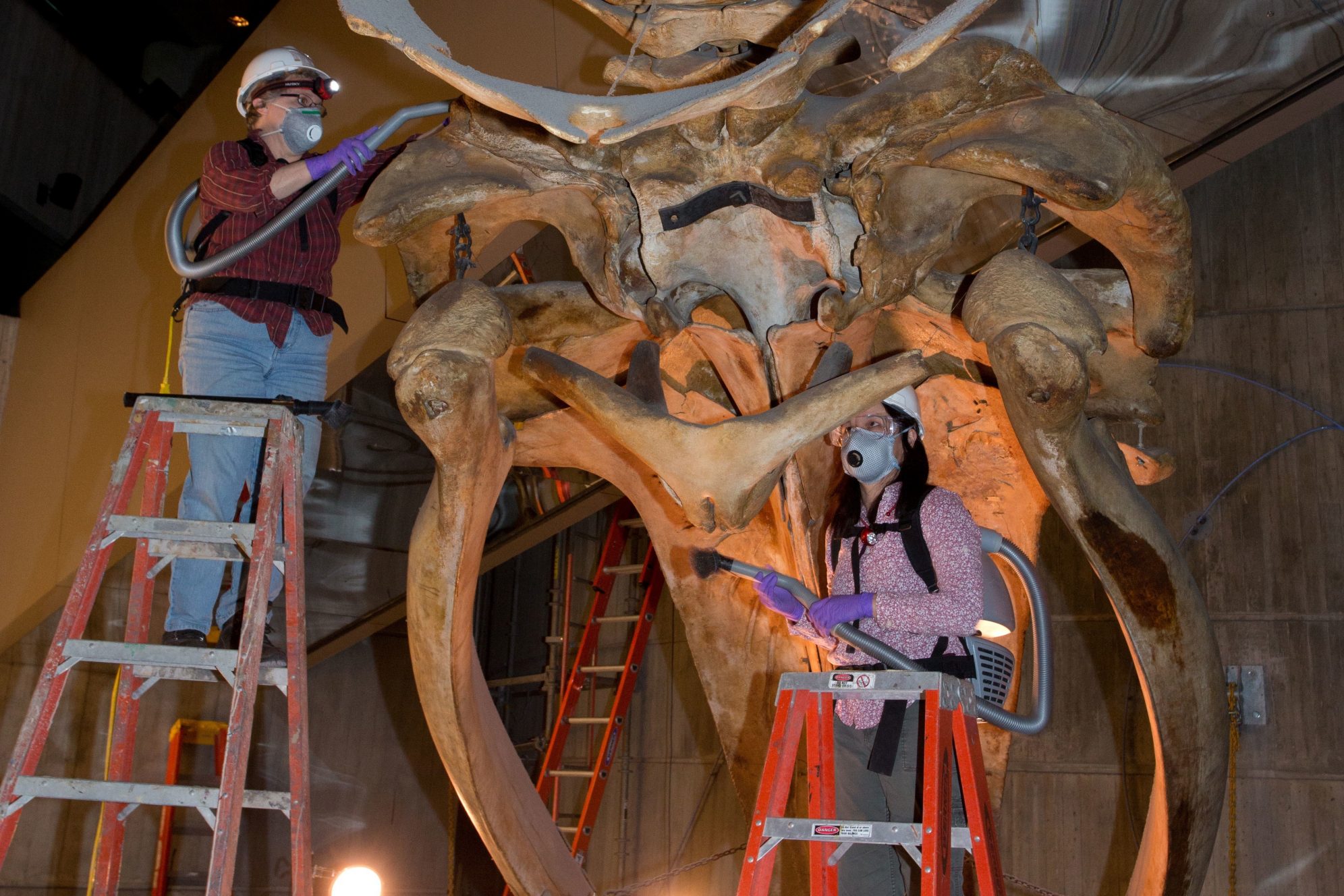 A bit of history on Omega
Omega was most likely born around 1870 and developed into a 50-ton, 58-foot finback whale living in the Atlantic off the coast of New England. In the Spring of 1883, Omega was harvested by a small whaler and towed to one of the small ports on Cape Cod for rendering. A finback of Omega's size would yield only eight barrels of oil, the rest (including the whale's bones) was considered scrap. Henry Ward, a conservator who prepared large animal skeletons for P.T. Barnum, Buffalo Bill Cody and similar exhibitions, acquired Omega's skeleton in 1884 and prepared the large skeleton for display.
Omega was purchased by the state of New York and remained packed away in the basement at Rochester University until 1979, when it came to the National Aquarium on permanent loan from the New York State Museum in Albany. She has been graciously hanging over our exhibits since 1981!
Stay tuned for more updates on our Omega cleaning project!
Subscribe To Our Newsletter
Sign up to receive updates on animals, news and events.